---
Accessible Exhibition Guide
Including New Families and Kids Version
This guide provides important information for people who are blind/low vision and/or experiencing hearing loss, so they can fully participate in and enjoy this Voices in the Landscape program.
Thank you to our accessibility partner, Art-Reach.
Introduction
Embark on a beautifully poignant journey with storyteller Charlotte Blake Alston as she honors and celebrates the strength, resiliency, and contributions of the African American community through the lens of horticulture and the power of story.
Through a series of 10 stops throughout the Gardens—experienced in person via your phone or virtually from home—surround yourself in her moving spoken word and the stillness around you. Hear an ancient Zulu creation myth paired with the oldest plant on Earth in the Conservatory; make your way to the Lookout Loft Treehouse and lean in to the story of the significance and symbolism of woods and meadows; call out the name of an ancestor in remembrance at the Large Lake while a traditional spiritual soothes your soul; and much more.
---
Charlotte Blake Alston is a nationally acclaimed storyteller, narrator, singer, and librettist who performs in venues throughout North America and abroad. A highly sought after storyteller, she is committed to perpetuating the African and African American oral storytelling traditions.
She has made multiple appearances in such venues as the Smithsonian Institution, the John F. Kennedy Center for the Performing Arts, the National Museum for Women in the Arts, the National Storytelling Festival, and the National Festival of Black Storytelling. She was one of two storytellers selected to present at the historic weekend opening of the National Museum of African American History and Culture in Washington, DC.
Alston has appeared as host and narrator of The Philadelphia Orchestra's school and family concerts since 1991. She was the featured host, storyteller, and narrator of the Carnegie Hall Family and School Concert series from 1995 to 2016. Her narrative voice can be heard on documentaries aired on PBS and on Fels Planetarium shows. She is the narrative voice of maternal and newborn care health training videos for UNICEF and Global Health Media.
Alston has been a featured storyteller at both presidential and gubernatorial inaugural festivities. She has received numerous honors and awards including a Pew Fellowship in the Arts, the Commonwealth of PA Artist of the Year Award, the National Storytelling Network's Circle of Excellence Award, and the Zora Neale Hurston Award, the highest award conferred by the National Association of Black Storytellers. In 2021 she was named The Philadelphia Orchestra's official storyteller, narrator, and host.
Gardens Map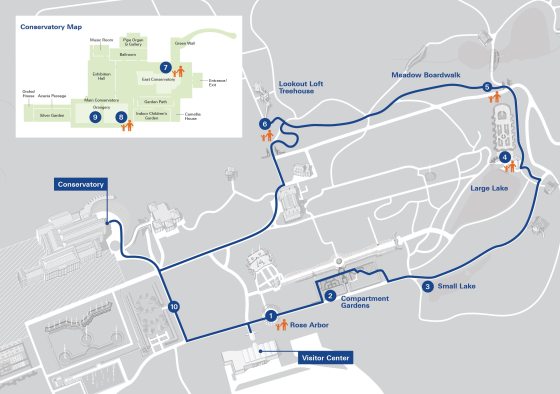 Exhibition Notes: Nicole Sardella provides audio descriptions for Voices in the Landscape: Deeply Rooted with Storyteller Charlotte Blake Alston. The audio descriptions use words to describe the landscape and plants of Longwood associated with Charlotte's stories. Each audio description is based on the location of the sign. However, you are encouraged to explore the spaces and wander as you listen to the description and the stories.
The exhibition features a total of 16 audio experiences associated with specific locations throughout the Gardens. There are seven outdoor stops and three stops in the Conservatory; four of those outdoor stops and two of those Conservatory stops include an audio experience designed for families and children (ages 5 to 10). The entire route is accessible without stairs and the length of the route, including the stops in the Conservatory, is about 1.5 miles. Voices in the Landscape signage is at each stop. Each audio recording ranges between two and six minutes in length. Look for signs in the Gardens to find the restroom location nearest to you. The estimated time to experience the entire Voices in the Landscape exhibit is approximately 1.5 to 2 hours.
1. escalator_warning The Power of Story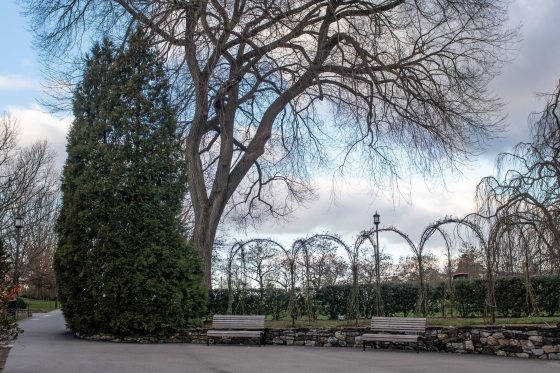 Transcript of Spoken Word
I believe in the power of words and the power of story to inform and transform. My name is Charlotte Blake Alston and I am a storyteller following the traditions of the oral historians of my ancestors in West Africa who preserved and passed down history and traditions through spoken word. Storytelling is about honoring and remembering.
I am pleased to have been invited to partner with Longwood Gardens to remember, honor, and celebrate the strength, resiliency, and contributions of the African American community through the lens of horticulture. Our roots in America's soil are deep. Our intimacy and relationship with the Earth and the cultivation of its riches span four centuries—from the forced agricultural labor that fueled America's economy, to the scientific research of horticultural icon George Washington Carver whose inventions and scholarship still have impact across the world, to African American garden clubs devoted to the aesthetic of ornamental flower gardens that feed the spirit, to the transformation of empty lots in urban areas into community gardens yielding rich harvests for families' tables.
We invite you to celebrate this legacy with us. Hear an ancient Zulu creation story we've paired with the oldest plant on Earth in the Conservatory. Listen to reflections on nature expressed by African American poets. Make your way to the treehouse and lean in to the story of the significance and symbolism of woods and meadows. Take a quiet stroll with Frederick Douglass on the grounds of his property at Cedar Hill where he would retreat, rest, and restore his body and spirit among its flowers and trees. Walk by the lake and call out the name of an ancestor in remembrance while a traditional spiritual soothes your soul.
Martin Luther King held a hope that one day "We will be able to hew out of a mountain of despair, a stone of hope," but also that "We must walk on ahead with an audacious faith in the future." We have been nothing, if not audacious. We have always believed in our own God-given humanity. We have always given thanks for the abundance the earth has provided for our bodies and for our souls. We have always found ways to hew, out of America's soil, gardens of hope for our future.
Family and Kids' Version
Transcript of Spoken Word
Hello and welcome to Longwood Gardens. I am Charlotte Blake Alston and I am a storyteller and your guide for Voices In The Landscape: Deeply Rooted. You will hear my voice today as you walk through the gardens and the Conservatory building with your family. Stories help us to remember. Stories help us to learn things we didn't know before. Stories open doors of understanding. Today's stories remember and honor African Americans who were brought to America a long time ago to work the land. They had a special relationship with nature: with America's soil, its seeds, its plants, the food it gives, its waters, and even the woods. In the hardest of times, they kept their love of nature alive and passed it on to the next generation. You will hear about plants like the bird-of-paradise. You will hear about places like the woods at night. You will hear about special people like George Washington Carver who was one of America's most famous plant scientists. The grownups you are with will be listening to stories too. You can talk with them about the stories you hear. You can share the stories with family and friends. As you walk, listen, observe, and enjoy, remember: every person—including you—is as unique and as beautiful as every plant, tree, and flower in these gardens.
2. Roots of African American Gardening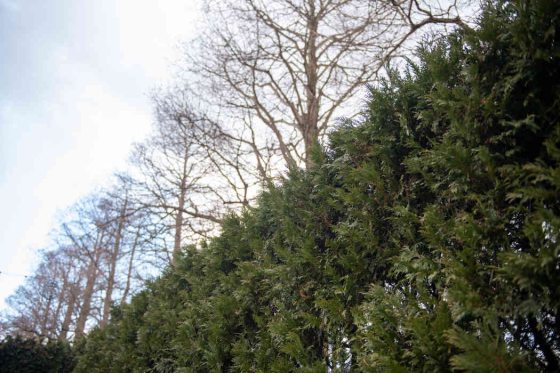 Transcript of Location Description
The three gardens are separated by 6-foot-tall arborvitae hedges. In the first garden, there are four flower beds, with the two flower beds on the left being a mirror image of the two flower beds on the right. In total, the four flower beds span approximately 120 feet in length and 40 feet in width. Together, the four flower beds create a rectangular shape, but the interior of the flower beds has an arch shape as it follows the contours of the curved path that separates them. Because of the winter season, the flower beds are dormant and not currently growing any flowers. What remains in the flower garden, once lush with peonies, goatsbeard, hostas, and a host of other flowers and plants, is a ground covered with leaves and dried, sandy colored grass, with remnants of bushes and shrubs that are bare except for some dried leaves. The second garden includes an 8- by 10-foot pool that has no water in it and is surrounded by dormant flower beds. The third garden includes nine winding wisteria vines growing upward, with a garden arbor that has additional wisteria vines growing over it.
Transcript of Spoken Word
Since the 1600s African Americans have been the cultivators and caretakers of fields, crops, and gardens. Documents from Monticello, the primary residence of Thomas Jefferson, reveal that from the early to mid-1800s, the head gardener was Wormley Hughes, grandson of Jefferson and his enslaved servant Sally Hemmings. He performed multiple tasks including managing Jefferson's stables with its carriage and saddle horses, making nails in the Mulberry Row Nailery, and was even entrusted with handling dynamite for the job of blasting rock. Eventually though, one of his primary roles became Head Gardener. He laid out the oval flowerbeds, planted and nursed seeds, bulbs, and trees. And at the end of Jefferson's life, Wormley Hughes dug his grave.
The woods were available and rich sources for the selection and propagation of ornamental plants and flowers that were easy to propagate or had self-seeding properties. That included plants like wild roses, azaleas, dogwoods, and flowers native to the region. Some cuttings were given as gifts from relatives or friends and may also have included Echinacea, ginseng, mint, ginger root used for their medicinal properties. The gardens mimicked the way plants grew in the wild.
This practice represented a distinctly different and, more importantly, independent approach from Euro-American traditions. Many gardens were cultivated in the backs or the sides of cabins. They grew vegetables, flowers, and shrubs. A shade tree offered a more desirable place to carry out chores such as laundry or cooking. Flowers beckoned neighbors to stop, admire, and fellowship a while. Hollowed out gourds attracted nesting birds that kept insects and other pests at bay.
Many of these gardening traditions extended beyond captivity and in some cases on the same lands as many transformed to sharecropping. In 1938 a Federal Writers Project interview in North Carolina described a former captive's "little weather-stained cottage. Encircling her house are lilacs, althea, and flowering trees that soften the bleak outlines of unpainted outbuildings. A varied collection of old-fashioned plants and flowers crowd the neatly swept dooryard."
Through generations, flower gardens were a source of pride; an aesthetic accompaniment to the vegetable gardens people continued to cultivate. It became common to see flowers being grown in front or rear yards in a variety of containers: old tubs, washbasins or buckets. In the south, flowers were grown in the fronts of houses in yards swept clean where folk could sit on the porch or a bench under a shade tree for a chat, a slice of pie and a glass of sweet tea amidst calming, colorful nourishment for the eye and soul.
In the 20th Century, African American Garden Clubs primarily organized by women began to sprout around the country, many of them in large urban areas. Among the most prominent voices of the African-American garden movement was the Delphinium Garden Club in Indianapolis, which formed in March 1938. The club included 14 women as its charter members. They held flower shows, garden lectures, and social events for 35 years. A 1963 documented history of the club indicated it remained committed to its "original inspiration ... to develop genuine appreciation for the healing power of nature's bounty and beauty in a perplexed world."
The Negro Garden Clubs of Virginia, formed in 1932 boasted 7 chapters throughout the state and 65 a decade later. One of the Virginia clubs' central values has been "that of improving race relations. Wherever a club has been established among the Negro women, the white women of the community have promptly offered their assistance in all phases of the work, from the sharing of the seeds and plants up to getting city and county officials to improve the streets and roads."
The tradition of gardening in many African American communities across the country—and throughout the diaspora—remains a source of pride, providing a sense of accomplishment, a feeling of independence and self-sufficiency, a connection to tradition and a source of comfort, spiritual renewal.
3. The Ancestor Tree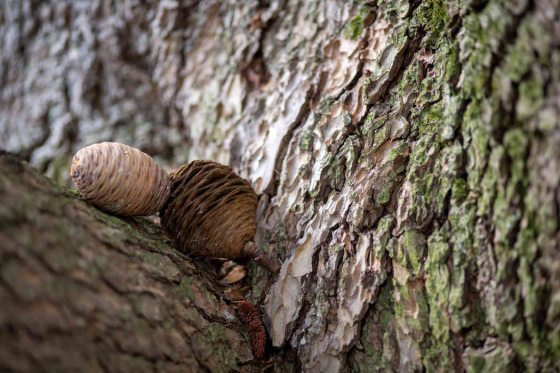 Transcript of Location Description
Approximately 20 Atlas cedars line the back perimeter of the oblong-shaped lake. The oblong-shaped lake spans about 350 feet long and about 100 feet wide at its widest point. Together, all the Atlas cedar trees also span approximately 350 feet in length and approximately 350 feet in depth behind the lake. The Atlas cedars are approximately 75 to 100 feet tall with 4- to 6-foot-wide trunks. The branches of the Atlas cedar trees grow horizontally and span approximately 75 to 90 feet from one side to the other. The branches are lined with bluish- silver and bluish-green needles. The branches of the 20 Atlas cedar trees have grown horizontally together, intertwining to form what appears to be one unending Atlas cedar tree.
Transcript of Spoken Word
Indigenous to the Atlas Mountains in the North African countries of Morocco and Algeria, the Blue Atlas Cedar is a distinctive evergreen with needles that range from silvery blue to bluish-green. In 1827, English botanist P.B. Web saw the trees for the very first time while visiting the Moroccan port city of Tangier and took specimens back to his homeland. By the 1840s, they were being cultivated in Britain and other parts of Europe, and later were brought to the United States.
For millennia, oil extracted from Blue Atlas Cedar wood was used for embalming, cosmetics, perfumery, incense, and medicinal purposes. The wood was used to build temples for ancient kings.
They typically grow 40 to 60 feet high and 30 to 40 feet wide, which might explain why it is difficult for you to see the baby blue Atlas saplings sprouting up behind this row.
Trees have always had significance throughout the existence of mankind. They are held as symbols of wisdom, endurance, gratitude, protection, memory, transformation, and renewal. They are given as gifts of remembrance in times of loss or sorrow. Given the belief among many African people of a life force that flows through trees, they appear prominently in both African and African American folklore, as in this adaptation of T. Obinkaram Echewa's The Ancestor Tree.
The Ancestor Tree
Adapted for Voices in the Landscape:
Deeply Rooted with Storyteller Charlotte Blake Alston
Nana was the oldest person in his village; so old that even he had lost the memory of how old he was. Some would say of him, 'Nana has always been here. He was old when I was born! He is like the sky. Each day when we awake, we know he will be there. He is like a tree standing tall by the lake. His roots are deep and we cool our hearts in the shade of his wisdom.' It was true. Each day, the children made their way to his home to greet him before they went about their day. No matter how early they rose, they would always find Nana already sitting in the small shed he'd built in front of his house.
And although his eyesight had left him, he could see now in so many different ways. 'Now,' he would say, 'All I do is see.' He greeted the children by name before they'd spoken a word. 'Good morning, Nana.' Each would extend a hand toward him, cupped like a bowl. Nana would offer a blessing and blow the blessing into their hands. 'Adindu, may you live a long life. Chudozi, may your bowl overflow with blessings all day long.' And so it went an individual blessing for each individual child.
Then came the requests. 'Nana. Tell us some stories! Yes, tell us about when each of us was born!' They would sit at his feet and listen. 'Aaahh, let me see,' and then he would begin: stories, riddles, proverbs, and always a joke or two. One morning Nana was not in his shed. Adults shooed the children away from his house, telling them that he was sick and not to be disturbed. But from the whispers of their parents, the children soon came to suspect that Nana would not be getting better. As soon as the adults were occupied with chores, the children came together and entered Nana's house. He turned on his pallet and greeted the children one by one but wore a sad expression.
'We are sorry you are sick,' they said. 'The time will come when each person will reach the end of his life's journey. My time has come but that is not why I am sad. I am sad because no one will remember me when I am gone. No one will plant an ancestor tree for me.'
The village had two sacred forests: the forest of the living and the forest of the ancestors. In the first, the remaining piece of a newborn baby's naval cord was planted with a young tree. When a person died their naval tree was cut down and a tree of remembrance—an Ancestor Tree—was planted.
According to the custom, ancestor trees could only be planted by the person's living children or grandchildren. But Nana had no living children or grandchildren. No tree would be planted for him. 'Custom is custom,' he would say. When he took his last breath, he was listening to the children tell the stories he had told them. Several days after, members of the Village Council looked up to see a procession of children walking toward them. Never in anyone's memory had children come to address the council. Some had digging tools in their hands.
'What is this about?' 'We are here to say that we want to plant an ancestor tree for Nana.' 'Ancestor trees can only be planted by living children or grandchildren. Nana left no living children.' 'We are his children. We sat in the shade of his wisdom every day. His stories taught us who we are, and from where we have come. He left us the stories to pass to the next generation.' After some moments of silence had passed, the eldest council member spoke.
'Nana had no living children, but it is clear that he has left something of himself in each of you. Through you, Nana is still teaching. It is time for a change in the custom. From this day forward, all those who have lived honorable lives, whose spirits are noble will have trees planted for them in the Forest of the Ancestors. We will make sure of that. Now come. Lead the way for us to follow.'
The procession of children, elders and villagers stretched as far as the eye could see. And today in that same village, children still gather, make their way into the Forest of the Ancestors and share Nana's wisdom stories in the shade of his tall, noble Ancestor Tree.
4. escalator_warning To Speak of Water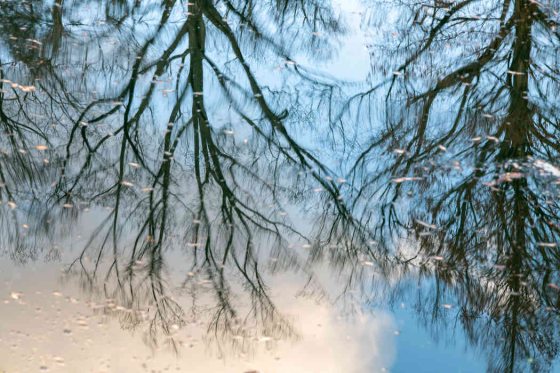 Transcript of Location Description
The ground slopes down where it meets the Large Lake. The Large Lake has an organic shape with rounded edges, resembling a bottle. The narrow mouth opens wider into the body of the lake. The lake spans approximately 190 feet at its widest and 400 feet at its longest point. The deep blue, nearly black water ripples as it reflects the trees and shrubs that surround the lake on three sides.
Transcript of Spoken Word
(Sung) Wade in the Water
Wade in the water
Wade in the water, children
Wade in the water
God is gonna trouble the water
Wade in the water
Wade in the water, children
Wade in the water
God is gonna trouble the water
See that band all dressed in red
God is gonna trouble the water
It looks like the band that Moses led
God is gonna trouble the water
Come on and wade in the water
Wade in the water, children
Wade in the water
God is gonna trouble the water
Water: cleansing, purifying, sacred, vital to the sustenance and survival of all forms of life. In water, we are formed. With water we are blessed. On water we were brought to these shores. The old spirituals speak of water as transformative; water imbued with the Spirit of God that may chill the body but never the soul, water that could carry you from bondage to freedom.
And so the story goes, a group of captives emerging from the hull of a small slave ship docked at St. Simon Island, realizing their fate, walked back into the water, chained together, chanting as the waters rose above their heads: "the water brought us here, and the water will take us home." The Igbo chant became a song for all water-wading, freedom-seeking people:
Oh Freedom, Oh Freedom
Oh freedom over me
And before I'll be a slave, I'll be buried in my grave
And go home to my Lord and be free.
Today, many have reclaimed African traditions of pouring libation in honor and remembrance of ancestors. Outdoors, a portion of water from a special cup is poured into the soil as each ancestor's name is called. Indoors, a plant is used to represent earth. Water symbolizes purity, fertility and remembrance. In honor and remembrance here by this body of water, I call the names of Harriet, Sojourner, Frederick, Rosa, Martin, Malcolm, my parents, John and Carrie. Whose name will you call today in honor and remembrance here over this life-giving body of water?
Family and Kids' Version
Transcript of Spoken Word
There are many amazing things about this planet called Earth. Perhaps the most amazing of all is water. Water is everywhere. It's even in the air we breathe in and the air we breathe out. It makes up our oceans, rivers, lakes, ponds, streams, and creeks. It provides a home for the Earth's sea creatures. Mighty ships can sail on it and you and I can swim in it. Have you ever noticed how even babies love to splash in it? When we drink it, it helps to keep our hearts pumping and blood flowing through our bodies. You can freeze it to make ice to cool your summer drinks. You can boil it when you cook your food or make a cup of tea. When there is a fire, we use water to put it out. Vegetable plants, fruit trees, and flowers, even grass would die if they didn't get water every now and then. It is water that cleans our clothes and washes dirt away from our bodies.
Our bodies can't stay alive very long without water. Because of that, many people believe that water is sacred because it represents life. Many Americans have great-grandparents who came to this country on water. Some came free on ships from Europe. Others were brought on ships from the African continent. Those were my ancestors. Many times, we remember them by pouring water in a special ceremony called libation. We remember them and we honor them by pouring water and saying say their names out loud. Do you have an ancestor, a grandparent, a great- grandparent, an aunt, a friend whose name you want to be remembered? If you want, you can say their names softly as you look out over this lake of precious, life-giving water.
5. escalator_warning A Walk with Frederick Douglass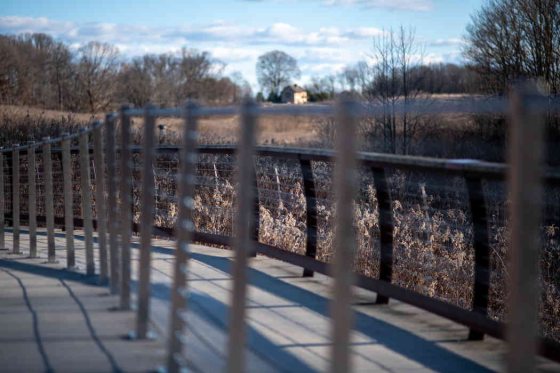 Transcript of Location Description
The boardwalk lines the woods' edge where the landscape opens to the vistas of the 86-acre meadow. From the boardwalk, the rolling meadow and the trees surrounding it stretch far off into the distance. Depending on the location, that's anywhere from two to four football fields away. Within the first 50 feet, the ground is covered with dried leaves with small patches of green peeking out. The trees and shrubs of the meadow are bare except for a few dried crinkly leaves dangling from them. The dry, tan grass of the rolling hills of the meadow stretches for two to four football fields. The edge of the meadow is met with 100-foot-tall trees that stand straight up like the post of a picket fence. Some of the trees are so dense that they block any line of sight behind them.
Transcript of Spoken Word
"Let us be silent awhile and listen to nature."
—Frederick Douglass
… one of this nation's most relentless and outspoken warriors for freedom and human dignity. In 1838 he carried out his own escape from bondage from a plantation on the Eastern Shore of Maryland and spent the rest of his life engaged in an unwavering campaign to end the institution of slavery. He worked alongside the most prominent abolitionists and suffragists of the time: William Lloyd Garrison, Harriet Tubman and Sojourner Truth. Along with Elizabeth Cady Stanton and Susan B. Anthony, Douglass co-founded the American Equal Rights Association, a group that demanded universal suffrage.
He was in great demand as a speaker both here and abroad and traveled extensively year-round. The impact of his oratory was unmatched and far-reaching. After a speech he gave at the annual convention of the Massachusetts Anti Slavery Society, a correspondent wrote: "Flinty hearts were pierced, and cold ones melted by his eloquence." He published The North Star, a four-page weekly abolitionist newspaper and was often quoted as saying: "Without struggle, there is no progress."
But constant struggle is wearing on the mind, body and spirit. In 1877 he purchased 10 acres of farmland and a mansion on the outskirts of Washington, DC. He chose it because of its serene character. He named his final residence Cedar Hill because of the cedar trees that framed the landscape. He looked out upon and walked among the trees, rolling hills, deep glens and natural flowing spring. The grounds became a rustic retreat, a sanctuary to escape the emotional and physical demands of his life's work.
Documents preserved by the National Park service reveal that he spent a great deal of time in the open air communing with nature. With his walking stick in hand he strolled his estate, alone or with family or guests who sought to spend time with him. He lifted weights on his front lawn, lounged in the property's hammocks and rockers, and played croquet with family and friends on the south lawn.
On one of her visits to Cedar Hill, British journalist Catherine Impey accompanied Douglass on one of his nature walks. As they both wandered through the woods, Douglass stopped along the way to rest on a fallen tree. He then turned to her and said, "let us be silent awhile and listen to nature."
The solace and true freedom he fought for and could not find among men, he found in full measure in nature's bounty. He built a small single-room stone house for further relaxation and reflection. Inside: books, paper, small desk, and chair. In the spring and summer months it would be surrounded by exotic vegetation; a wisteria vine making its way up and down the roof; strawberry, orange blossom, and lilac bushes.
He planted trees and flowers, and cultivated fruits and vegetable gardens on the hillsides and glens. Persimmons, honeysuckle, and strawberry bushes offered bursts of vibrant colors.
He brought flowers inside to brighten the ambience of the mansion's rooms and the walls displayed treasured paintings of flowers. Years after his death, specimens from many of his beloved flowers and plants were discovered dried and pressed into many of the books in his study.
His hard-fought battle for human dignity and equity was rooted in his belief in the beauty and sacredness of all creation. He lived his life gardening, tilling, planting, cultivating seeds, and harvesting abundance at his beloved retreat at Cedar Hill and in the complex but hopeful landscape of humanity's garden. And those times when the world will not embrace your heart, a garden always will.
Family and Kids' Version
Transcript of Spoken Word
Frederick Douglass loved spending time in nature. Frederick Douglass was one of America's most famous freedom fighters. Frederick was born into slavery. It was not a happy life and when he was 20 years old, he escaped from Maryland to New York where he could live free. Once free, he began to speak out against slavery. Many people's hearts and minds were touched—and changed—when Frederick shared the story of his life. He spoke with powerful words and powerful emotions. Even President Abraham Lincoln asked for Fred's help in ending slavery.
Frederick received many invitations to speak all over America and in the countries of England, Ireland, and Scotland, sharing his message that every human being should be treated with respect and dignity.
But traveling and fighting for freedom can make you tired and weary sometimes. Frederick Douglass wanted to come home to a place that fed his mind and his heart. He bought a house on land that was surrounded by cedar trees. He named it Cedar Hill. He planted seeds and grew as many different kinds of flowers as he could. He planted fruit trees and had vegetable gardens and plants with creeping vines that climbed up fences and the sides of his house. When people would visit him from all over the world, he took them for walks in his beautiful gardens and through his woods. He loved sharing that beauty with others. Can you imagine walking with the great Frederick Douglass in his beautiful gardens of purple, lavender, red, pink, blue, white, orange, and yellow flowers?
If you close your eyes, breathe in through your nose, and use your imagination, you may even be able to smell the wonderful aromas of his flowers.
Gardens with flowers of all kinds and colors remind us of all the beauty the earth has to offer. At any time, you can celebrate that beauty in its flowers and its people–just like Frederick Douglass.
6. escalator_warning Safety and Solace in the Woods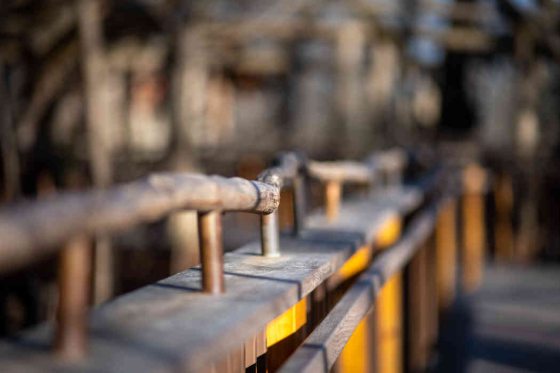 Transcript of Location Description
The Lookout Loft Treehouse is built into the trees and elevated approximately 10 feet using metal stilts. A 25-foot ramp with a lookout leads to the two sections of the treehouse that are connected together with a bridge. The first section is made of a rectangular treehouse with an open-air roof, that has three metal lanterns suspended from it. The second section includes a square treehouse with a domed roof made of wooden shingles and a 100-foot-tall tulip-tree growing through the center of it. The treehouse is located in the woods at the cusp of where the woods and the meadow meet. The 50-foot area surrounding the immediate vicinity of the treehouse is a densely packed woods with trees of various sizes reaching upwards of 50 feet. The trees are so densely packed that there is little visibility behind them. The branches of the densely packed trees have begun to intertwine and appear to form a canopy overhead. Further beyond the woods is the open vista of the rolling meadow.
Transcript of Spoken Word
"Deep in the Quiet Wood"
Are you bowed down in heart?
Do you but hear the clashing discords and the din of life?
Then come away, come to the peaceful wood.
Here bathe your soul in silence. Listen! Now,
From out the palpitating solitude
Do you not catch, yet faint, elusive strains?
They are above, around, within you, everywhere.
Silently listen! Clear, and still more clear, they come.
They bubble up in rippling notes, and swell in singing tones.
Now let your soul run the whole gamut of the wondrous scale
Until, responsive to the tonic chord,
It touches the diapason of God's grand cathedral organ.
Filling earth for you with heavenly peace
And holy harmonies.
—James Weldon Johnson
Author, Poet, Songwriter, Civil Rights Activist
Woods and meadows have both historical and symbolic meaning. On Sundays when people did not have to be in the fields, they embraced the woods. It was Sundays when people would leave their cabins and gather together in what were known as "camp meetings" or "hush harbors" deep enough in the woods so the words of encouragement they spoke to each other didn't reach the ears of the plantation owner. It was there in a meadow or woods they found safety and solace. There they could lift their unison voices in song, dance, send their prayers to the heavens, and be comforted and encouraged that slavery could hold their bodies but not their souls.
And for many thousands who made the bold and dangerous decision to escape the condition of enslavement, traveling on foot through woods at night was their best hope for making it to a free state. Some had the good fortune of being led by the great Underground Railroad conductor Harriet Tubman. She knew woods well and could convince even the most frightened runaway—even a child—to keep going and not turn back.
But most who took their freedom into their own hands had no guide other than the moon and the constellations of stars. But like Harriet, they had a fundamental knowledge and understanding of the forest environment. Often people made their escape after dark to get a good head start before daybreak. Darkness gave them cover. And under the light of a full moon with its rays filtering through the branches of trees, they could see where they were stepping as they walked the forest floor.
And on those nights when clouds hid the moon and stars, people used their sense of touch, feeling for moss that grew on the north side of the trunks of some trees. They used their sense of hearing to discern a natural sound from an unnatural one, to listen for the sound of a river, the direction of its flow. Woods can offer up a cacophony of sounds: the hooting of owls, the call of the whip-poor-will, foxes screeching, or bullfrogs, crickets, and cicadas croaking and chirping into the night. But as unlikely as it may sound, the woods, with all of its ambient noises, was a place of shelter, protection, comfort even: a place of hope of a better life to come.
Forests, woods, meadows: secret places for camp meetings, hush harbors; roads to freedom, pathways to physical and spiritual transcendence.
Family and Kids' Version
Transcript of Spoken Word
Welcome to the treehouse. Have you heard this song?
"If you go out in the woods tonight
You'd better not go alone!"
If you look out over the railing on the backside of this treehouse, you will see some woods and a path below. Do you see it? If you'd like, you can climb down the steps and walk down that path with your mom or dad as you listen—or you can stay right where you are. The woods can feel like a scary place especially at night and especially if you are lost, alone, and not sure which way to go. But for many people who were held in slavery, the woods was a welcoming place, even at night.
How can that be? Woods are full of trees, plants, leaves, flowers, and roots. People learned how to use some of those plants to make medicines. The woods were also pathways to freedom. When people made an escape from slavery, they would travel through the woods at night. It would be morning before anyone knew they were gone. When it's darkest, you can see all the stars. People looked to the sky for the constellation called the Big Dipper. Some called it the Drinking Gourd, because it looked like the pumpkin-like gourds they used for dipping and drinking water. As they walked through the dark woods, the Big Dipper showed them the way to freedom.
Do you think you could walk through woods at night? I don't know if I could. But if I lived during the time of slavery and I really wanted to be free—maybe, just maybe—I would.
Song: Follow the Drinking Gourd
Follow the drinkin' gourd
Follow the drinkin' gourd
For the old man is waiting to carry you to freedom
If you follow the drinkin' gourd
7. escalator_warning Making a Connection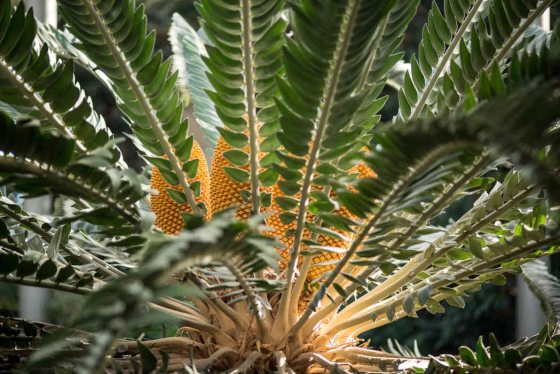 Transcript of Location Description
Wood's cycad resembles a palm tree with a spherical shape and stands about 13 feet tall. The tannish brown trunk is about 1 foot wide and about 5 feet tall. The top is adorned with a crown of feather-like, dark green, glossy leaves. The arched leaves are about 6 feet in length, 2 feet in width, and emerge from the tallest part of the truck. Together the leaves create a spherical shape, spanning 18 feet from one side to the other and about 7 feet from top to bottom so the leaves obstruct the view of the Cycad's trunk.
Transcript of Spoken Word
Step back for a moment to a prehistoric time and bear witness to one of this planet's most ancient plants. It's modern day name: Wood's Cycad, a name that honors John Medley Wood, who "discovered" the plant in 1895 while walking in the oNgoye Forest in the KwaZuluNatal region of South Africa. Since that time, no other Wood's Cycads have been found anywhere on the Earth, making it one of the rarest plants on the planet. The cycad you see here was the result of propagation and transplantation of the parent plant Wood discovered.
It is now extinct in the wild, gone from the forests it inhabited long before the botanist whose name it bears was given life. But what is the Cycad's story?
An ancient Zulu creation myth suggests that before the existence of man or animal the first form of life on Earth was a plant. In that time, there was only darkness and in that darkness dwelt the god Umvelinqangi, whose voice was like thunder and who, when angered, would shake the world with earthquakes. In a moment of time in that long, long night Umvelinqangi formed a large seed and dropped it from the heavens. That seed sank deep into the earth and quickly a long reed began to grow, drop more seeds, and spread across the land. The reeds were named "Uthlanga": "the source of all things." Eventually, one grew into a two-legged being. It was Unkulunkulu, First Man and creator of things to come. He grew taller and heavier and when he was fully grown, he broke off from the reed, stood upright, and began to walk. As he walked through the vast plant field, he noticed others like him—men and women sprouting from the ends of reeds. He helped to snap them from the reeds when they were fully formed. Some were dreamers. Others had knowledge of medicine. Some were sowers of seeds and kept in their memory all of Uthlanga's secrets. These were the first humans, the ancestors of all nations and they named their land Uthlanga. Their descendants spread out all across the world.
Scientists say two hundred million years ago, these plants were everywhere. During the Jurassic period, they were 20 percent of all the world's vegetation.
Could this plant—now called Wood's cycad—have been Uthlanga, the origin plant of the Zulu ancestors' origin story? From that time, the people of the land of Uthlanga and present-day KwaZuluNatal have maintained the belief that in all plant life, there is a spirit force that dwells within; that their relationship with plants is a sacred one. The offset that was nurtured and grew into the plant you see here was brought to Longwood Gardens from the Durban Botanic Gardens in Durban, South Africa in 1969.
The Wood's cycad is truly a plant of strength and resilience, a survivor. Through ice ages, the presence and disappearance of dinosaurs, the seismic shifting of continental plates, even its removal and transplantation from its native soil across the vast ocean to a new land.
And yes, while much was lost, some of those who came were dreamers. Some who came were healers. Many retained within them an ancestral understanding of the sacredness of all that would come—even from the soil of this new land—they would plow, plant, till, harvest, and maintain for generations to come.
Over the course of a 400-hundred year-long journey, through times of struggle and triumph, despair and hope, loss and resilience, much like the cycad, we are still standing. Our African and African American roots have grown deep and our belief in the sacredness and healing power of plants remains strong.
Family and Kids' Version
Transcript of Spoken Word
Welcome into the presence of the oldest plant on Earth. Scientists tell us the Wood's cycad has been on the Earth for—are you ready—280 million years. How long do you think it would take to count from one to 280 million? This plant was around before the dinosaurs walked the Earth and it continued to thrive long after the dinosaurs were all gone. It has even survived earthquakes and floods. A plant lover named John Medley Wood found the plant when he was walking in a forest in South Africa. So how did this one get here to Longwood Gardens? About 50 years ago, Longwood Gardens' plant expert traveled to South Africa to see the ancient plant Mr. Wood found. Very carefully, they cut a piece and brought it back to Longwood Gardens where it received very special care before it was put on display for all to enjoy. When people learn this plant's story, they feel inspired because it has survived so many hardships. Just like this plant, people have come to America from many different parts of the world and sometimes they faced hardships too. But this cycad's story reminds us that even with the hardships, if we stay strong, we can overcome them and continue to thrive–just like this beautiful, ancient plant.
8. escalator_warning Beauty and Brilliance of Nature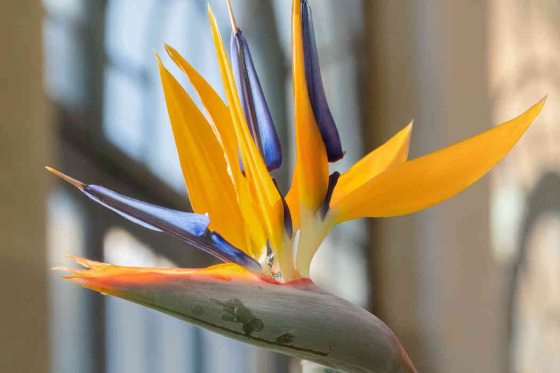 Transcript of Location Description
The bird-of-paradise is made of two main components: green leaves and the birds of paradise flower. The bird-of-paradise has about 150 green leaves, each with about a 3-foot stem and a 1.5- to 2-foot leaf at the top. The leaf is shaped like a banana leaf, wider at the bottom and narrower at the top. The densely packed leaves fan out, spanning approximately 6 feet in width and 7 feet in height. Jutting and emerging from between the leaves are the bird-of- paradise flowers. The flower begins as a green stem, standing anywhere from 5 to 6 feet tall. At the top of flower, the stem color transitions from green to yellow where the green beak-like bud and the stem, that resembles a neck, meet. The beak-like bud is perpendicular to the stem itself and often positioned horizontally. The way the horizontal beak-like bud and stem connect together resembles a bird's beak, head, and long neck. The green bud is trimmed with red edges, where the saturated orange and bluish-purple flowers emerge. Each of the petals resembles feathers at the top of the bird's head, standing straight up and fanning outward.
Transcript of Spoken Word
This strikingly beautiful multicolored flower, also known in South Africa as the crane flower, has deep roots in KwaZuluNatal, Swaziland, Mozambique, Botswana, and the Chimanimani Mountains of Zimbabwe.
The flower is made of three bright orange petals and three blue petals, which fuse together into a single bud. As the flower blooms, each petal reveals itself and the resulting shape and color pattern mirrors that of the brightly colored tropical bird found in the forest canopies of Papua New Guinea, Malaysia, and Northern Australia where other color varieties of the flower can be found. During your visit, you may notice two additional varieties of the bird-of-paradise with different color variations here in the Conservatory.
Each of the flower's colors represents a different aspiration. Red is a symbol of passion, love, and romance. The color orange is a symbol of optimism. The color blue symbolizes respect and trust. Green symbolizes nature and rejuvenation. The bird-of-paradise is a reminder of both the beauty and brilliance of nature.
The flower has come to symbolize ultimate freedom and joy. In Paradise there is no suffering and— whether real like the American bald eagle or mythical like the phoenix rising from the ashes—birds, unfettered, symbolize life, hope, peace, and ultimate freedom because of their ability to fly.
In his poem "Sympathy" Paul Laurence Dunbar reflects:
I know what the caged bird feels, alas!
When the sun is bright on the upland slopes
And the wind stirs soft through the springing grass
And the first bird sings and the first bud opes
And the faint perfume from its chalice steals,
I know what the caged bird feels."
When people are unfettered there is no limit to what the world stands to gain when each person's potential and brilliance are allowed to shine and take flight.
Family and Kids' Version
Transcript of Spoken Word
The beautiful bird-of-paradise flower is different from nearly every other flower in the world! Have you been looking at the flowers along the pathways and inside of this building? Have you noticed their stems, their petals, and their shapes? Many flowers have petals that are a single color like all blue or all pink. Some have petals with two colors like purple and white or red with a splash of yellow. Some have rounded shapes. Some, like tulips, are shaped like a bell.
The bird-of-paradise has its own unique shape and mix of colors. Do you know how the caterpillar spins a cocoon or chrysalis and stays inside of it while his body changes? When it is time, he begins to emerge from the cocoon, but he is no longer a caterpillar. He has transformed into a beautiful butterfly. The petals of the flower rest inside a type of cocoon called a spathe. Inside, three baby orange petals and three baby blue petals join together into a single flower bud. And when it's just the right time, that bud bursts through, opens up, and forms a beautiful, colorful crown of petals. Some say the petals look like the wings of the bird, ready to take flight.
The bird-of-paradise flower got its name from the actual bird of paradise whose tail feathers are long with brilliant, bright, bold colors.
The flower reminds us of the brilliance of nature. Some say the flower makes them feel free because it reminds them that we are each special, unique, and beautiful on the inside. And if you spread your wings and show the beauty inside of you, you'll see just how high you and your dreams can fly.
9. A Horticultural Icon
Transcript of Location Description
The Main Conservatory can be divided into a right side and a left side, both a mirror image of the other. Each has a rectangular grassy lawn that's surrounded by columns adorned with greenery and lined with flower beds. Both sides are divided by a path that is also lined with flower beds. Each flower bed that lines the path, including the flower beds on the lawn, is a different experience that includes various types of flowers. The flower beds are filled with vibrant-colored flowers including primulas, cymbidiums, lilies, azaleas, and African-violets. The flower colors include purples, yellows, pinks, greens, oranges, and reds.
Transcript of Spoken Word
George Washington Carver was one of America's most prominent scientists and inventors. He had a life-long fascination with plants and conducted his own experiments with plants and soil when he was just a child.
He was the first Black student accepted into Iowa State Agricultural School to study botany where he earned a bachelor of science degree in 1894 and a master's degree two years later. As a faculty member there he began conducting experiments in crop rotation using soy plantings to replace nitrogen in depleted soil. He was by then being recognized nationally as a leading agricultural scientist.
But it was when he accepted the invitation of Booker T. Washington to consider taking a post at the historic Tuskegee Institute that he would truly hit his stride as a research scientist and inventor. He was committed to helping poor farmers in the rural South. He introduced the technique of crop rotation. After much experimentation, he settled on the use of peanuts to replace the nitrogen in soil depleted of it by cotton plants.
Farmers quickly applied the techniques, which yielded larger, healthier cotton crops, but storing large amounts of peanuts had a down side. Rot.
Back to the lab he went where he isolated himself for a solid week and created several new products that could be produced from peanuts. Carver was eventually credited with saving the agricultural economy of the rural South. He developed over 300 products made from peanuts. These included: flour, paste, insulation, paper, wallboard, wood stains, soap, shaving cream, and skin lotion. He experimented with the use of peanuts for medicinal purposes. Those experiments yielded antiseptics and a treatment for goiter.
During World War I he worked with Henry Ford producing a peanut-based replacement for rubber and developed more than 30 colors of dye from Alabama soils when dye became difficult to obtain from Europe. Products he developed from his experiments with sweet potatoes include: wood fillers, dye, rope, breakfast cereal, shoe polish, and synthetic silk.
In addition, he continued to experiment with the crossbreeding of plants and flowers to produce wide arrays of colors, tints, and shades. Beloved by his students, he challenged the next generation of agricultural and horticultural scientists to find their answers through trial and error using the scientific method.
His work, achievements, contributions, awards, recognitions—which include a monument and two US military vessels—are far too many to name here. His impact during his lifetime and beyond: immeasurable. With all his fame and notoriety though, he was a humble man, an accomplished artist and pianist and a humanitarian who worked the whole of his life for racial equality. Carver's actual birthdate is unknown but the United States Congress designated January 5th as George Washington Carver Recognition Day.
Inspired by his life example, others followed in his footsteps. They include Marie Clark Taylor who, in 1941, became the first American woman of any ethnicity to receive a doctorate in science from Fordham University. She was the head of the Botany Department at Howard University for 29 years. Roland Maurice Jefferson, a legend at the National Arboretum where he spent over 40 years studying, propagating, and preserving cherry trees. Some of the trees from his collection still bloom each year at the Washington DC Cherry Blossom Festival.
And today, younger African American botanists carry on his legacy. Daria McKelvey, a supervisor at the Missouri Botanical Gardens. Kevin Cox, Jr., a post-doctoral fellow researching ways plants can protect themselves against pathogens. Matthew Norman, a professional rosarian—yes, one who cultivates roses. These young people and more are not only carrying on George Washington Carver's legacy, they are blazing their own trails for others to follow.
We at Longwood Gardens are pleased to recognize Carver's work, to play a part in continuing his legacy, and leave you with a quote from his writing:
"Why should not the horticulturist know just how to build up size, flavor, vigor and hardiness in his fruits and shrubs, and the florist know just how to blend and perfect the color of his flowers, producing not only harmony, but a glorious symphony of nature's daintiest tints and shades, with as much certainty as the artist mixes his pigments upon the palette?"
10. The Legacy Continues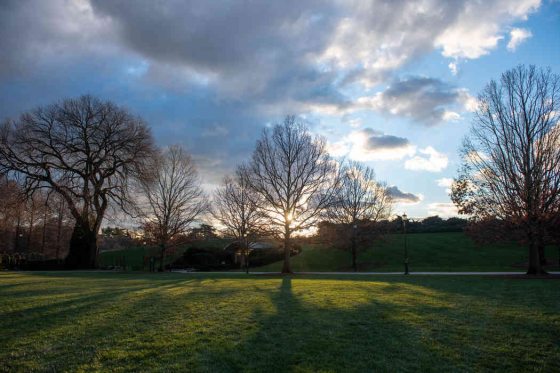 Transcript of Spoken Word
"Root"
By Poet, Guggenheim, and MacArthur Fellow Terrance Hayes
My parents would have had me believe
there was no such thing as race
there in the wild backyard, our knees black
with store-bought grass and dirt,
black as the soil of pastures or of orchards
grown above graves. We clawed free
the stones and filled their beds with soil
and covered the soil with sod
as if we owned the earth.
We worked into the edge of darkness
until everything came from the dirt.
We clawed free the moss and brambles,
the colonies of crab-weed, the thorns
patrolling stems and I liked it then:
the mute duty that tightened my parents'
backs as if they meant to work
the devil from his den. Rock and spore
and scraps of leaf; wild bouquets withered
in bags by the road, cast from the ground
we broke. We scrubbed the patio,
we raked the cross hatch of pine needles,
we soaked the ant-cathedrals in gas.
I found an axe blade beneath an untamed hedge,
its edge too dull to sever vine and half expected
to find a jawbone scabbed with mud,
because no one told me what happened
to the whites who'd owned the house.
No one spoke of the color that curled
around our tools or of the neighbors
who knew our name before we knew theirs.
Sometimes they were almost visible,
clean as fence posts in porch light;
their houses burning with wonder,
their hammocks drunk with wind.
When I dreamed, I dreamed of them
and believed they dreamed of us
and believed we were made of dirt or shadows:
something not held or given, irredeemable, inexact,
all of us asking what it means to be black…
I have never wanted another life, but I know the story
of pursuit: the dream of a gate standing open,
a grill and folding chairs, a new yard boxed in light.
Today, in early spring across the nation, men, women, and children can be found in front and rear yards, clearing away winter's leaves; pulling weeds; planting and tending to bulbs; raking, mulching, and feeding soil where perennials begin to stir from their sleep; preparing beds and pots for petunias, geraniums, verbena, and butterfly bushes for porches and decks. Potted plants after spending winter indoors with artificial heat get to go outside and bask in fresh air, rain, and sun. Seedlings in large planters will yield tomatoes, cucumbers, squash, eggplant, and peppers. There will be weddings and barbecues and family reunions and days or evenings spent sitting quietly taking in nature's beauty.
In African American communities in urban areas across the country where successions of row houses with concrete yards threaten the survival of gardening traditions, residents have laid claim to empty or abandoned lots, clearing away litter and waste, taking patches of dirt or sand and transforming the spaces into abundant oases yielding rich harvests of vegetables and ornamental flowers. Children work side-by-side with elders who continue to pass on the knowledge, love, and legacy of generations of gardener ancestors who reached their hands into the earth and coaxed and nurtured abundance from their small patches of dirt or sand or red Georgia clay.
The cultivation of private and community gardens became the focus of Michelle Obama, the 44th First Lady of the United States of America. On March 20, 2009, Mrs. Obama broke ground on the largest and most expansive vegetable garden ever established on the White House Lawn.
Community icon Blanche Epps speaks of the communal and transformative aspects of the community garden she established in her Philadelphia neighborhood. The audio excerpts are courtesy of the Philadelphia Folklore Project Archives and was featured in the Philadelphia Folklore Project's Folk Art of Social Change. You can access the full video at www.folkloreproject.org.
Blanche Epps:
"A person has to have a feel to learn, to deal with the dirt. You can't just go to the supermarket and say 'Oh, look what grew here, red tomatoes or a nice eggplant.' You have to get dirty if you're interested in the land itself. This is what I'm trying to teach. The canvas is there. Be the artist to present the perfect picture in your mind. It may not fit anyone else's mind but it has to fit your mind. This is what we are trying to do at the Garden of Gethsemene and I feel we've done this. The color green is magnificent and the color green produces the rest of your color. The dirt tells you 'you put this in me this way and I will produce for you.' You've got to feel it. Gardening is feeling."
These are gardens and harvests of independence, gardens of self-affirmation. Some have grown into larger collectives like Sankofa Farms at Bartram Garden; Millcreek Farms in the Mantua community; OGC/Our Garden Club, the oldest continually active African American Garden Club in Philadelphia, established in 1939, whose members are regular exhibitors at the Philadelphia Flower Show.
From earth we emerged, to earth we will return. Its seeds continue to nurture our body and spirit. Our ancestors worked its soil and it gave back abundant harvests. Their songs and dances of gratefulness still can still be heard. And often, when man seeks to diminish our humanity, a rose— white or yellow or red—will still freely offer its fragrance with no thought of the color of the face that gently leans into its beautiful, delicate petals.
The Meetinghouse (Online-Only Bonus Track)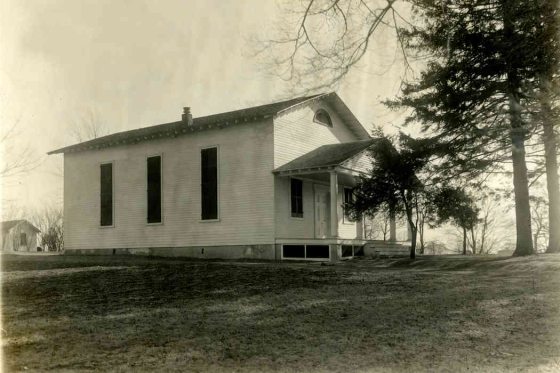 Transcript of Location Description
A sepia photograph of the side view of the Meetinghouse amongst the trees. The Meetinghouse is a rectangular building with a light exterior that has a peaked roof. Along the side of the Meetinghouse, there are three windows. At the front of the Meetinghouse, there are two windows on either side of the front door. The Meetinghouse has a front porch covered by a portico, which is a smaller roof that is supported by four columns. At the top of the Meetinghouse, above the portico and just below the point where the two sides of the roof meet, there's a half circle-shaped window.
Transcript of Spoken Word
Not part of the Gardens but part of the original du Pont land is the Old Longwood Progressive Friends Meetinghouse and Cemetery, which you may notice as you enter or exit Longwood. This was a rather unique congregation. Many had been read out of their own meetings for their outspokenness on secular issues such as slavery and women's suffrage.
The minutes from a gathering of members of the Yearly Meeting of Progressive Friends held in May 1853 describe a moment on the afternoon of the third day when a woman rose to her feet and began to sing. That woman was Sojourner Truth. Her song was a heart-wrenching lament of mothers whose children were sold away from them under the cruelties of slavery. The third verse reads:
"Oh slave mother-hope! See-the nation is shaking!
The arm of the Lord is awake to thy wrong!
The slaveholder's heart now with terror is quaking,
Salvation and Mercy to Heaven belong!
Rejoice, O rejoice! For the child thou art rearing
May one day lift up its unmannacled form,
While hope, to thy heart, like the rainbow so cheering
Is born, like the rainbow, 'mid tempest and storm."
At the same meeting, the minutes record, "letters were received by William L. Garrison ... which were listened to with steadfast interest." Other speakers known to have drawn large crowds there included Harriet Beecher Stowe and Frederick Douglass. Situated only a few miles north of the Mason-Dixon Line, the tracks of the Underground Railroad came through Kennett Square where many Quakers began to take a formal stand against America's "peculiar institution." Many of those arguments and decisions were made within the walls of the small white frame house of worship.
The meetinghouse is now home to the Brandywine Valley Tourism Information Center. The cemetery across the street is the resting place of many local abolitionists. Both sides are part of the National Register of Historic Places and the Harriet Tubman Underground Railroad Byway. In 2014, thanks to the efforts of the Kennett Underground Railroad Center, the meetinghouse was designated by the National Parks Service as a site of the National Underground Railroad Network to Freedom.
---
Poetry Credits
From the anthology: black nature: Four Centuries of African American Nature Poetry, edited by Camille Dungy, © 2009 The University of Georgia University Press
"Deep in the Quiet Woods" by James Weldon Johnson from James Weldon Johnson: Complete Poems, ed. Sondra Kathryn Wilson, © Sondra Kathryn Wilson, Literary Executor of the Estate of James Weldon Johnson.
"Root" by Terrance Haynes from Wind in a Box, © 2006.
"Sympathy" (first verse) by Paul Laurence Dunbar from The Collected Poetry of Paul Laurence Dunbar, ed. Joanne Braxton © 1993. The Complete Poems of Paul Laurence Dunbar original copyright 1895 The Century Company.
---
Voices in the Landscape: Deeply Rooted with Storyteller Charlotte Blake Alston
Texts by Charlotte Blake Alston, Copyright © Charlotte Blake Alston, January 2021