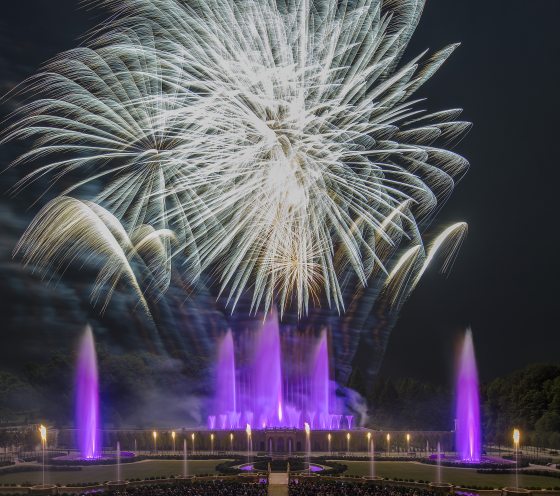 This blog post was originally published on July 16, 2018.
Our captivation with showcasing fireworks in our Main Fountain Garden began in 1979, when P.S. du Pont Fellow Colvin Randall watched a fireworks show during a visit to Versailles and realized just how spectacular and multi-dimensional fireworks paired with fountains can be. Randall brought this sense of enchantment back to Longwood, and in 1980, we presented our first Fireworks & Fountains Show amid the beauty of our Main Fountain Garden. "Unlike many other places that have big buildings in the background, we have a very dark canvas," says Randall. "We can set them off and the whole horizon is lit up, so you don't see other things and you lose yourself in the sense of scale."
Longwood's marriage of fireworks and fountains is predated by the du Pont family's fascination with pyrotechnics. Longwood's founder Pierre S. du Pont (1870–1954) was particularly taken with fireworks. While he used fireworks about a half-dozen times, he never did so with fountains, so our Fireworks & Fountains Shows serve as a spectacular homage to two of du Pont's great loves—pyrotechnics and hydraulics.
We work with Arthur Rozzi Pyrotechnics to design our spectacular Fireworks & Fountains Shows, drawing from Art Rozzi's masterful take on show design. "You paint a picture," says Rozzi, who has worked with fireworks all his life, coming from a family that made them. Rozzi first listens to the soundtrack of the show when deciding how to use such firework forms as chrysanthemums, peonies, and comets to perfectly complement the fountains and, ultimately, connect with and astound the audience.
Learn more about our fireworks design process as Randall and Rozzi share their vision in the video clip below. 
Categorized Under: