Welcome, winter! While it's certainly chilly this time of year, it's also a wonderful time to get outside, explore, and enjoy the subtle beauty of the winter landscape. Here at Longwood, we're savoring the season both outdoors and in, from our wide-open vistas and dramatic tree silhouettes set against the crisp winter sky, to our Conservatory now draped in bright flowers and foliage with a tropical twist. No matter where you're enjoying the beauty of winter, when it's time to come in from the cold, these seasonal cocktails and treats (many with a bright citrus twist!) will surely help keep the chill off.
Smoky Apple Cider Margarita
Let's start with the good stuff … the beloved margarita but with a deep, flavorful taste.
1 1/2 ounce Espolon Blanco tequila
¾ ounce Grand Marnier
½ ounce Del Maguey VIDA mezcal
3 1/2 ounce sweet apple cider
Cinnamon, sugar, and apple slice for garnish
Yield: One cocktail
Combine all ingredients and stir well for 20 seconds. Make a simple cinnamon sugar and rim two margarita or rocks glasses. Fill glasses with ice and strain the cocktail into each glass. Garnish with a sliced apple and serve immediately.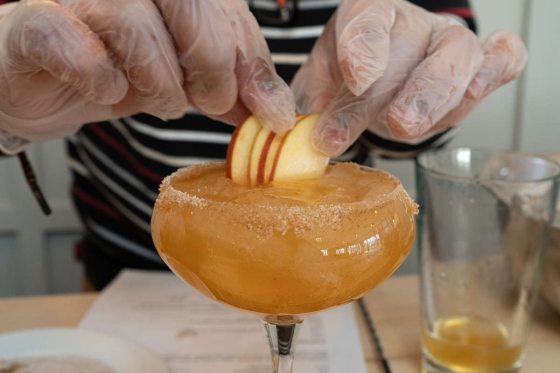 Grapefruit Bourbon Smash
Looking for a more citrus-forward cocktail? Then this is, well, smashing.
3 mint leaves
1 lime wedge
1 ½ ounce honey simple syrup (equal parts honey and water)
5 ice cubes
2 ounces bourbon
1/3 cup fresh grapefruit juice (approximately 1 grapefruit)
2 dashes Angostura aromatic bitters
Grapefruit slices and mint leaves for garnish
Yield: One cocktail
Add mint leaves and lime to a cocktail shaker with the honey syrup. Muddle for at least 60 seconds to release the juice from the lime and flavor from the mint. Add ice cubes, bourbon, grapefruit juice, and bitters to the shaker. Stir for 20 seconds. Fill rocks glasses with ice and strain the cocktail into the glass. Garnish with a grapefruit slice and mint and serve immediately.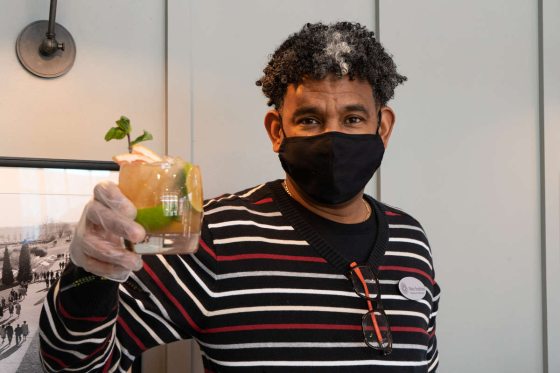 Hot Rooibos Chai Tea
Looking for a warm drink to help take the chill off? This spicy chai tea can be enjoyed with or without vanilla vodka.
3 cups water
1 cup whole milk
2 cinnamon sticks
2 teaspoons cardamom pods, lightly crushed
1 teaspoon whole cloves
2 slices fresh ginger, lightly smashed
1 tsp black peppercorns
4 tablespoons light brown sugar or honey
3 Rooibus tea bags
Optional: Add 1 ounce vanilla vodka to each chai for a warming adult beverage.
Yield: Four drinks
Combine all ingredients in a large saucepan and bring to a boil over medium heat.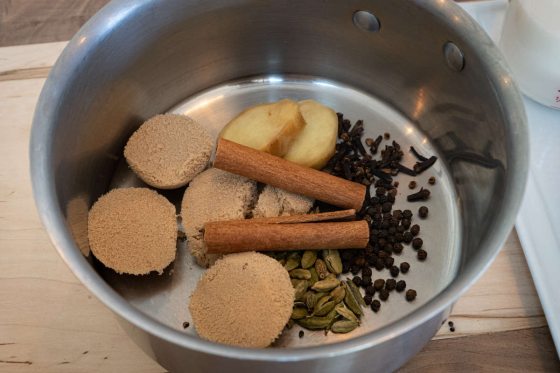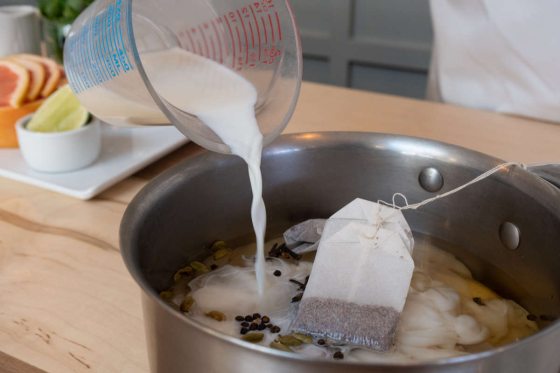 Reduce the heat to low and simmer, stirring occasionally, for about 20 minutes.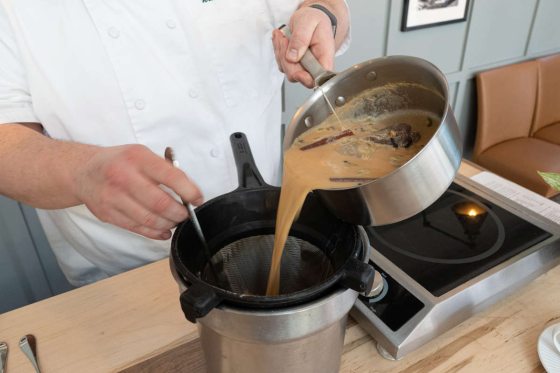 Strain the chai through a fine sieve and serve hot.
Hungry for some winter-inspired food recipes? Then you're in luck!
Gougeres
This simple, delicious warm cheese puff made with pate a choux pastry can be made with nearly any cheese. This time, we used an aged goat cheese, but gouda, gruyère, parmesan, cheddar, and blue cheese are also amazing … really anything goes!
1 cup water
7 tablespoons butter, cubed
1 tablespoon salt
1 pinch sugar
1 ¼ cup all-purpose flour
4 eggs
1 ¼ cup cheese, grated or crumbled
1 pinch black pepper
Yield: About 48 puffs
Preheat oven to 375 degrees.
Combine the water, butter, salt, and sugar in a saucepan and bring to a boil. Remove from heat immediately and add all the flour at once, stirring vigorously with a wooden spoon. When the flour is incorporated, return the pan to medium heat for several minutes, stirring constantly until the mixture starts to dry out and pull away from the edge of the pan. Away from the heat, add all of the eggs at once, mixing each until well blended. The dough should be soft and shiny. Add the cheese. Season with black pepper and more salt if needed.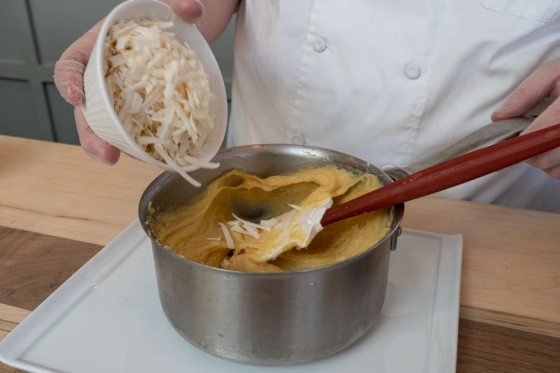 Line a baking sheet with parchment paper. Using either a soup spoon or pastry bag with a large plain tip, make mounds about 1 inch in diameter.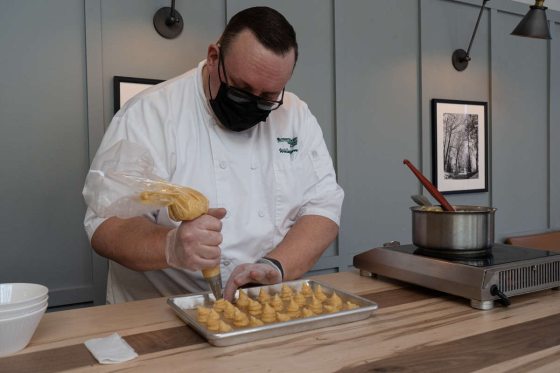 Using a damp paper towel, pat down the points of the mounds to make them smooth. Bake for about 15 minutes, or until puffed and golden brown.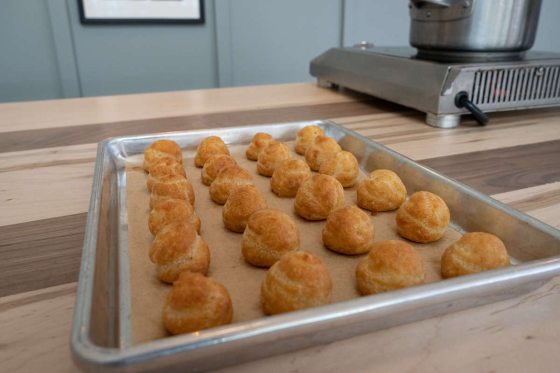 The puffs are at their best when served warm from the oven but are also delicious at room temperature. They can be made ahead and frozen, then popped in the oven to reheat just before serving.
Lobster and Grapefruit Salad with Citrus Vinaigrette
Citrus season is happy season. It's sunshine to me! These crisp, invigorating flavors are sure to brighten even the coldest winter day.
For the citrus vinaigrette:
2 tablespoons Dijon mustard
4 ounces olive oil
4 ounces orange juice
1 ounce lemon juice
1 tsp champagne or white vinegar
1 tablespoon thyme, minced
Kosher salt and pepper to taste
Place the Dijon mustard, orange juice, lemon juice, and vinegar in a blender. Slowly blend in the olive oil until completely emulsified. Season with salt and pepper to taste. Mix in the chopped thyme. Set aside.
For the salad:
4 ounces lobster, cooked, shelled and ½ inch-diced
2 ounces cucumber, diced
2 ounces tomato, concassed and diced
2 ounces avocado, diced
2 ounces grapefruit, segmented and cut into bite-sized pieces
2 hard-boiled eggs, separated and chopped
6 ounces mesclun greens, romaine, or lettuce of your liking
In a small bowl mix the greens with 1 ounce of the citrus vinaigrette. Season with salt and pepper.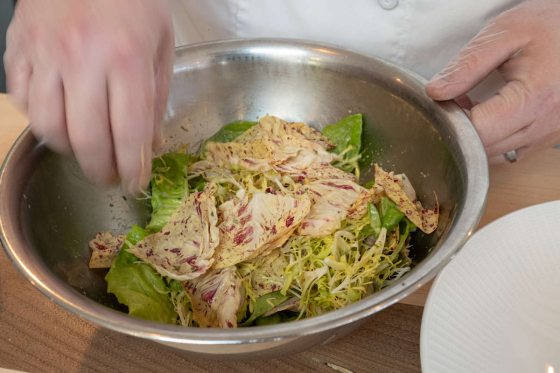 Place the lettuce mixture in the center of a plate. Place the lobster on top of the lettuce mixture. Attractively arrange the grapefruit, avocado, tomato, cucumber, and eggs in piles around the lettuce mixture. Coat the vegetables and salad with a little more of the citrus vinaigrette. Serve immediately.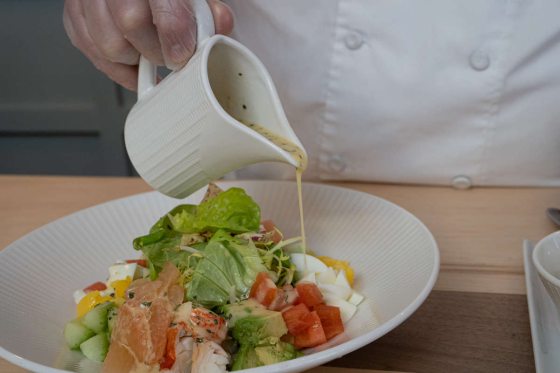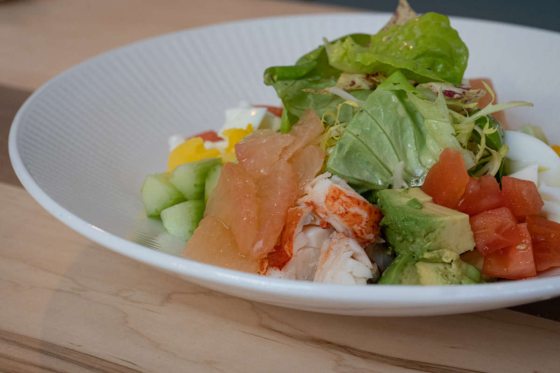 My best to you for a winter of good health, great fun, and delicious food and drink!
Categorized Under: