From the vibrant reflection of a Nymphaea in a Waterlily Display pool to the serene sway of native grasses in a Meadow Garden breeze, we find sources of beauty—and ensuing inspiration—in every corner of our Gardens. We also find inspiration in the infinite sources of beauty that exist far beyond our 1,100 acres … and when we're lucky enough to pay homage to such a source and demonstrate its beauty and its significance here at Longwood with our guests, we revel in that opportunity. On October 14, 15, and 16, we are honored to share a very special Luminaria Nights display inspired by the artform of sashiko—a traditional hand-stitching practice developed in Japan that has evolved over centuries into the cherished craft it is today. In the 1,723 lights lovingly placed in a Seigaiha geometric wave pattern in our Main Fountain Garden lies a story, a meaning, a culture that we are beyond proud to share with you ... all timing up with the Saturday, October 16 opening day of this year's Chrysanthemum Festival, our annual display during which we proudly showcase another Asian artform.
Longwood's Associate Director of Landscape Architecture and Programs Erin Feeney has designed and brought our Luminaria Nights to life since they first debuted in summer 2017. Luminaria have long been used around the world for decorative and symbolic purposes, a history in which Feeney finds inspiration when designing each luminaria display, often using strong lines and geometric shapes to contrast our organic garden spaces. Feeney has long admired the geometric aesthetic of, and the story behind, sashiko and was inspired to showcase the artform here at Longwood—but she knew she would need some help to both artfully and accurately represent this Japanese craft.
Enter sashiko artisan and curator Atsushi Futatsuya, who has collaborated with Feeney on the design and the meaning behind this week's Luminaria Nights display. Born into a surviving sashiko family in Gifu Prefecture, Japan, Futatsuya is dedicated to sharing sashiko with the world through his organization UpCycle Stitches. Futatsuya teaches the core and essence of sashiko through workshops, by providing supplies and materials, and sharing the techniques and mindset of the artform, all the while paying homage to the importance of its layered history.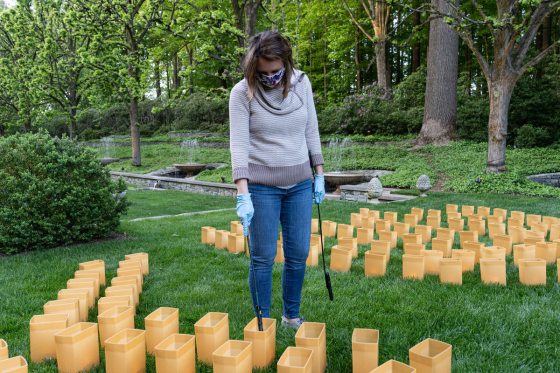 Sashiko dates back to the Edo period (1615–1868) when working class farming and fishing families developed the practice as means of survival to make the fabric thicker, warmer, and stronger and thereby preserve their textiles and clothing. Using a running stitch employed by repeating or interlocking traditional Japanese geometric patterns, these families would stitch a worn-out piece with layers of old cloth to produce a sturdy garment to be passed down through generations. By the Meiji Era (1868–1912), even personal protective garments such as firefighting coats were created using sashiko, thanks to its strength and durability. Throughout the centuries, sashiko has evolved from a frugal necessity for survival into a highly regarded artform. In the 1970s, sashiko experienced a revival in some communities and continued to be practiced and developed into a craft focused on expression and creativity.
Sashiko Demonstration Video
Beyond sashiko's original functional and utilitarian use is the beauty of its patterns and of its stories. Dating back to its origin, the patterns that sewists developed and used would be meant to protect the wearer or tell stories of family, of self, of culture. Many of these patterns were adapted from those used in textiles, architecture, and ceramics, and are hand-drawn. A distinctive element in sashiko patterns is the use of blank space as an integral part of the overall pattern, and many popular traditional patterns represent things found in nature including Nowaki Grasses, which depicts the shape of dune grasses in a strong breeze and represents resilience and the strength of one's roots, as well as Shippo-Tsunagi (Seven Treasures), which features a pattern of four ellipses or circles within a circle and symbolizes endless peace and happiness.
This week's luminaria display is inspired by the popular sashiko pattern of Seigaiha (Blue Sea Waves),  a geometric pattern of layered concentric circles that represents a calm ocean and the hope for life to be of good fortune. Together, Feeney and Futatsuya chose Seigaiha as an inspiration for our luminaria display to reflect our hopes for a calmer future, and to complement the role of water in our Main Fountain Garden. At Futatsuya's encouragement, Feeney used the traditional Seigaiha pattern as the main focus of the luminaria design and from there played with linework and spacing to create a pattern that would not only fit within the spacing of the Main Fountain Garden's trees and allées, but also complement the entire garden's architectural features.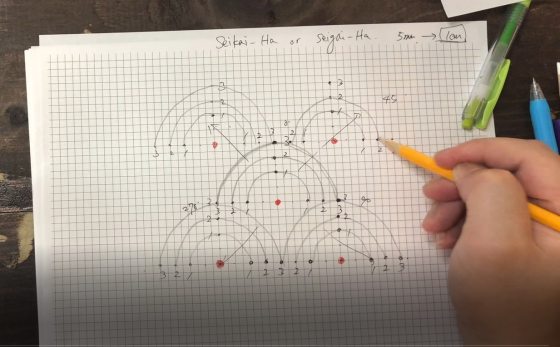 As in sashiko, Feeney has designed the display to be viewed from a primary view: from the elevated perspective of the Fountain Terrace nearest the Rectangular Basin, on the south side of the Main Fountain Garden. From here, guests can see the Seigaiha pattern "right side up" and view the intricacy of the pattern from above. When viewed from above, the pattern of waves evolves as one moves along the overlook. This evolution is meant to reflect the variations that are seen in the artform of sashiko itself, as sashiko artisans start with and respect the established sashiko patterns but then work to make something that is their own, reflective of who they are and the story they'd like to tell—much like Feeney has done with the luminaria display.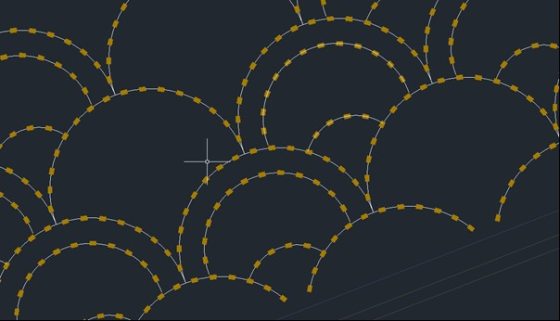 However, as Futatsuya notes, it's important for guests to experience the display from the angle at which they'd like to view it … and from a different angle, the meaning of the Seigaiha pattern could change. When viewing the luminary display from the north looking towards the Main Fountain Garden with the Conservatory at your back, or from the pathways within the Main Fountain Garden itself, guests will see the display "upside down" with a meaning of change or welcome disruption. From whichever direction you view the luminaria display, however, it is our hope that you'll experience our intent: appreciation of the origin, evolution, beauty, and spirit of sashiko, and of all the meaning that is infused within the artform and its mesmerizing patterns. And while the display itself will be gorgeous, the process in which it was conceptualized, designed, and executed—along with Futatsuya's expert collaboration, and our team of staff and volunteers who carefully place and light each and every luminary with care—truly shines.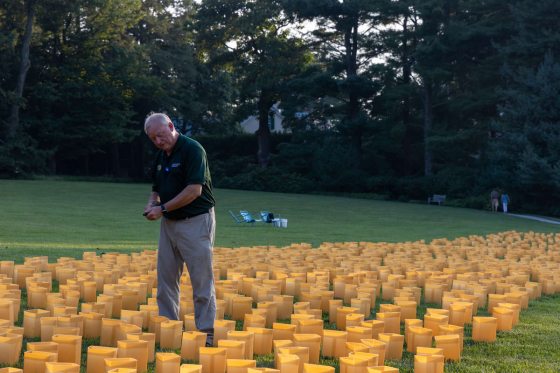 Join us for our October 14, 15, and 16 Luminaria Nights to see the beauty of the Seigaiha pattern and the inspiration of sashiko in person. While you're here, be sure to experience the additional 1,000 luminaria that will illuminate the walkways of our Conservatory and on Saturday experience the opening day of Chrysanthemum Festival, our annual display of specialty chrysanthemum forms that help preserve an ancient Asian art … and one that we are beyond proud to perpetuate. 
Categorized Under: