As part of the Fellows Program, our cohort has had the opportunity to immerse ourselves in the culture of organizations throughout the region. These salons allow us to engage in meaningful discussions and firsthand explorations of leadership in specific organizational contexts. In September, we visited the GoggleWorks Center for the Arts in downtown Reading, PA, where we explored the concept of leading in times of change and how it relates to the challenges—and opportunities—that organizations have faced during the pandemic. The GoggleWorks mission is to transform lives through unique interactions with art, and the salon gave us insight into how they foster creativity by nurturing the arts, promoting education, and enhancing economic opportunity in the community.
GoggleWorks has a deep history in Reading. Initially constructed in 1871 as the Willson Goggle Factory, GoggleWorks Center for the Arts was renovated and reopened in 2005 as one of the largest interactive art centers of its kind in the country, serving 250,000 visitors annually. The 145,000-square-foot arts campus serves as a regional hub for creative culture, with seven main teaching studios in ceramics, glass, jewelry, photography, wood, and printmaking, along with exhibition galleries, studios, a movie theater, and a garden managed in partnership with the neighboring Lauer's Park Elementary School.  
Our tour started at the main entrance with Director of Retail and Visitor Experience Tess Doran, who explained how they transformed the layout to combine a welcoming front desk with a retail space highlighting objects made in the onsite studios. From there we met with Executive Director Levi Landis, Artistic Director Tim Compton, and Garden Manager Tiana Lopez, who shared with us how they engage the community to create diverse, inclusive, and artistic experiences throughout their site.
What was amazing to us was how GoggleWorks uses its unique spaces to collaborate with other institutions, offering transformative experiences to help enrich the whole community. Compton shared with us that the pandemic prompted GoggleWorks to look beyond their building and think about how gardening and outdoor experiences could tie into their mission.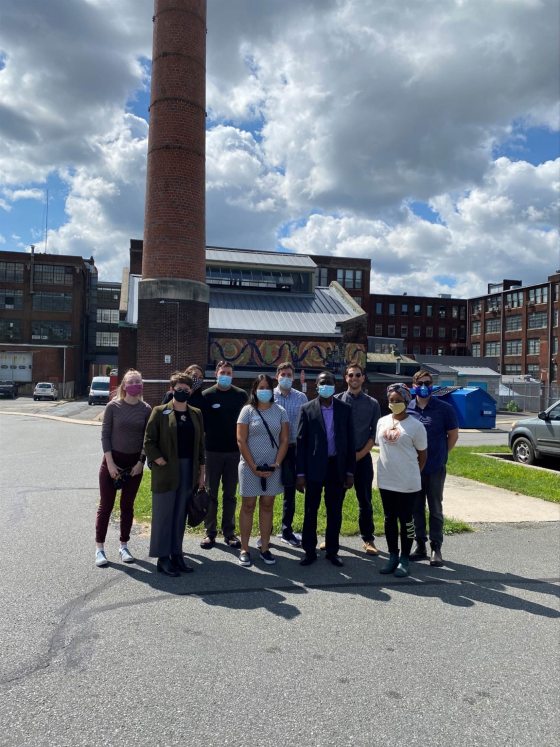 Like GoggleWorks, gardens such as Longwood seek to engage the community with a diversity of educational programs, artistic displays, and performances. It was inspiring to learn how GoggleWorks uses their space as a platform to ensure members of the community feel welcome. They do not charge admission and invite (even expect) visitors to explore, offering no guided tours but making nearly the entire building open to the public. GoggleWorks also highlights artists from diverse backgrounds, choosing works from a range of styles that spark curiosity.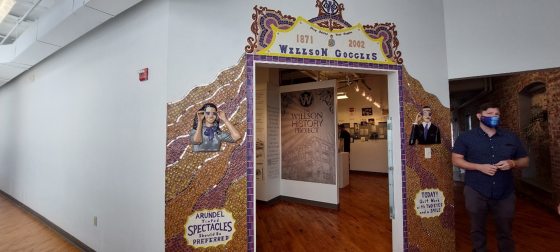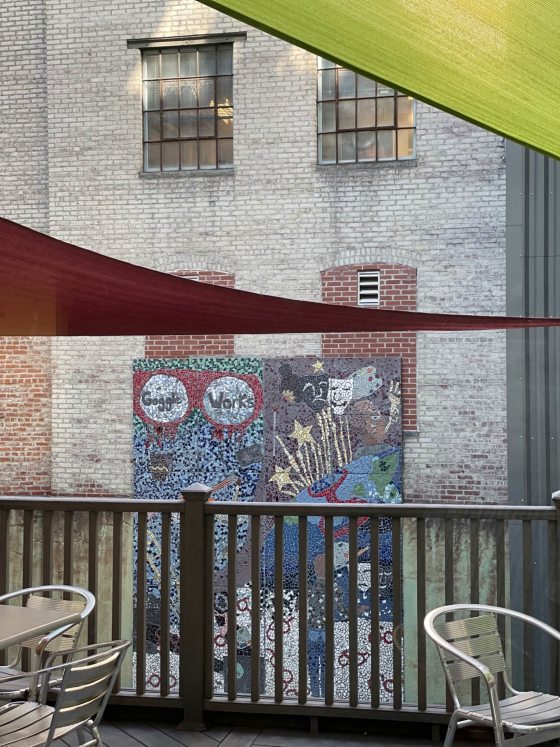 However, GoggleWorks staff realized that many of their neighbors still felt disconnected. They thought that they could enliven their outdoor spaces through new container gardens combining edibles with ornamentals. Garden Manager Tiana Lopez relayed to us how she encourages the community to engage through questions, help her with everyday tasks, and even pick vegetables. At GoggleWorks Gardens at Lauer's Park, Lopez also works with teachers, students, and volunteers to maintain native plant habitats, greenhouses, and vegetable gardens.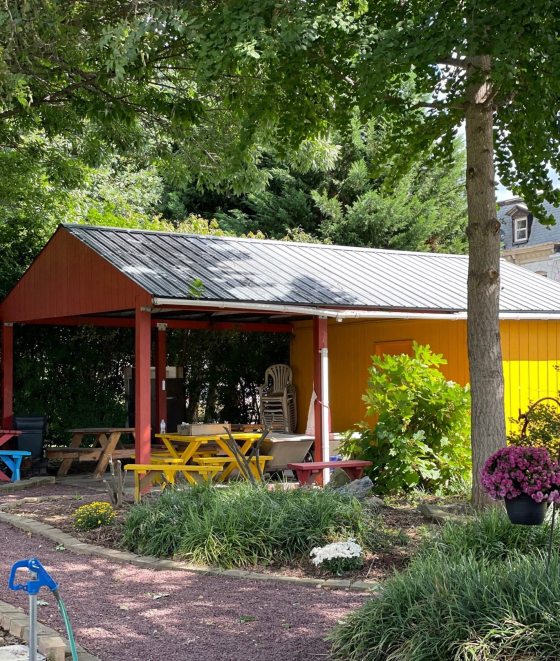 We also learned how GoggleWorks, as a leading regional arts and cultural center, is careful about the projects they take on. When expanding their programs, they are mindful of how they partner with smaller organizations so that partnerships are mutually beneficial.
This commitment to a common goal of enriching the community reminded us of Longwood's role in the heart of America's Garden Capital as a steward that helps foster the growth of the community, as well as Longwood's mission to inspire people through excellence in garden design, horticulture, education, and the arts. As a regional arts and cultural center, GoggleWorks too fosters creativity, educates people, and gives those in the community a sense of beauty and awe. From gardens such as Longwood to centers such as GoggleWorks, while each organization is unique, together we all work to help grow and serve those seeking beauty, solace, and community.
Categorized Under: