As part of Longwood Reimagined: A New Garden Experience, we are proudly enhancing and renewing our iconic Waterlily Court, redefining it as an outdoor room and further strengthening it as a central destination and gateway to our new West Conservatory. Even though the Waterlily Court can't be visited until its 2024 reopening, the aquatic plants for which this space is known—including our famed Victoria water-platters—are still growing and thriving while awaiting their newly refreshed home. Exactly where those plants are growing and thriving, though, may surprise you.
A new collaborative agreement between Longwood and Naples Botanical Garden in Florida supports the growth and future of Victoria throughout the Longwood Reimagined project … and allows us to focus on the conservation of these plants for many years (and many displays) to come. The agreement focuses on continuing the seed production of Victoria amazonica, Victoria cruziana, and their resulting Victoria 'Longwood Hybrid' while the Waterlily Court is undergoing revitalization.
Under the leadership of Longwood Senior Horticulturist Tim Jennings, Naples Botanical Garden trialed Victoria seed production during the 2021 growing season and is now continuing production during the 2022 and 2023 growing seasons. Through this collaboration, Longwood can maintain a source of viable Victoria seed while the Waterlily Court—the space normally used for Victoria growth and display— remains unavailable. While we regularly ship Victoria seed to other institutions to grow for their own displays—and have done so with more than 140 botanical gardens around the world—this serves as the first time we've entered an agreement with another institution to grow Victoria seed for us.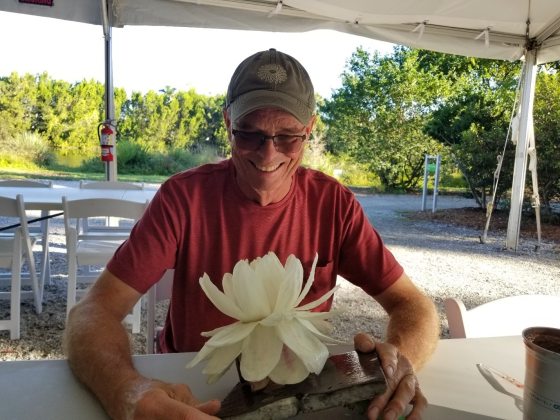 To kick off our collaboration with Naples Botanical Garden, in January 2021 we sowed seed of V. amazonica and V. cruziana in preparation for an April 2021 shipment of six 4-inch potted young plants—three each of V. amazonica and V. cruziana to serve as seed parents—to Naples, as well as gathered and sent cultural information on Victoria soil, fertilization, and general care known to be effective at Longwood. Throughout the trial and growing seasons, Naples horticulturists support the growth of the young parent plants, pollinate the flowers of both V. amazonica and V. cruziana, and then harvest the resulting seeds, temporarily storing them until they're transported back to Longwood for storage.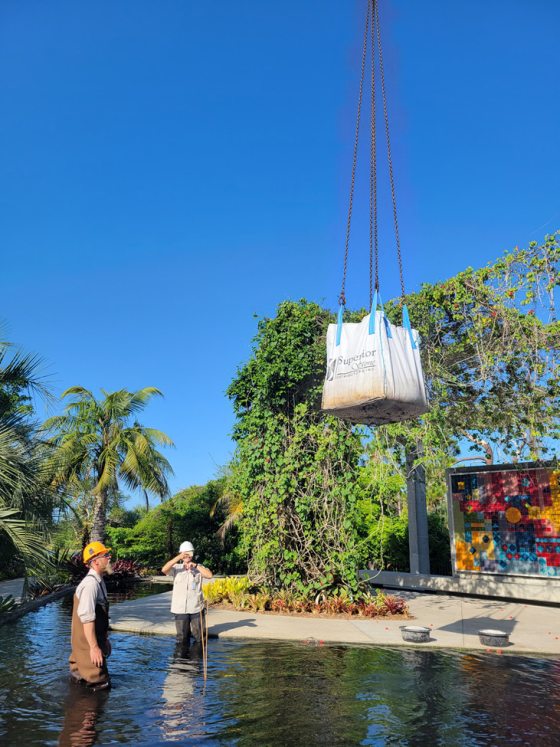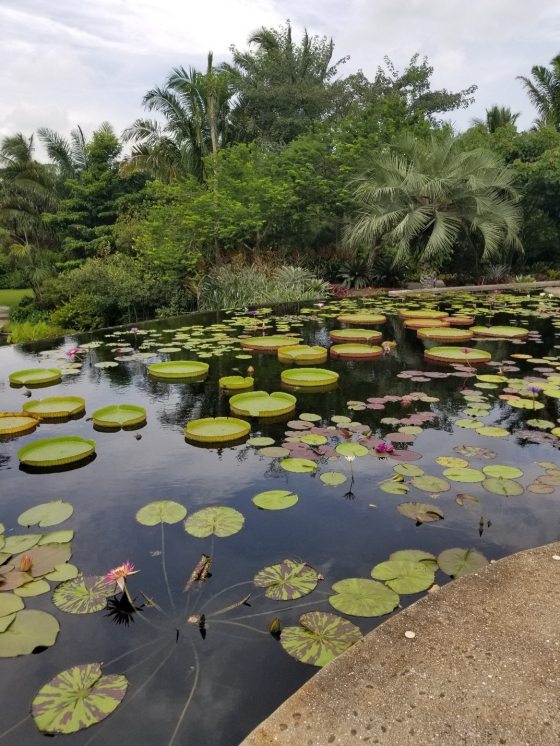 Longwood horticulturists have visited Naples many times throughout this process, and vice versa, with both teams participating in training and learning experiences along the way. Much has been learned and shared, building off of such facts and challenges that V. amazonica seeds can be difficult to germinate germination rates vary from 20 to 40 percent and an even smaller number grow to maturity. Much has been achieved as well, with hundreds of seeds germinated and sent to Longwood thus far, as well as with some Victoria waterlilies being placed on display at Naples starting this summer—meaning more public garden guests can see the beauty of Victoria firsthand.
Victoria have been a part of Longwood's collection since the first waterlily pools were built in 1957 and in 1961 Longwood was the first to successfully hybridize V. amazonica and V. cruziana. In the decades since, Longwood horticulturists have carefully pollinated their unique night-blooming flowers to ensure fresh seed for the following year. This was typically done in the waterlily display itself, where conditions are favorable for seed production. With the closing of the display during Longwood Reimagined, and in addition to the efforts at Naples Botanical Garden, we have built four large temporary pools behind the scenes for the sole purpose of growing these plants for seed production. Growing some Victoria here at Longwood helps to protect against unforeseen interruptions by Mother Nature, such as hurricanes or extreme weather conditions in Florida that could destroy the plants.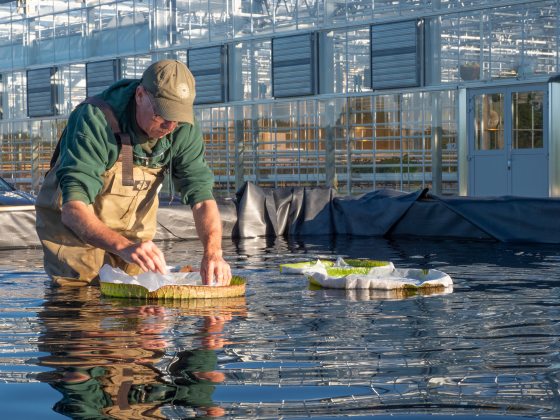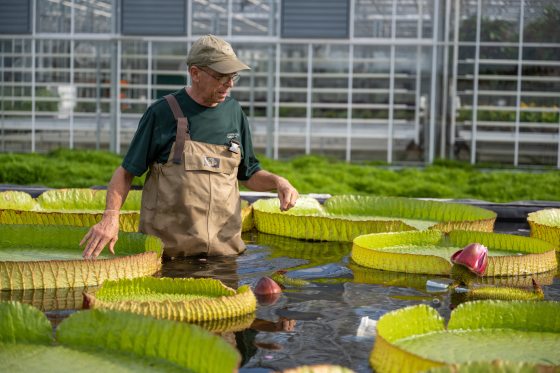 Beyond Victoria's display at Longwood, we realize a greater obligation to the horticulture community to ensure that future generations have a chance to experience these spectacular plants—and as one of the only gardens actively producing seed, we are happy to share our knowledge with Naples Botanical Garden to help ensure the future of Victoria as a whole. This collaboration serves as a fantastic opportunity to observe seed production in a new setting with a longer growing season—which translates into an opportunity to ensure these magnificent plants grow and thrive at gardens around the world. 
In addition to ensuring the health and display continuation of Victoria in our Waterlily Court upon its reopening, we've also focused such efforts on our expansive Nymphaea collection, which will be on view again upon the Waterlily Court's reopening. Many Nymphaea will also grace the indoor and outdoor pools around our West Conservatory, providing seasonal interest in those spaces. Commonly known as waterlilies, our Nymphaea collection is made up of diverse tropical and hardy waterlily hybrids and serves as not only one of our core plant collections, but is also accredited as one of the best such collections in the United States. As the Longwood Reimagined progress progresses, we remain committed to keeping the genetic diversity of this collection intact—not solely for our use and eventual display, but also to regularly share plants and materials for research, education, and display with other institutions worldwide. During the project, we continue to grow our hardy waterlily hybrids, which are temperate perennials, outside. For overwintering, we protect the waterlilies by preventing the water from freezing. Our tropicals, which are typically grown from tubers, continue to be stored in our greenhouses.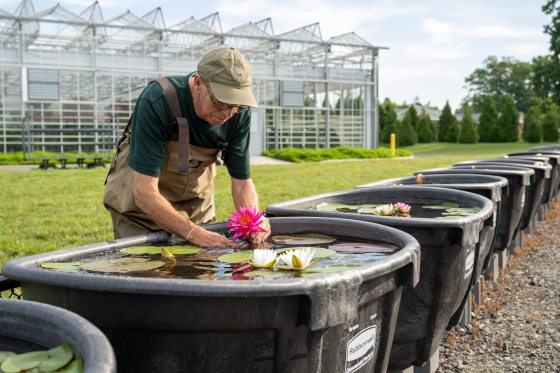 While there will be plenty of beauty to behold upon the realization of Longwood Reimagined, maintaining and growing Victoria and Nymphaea—and sharing them with the world—is a beautiful process in itself.
Categorized Under: