Our bonsai collection is about to grow by significant depth and breadth and, of course, tremendous beauty. We're thrilled to share that over the course of the next two years and leading up to the opening of Longwood Reimagined: A New Garden Experience, The Kennett Collection—the finest and largest private collection of bonsai and bonsai-related objects outside of Asia—will give 50 bonsai to Longwood.
The second part of The Kennett Collection's gift to Longwood is a bequest, which will result in 100 additional specimens—including kicho bonsai or Important Bonsai Masterpieces because of their beauty and rarity—as well as nearly double the size of our bonsai collection. Most significantly, it will add important examples of rare Japanese tree species, making Longwood one of the leading collections of bonsai trained in Japan on public view in the United States. While the majority of the 50 bonsai from the initial gift will go on long-term view during the opening of Longwood Reimagined, you can see a spectacular portion of this transformative gift now, as the first seven are on display in our East Conservatory through November 13. Follow along as we introduce you to these amazing trees, their incredible stories, and what they mean for Longwood.
The 50 trees that will enter the Longwood bonsai collection over the next two years will do nothing short of elevate our existing collection of approximately 70 bonsai. All 50 are of outstanding quality and especially notable for their lineage, including examples from many of Japan's most famous nurseries, such as the Chinsho-en nursery run by the Nakanishi family in Takamatsu, as well as from world-renowned bonsai artists, including Kimura Masahiko, who is known as "The Magician"; Suzuki Shinji of Japan; and Suthin Sukosolvisit of Boston. The gift will also include Omono or "very large" bonsai, measuring three to four feet in height and weighing a few hundred pounds each, as well as bonsai-related objects, notably the containers in which the bonsai are harmoniously trained.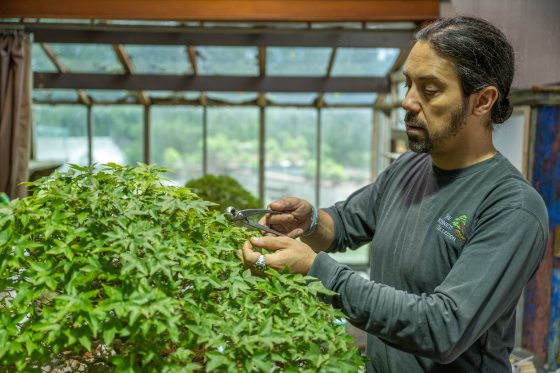 The seven bonsai going on immediate display in our East Conservatory are particularly notable and breathtaking; one of which is a trident maple (Acer buergerianum) in the root over rock style, which was popularized more than 100 years ago in the Nagoya area of Japan. This specimen was developed by the Boston-based bonsai artist Suthin Sukosolvisit, who is considered by many as the best non-Japanese trained artist in the western world. The balance and movement of the roots over and down the rock is close to ideal, and the tree has achieved a superb level of maturity with an incredibly dense canopy of well ramified twigs and branches.
Also among the first seven trees now on display is a Japanese white pine (Pinus parviflora 'Miyajima'), styled by the celebrated bonsai artist Kimura Masahiko. Over many years, he reshaped the branches and developed growth to complement the way the roots grip onto the rocks. Following the specimen's difficult journey to the United States, Mr. Kimura's first foreign apprentice, Marco Invernizzi, returned the tree to health.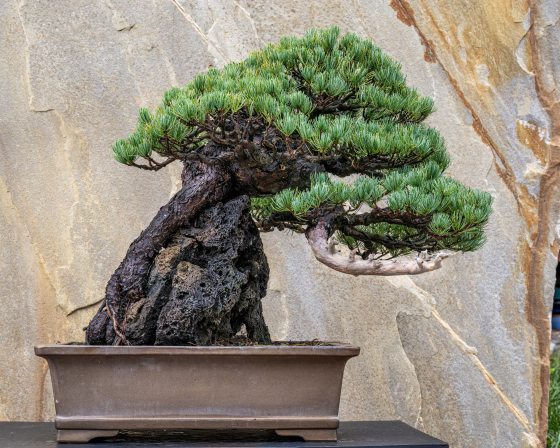 Also proudly on display is a Japanese black pine (Pinus thunbergii), considered one of the most important species in Japan and revered for its vigor and longevity. This specimen, which is 20 inches tall and in the upright style, was initially trained under the care of the internationally renowned bonsai artist Suzuki Shinji.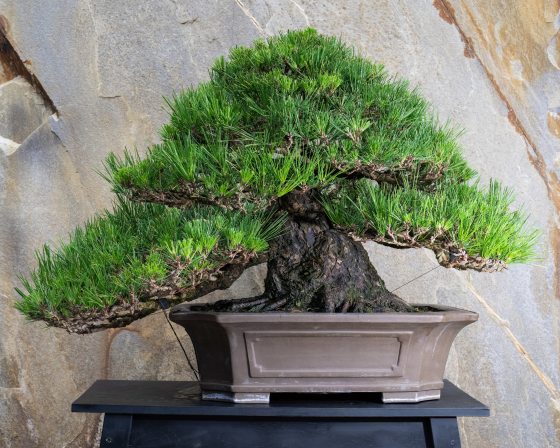 You'll also see a Satsuki hybrid azalea (Rhododendron 'kinsai') of the kinsai variety, which is known for its spring-blooming flowers' resemblance to a firecracker, thanks to its distinctive red hue and tassels. This specimen, originally from the garden of Kunio Kobayashi—founder of the Shunkaen Bonsai Museum in Japan—has been trained in the informal upright style and is notable for its distinctive branching structure and muscular trunk.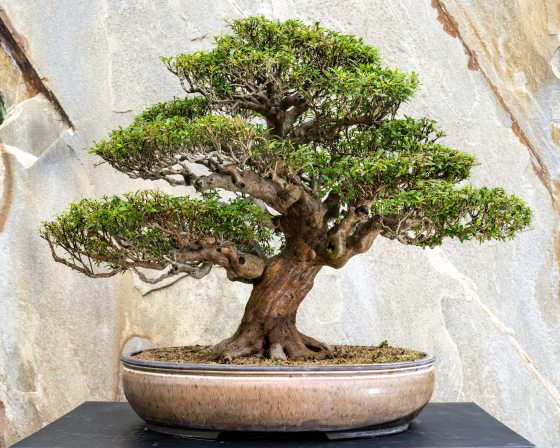 In addition to those four spectacular trees, you can also see a Chinese juniper (Juniperus chinensis 'Shimpaku') in the slant style developed by Seiji Morimae; a cork bark Japanese black pine (Pinus thungergii) in the upright style developed by the Chinsho-en nursery in Takamatsu, Japan; and a Japanese black pine (Pinus thungergii 'Kotobuki') in the slant style also developed by the Chinsho-en nursery.
Upon the opening of Longwood Reimagined, the majority of these 50 bonsai will go on long-term view in our new outdoor Bonsai Courtyard, which will be located alongside the new West Conservatory. Hedges and charred wood walls will create an intimate, gallery-like space, where dozens of bonsai will be displayed on free-standing pedestals against dark backdrops that highlight their forms, foliage, and seasonal bloom.
This bonsai gift joins and elevates our renowned collection that began in 1959, five years after Longwood founder Pierre S. du Pont's death. Inspired by a Continuing Education program led by bonsai artist Yuji Yoshimura, Longwood leadership decided to build a collection starting with 13 trees purchased from Yoshimura. Over the years and prior to this gift, the collection grew to around 70 trees with 50 species represented, notable for the prominence of flora from its local landscape and with the oldest trees in the collection in training for more than 110 years. Our collection is also known for the diversity of its flowering species and for four notable trees developed by artist Yuri Yoshimura. With this transformative gift from The Kennett Collection, Longwood's bonsai collection continues its incredible growth—and we are thrilled to share the beauty of that growth with you. Join us now through November 13 to see the first trees added to our collection, and imagine all the possibilities and beauty to come.
Categorized Under: