Standing at the entrance of the Topiary Garden are two majestic stone lion sculptures sometimes also called imperial lions, guardian lions, or foo dogs. These 1,000+-pound sculptures have been welcoming guests since 1967, enduring many seasons of sun, rain, and snow. Throughout the decades, weather, airborne dirt, lichens and other biological growth, and the touch of many thousands of guests gradually darkened the marble from white to a dull gray … and began to erode the details of their fine carving. Recent guests, however, may have noticed that after several months spent at a stone and masonry restoration facility, that our foo dogs are now brighter and have a renewed grandeur, following a careful cleaning and restorative treatments. The removal, restoration, and reinstallation of these finely detailed—and heavy—sculptures required a delicate, almost surgical approach and in the process, we delved into their history and purpose at Longwood.
Last year, during a routine examination of our foo dogs—done with a conservator and Longwood Archives staff—the foo dogs' dull gray state was noted, as well as some concerns related to stress fractures, uneven settling, and potential deterioration. Given those concerns, we started to plan to move, clean, and restore these sculptures while working with stone and masonry specialists Dan Lepore & Sons, who served as the stewards of our Main Fountain Garden original stonework during our Main Fountain Garden revitalization project. We removed the foo dogs from their Topiary Garden home in late September 2022 and transported them to the Lepore warehouse, where Lepore staff could work on them in the protective enclosure of their own facility during the winter months. The Longwood and Lepore team looked closely at their original installation, the threshold to the Topiary Garden, materials, and how precisely to lift and move such heavy objects positioned under the branches of the Paulownia trees.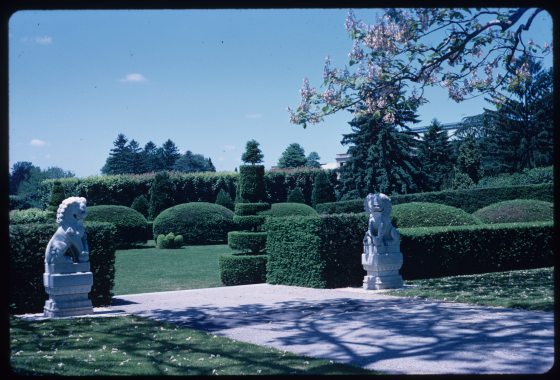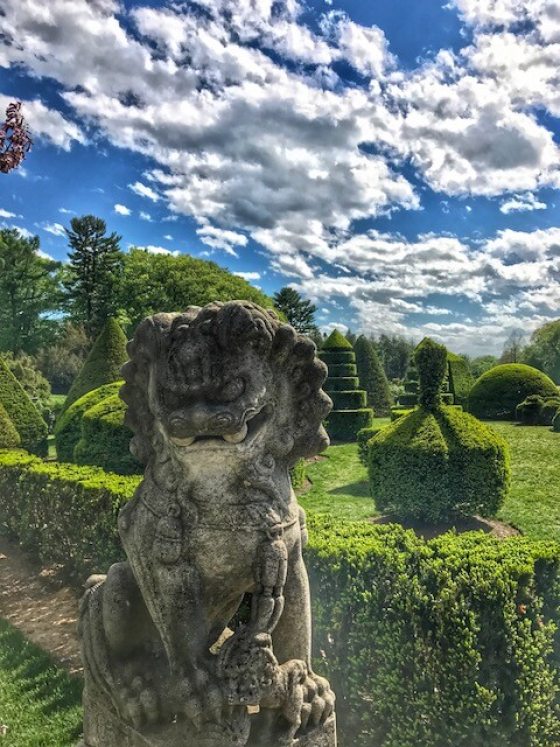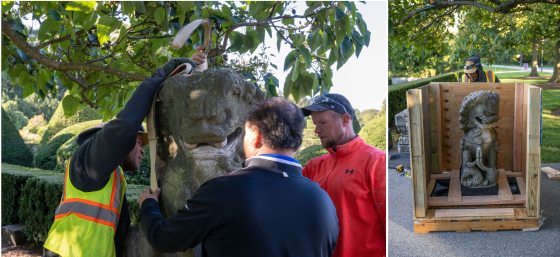 Once the sculptures were safely moved to Lepore, a closer examination could happen. The first step in the restoration process was a gentle washing; no harsh pressure or chemicals were permitted. Once that step of cleaning was completed, a more thorough examination could happen, and specific interventions considered. That more thorough examination revealed the internal structure of the sculptures and evidence of earlier fixes.  It was also clear that the lichens and other organisms that had made a home on the surface and crevices had to be removed. A safe approach to remove them but do no harm to the stone itself was needed to reveal the beautiful stone beneath.
With all these issues clearly in mind, a strategy was agreed upon—selectively remove earlier fixes, employ crack sealing with sensitive materials, and only very lightly introduce new interventions. The team didn't want to make the sculptures appear as new. The impact of some imperfections should remain, as should the subtle effect of time. This same approach has been used in other stone projects here at Longwood.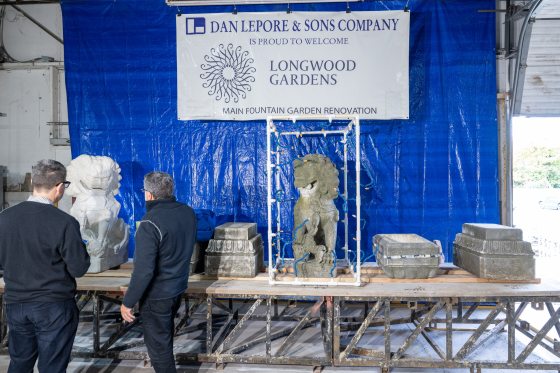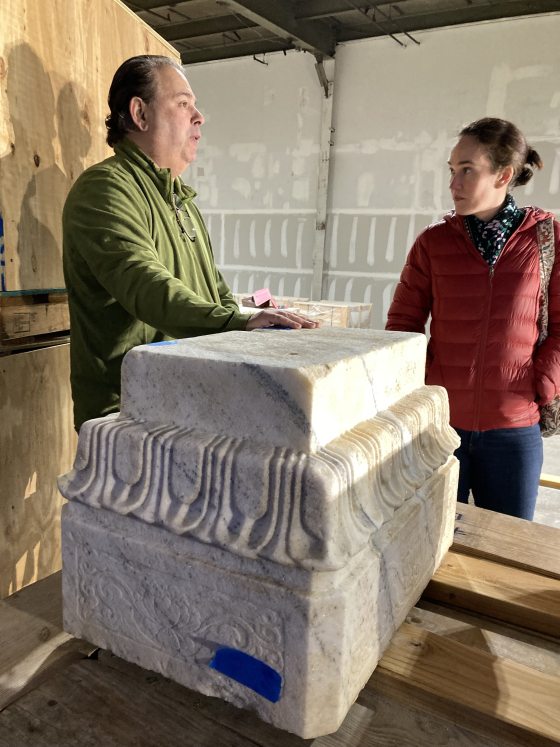 As part of the process, Longwood's Horticulture design team considered the cultural and garden design history of the foo dogs, working to integrate each sculpture harmoniously with their placement on the Topiary Garden steps and the Topiary Garden in general. Longwood's masonry team refined the stone selection and installation details, reworking the threshold for the steps in bluestone, which complements the weathered marble of the steps themselves. Using the existing hardscaping and hedge the team decided on a centered placement that helps define the threshold of the Topiary Garden, and connect to the opening beyond the Paulownia trees.
In thinking about the stone lions, the Longwood team delved deeper into their history at Longwood.  Although much of Longwood was designed under the watchful eye of our founders Pierre and Alice du Pont, these sculptures came later. In 1967, then-Assistant Director Everitt Miller, while attending a panel discussion at nearby Landis Valley Village & Farm Museum near Lancaster, made a personal connection that would lead to the B.F. Jones III family of Sewickley, Pennsylvania, near Pittsburgh. Fairacres, the house and estate they inherited in 1941, was demolished in the early 1960s. By the time of Miller's happenstance conversation, select pieces of the garden sculpture were in storage and the family was seeking a new home for these antiques. These pieces included a love temple and several smaller stone and bronze garden objects. Miller's inquiry ultimately resulted in a gift of the stone lions, a love temple, and many other pieces of garden art in late November 1967 by the Jones family.  Many of these pieces have been displayed at Longwood over the years. The Jones love temple can be seen at the Large Lake on the edge of Peirce's Woods.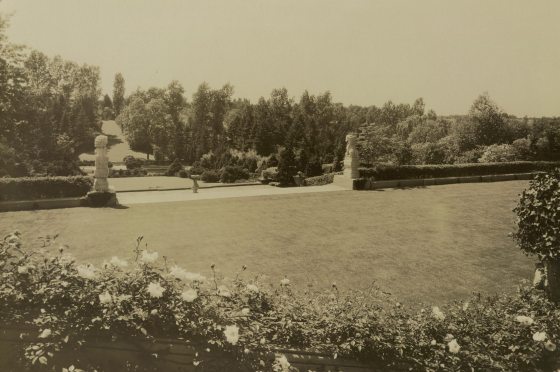 What is the foo dogs' relationship to our Gardens—why are they here? According to art historians, the history of this type of lion sculpture goes back to the Western Han Dynasty of China that occurred 2,000 ago. Interestingly, since lions are not indigenous to China, ancient sculptors used dogs as models. Their creative act gave rise to a mythical, hybrid animal form of a lion-dog. For hundreds of years in China, pairs of stone or bronze lions guarded the entrances of official buildings, prominent residences, gardens and courtyards.
In modern times, the Chinese name for these creatures became popularized in the West sometimes as foo dogs. In the 18th century, European garden designers started incorporating elements of Chinese design, including objects as such as lions and pagodas, alongside classical and more fanciful sculpture to enhance the drama and artistry. Both Fairacres and Longwood Gardens took inspiration from that 400-year-old tradition of formal garden design. Longwood's founders--Pierre and Alice du Pont--traveled extensively in France and Italy to enjoy these formal, older gardens. Indeed, much of the historic core of Longwood's formal gardens, including the Main Fountain Garden and the Italian Water Garden, employ this garden design tradition and make liberal use of sculptural, stone ornaments. Longwood's stone lions, although not purchased and placed by the du Ponts, resonate with this long arc of incorporating sculpture in garden design.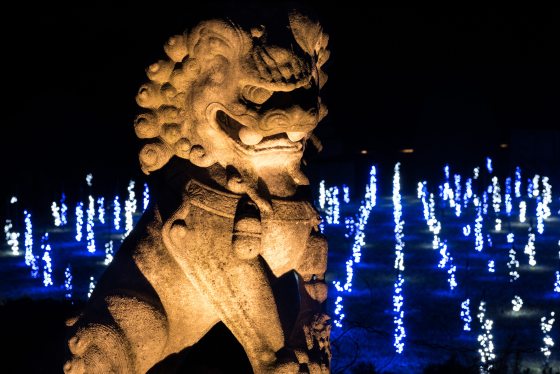 In late March 2023, the big day arrived—our magnificent stone lion sculptures returned home refreshed and brighter for our guests. Over a two-day effort the Lepore team carefully uncrated and lifted each piece into place. The team checked for any abnormalities, fit, and stability, and secured each piece into its final position. The foo dogs will now be added to an annual review and maintenance schedule conducted by Longwood's masons and Dan Lepore & Sons. This inspection and care cycle happens every year in late October before winter weather arrives.
Categorized Under: