In 1929, Pierre du Pont constructed Longwood's 61-foot-tall stone Chimes Tower based on a similar structure he had seen in France.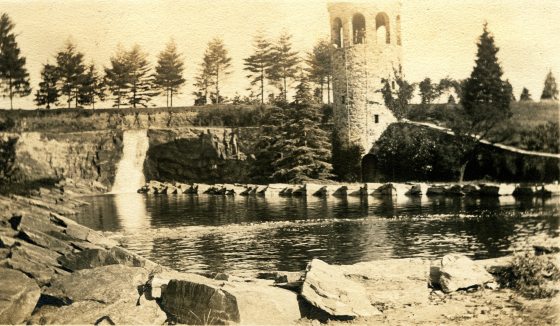 He purchased the largest set of tower chimes he could find from the J.C. Deagan Company of Chicago after first borrowing one chime to test its carrying power. Twenty-five tubular chimes were installed in the upper tower chamber and Mr. du Pont installed a switch in the Peirce-du Pont House so he could activate the chimes from his residence.
In 1941, the Deagan Company approached Mr. du Pont with word of their newly developed electronic imitation bells. Mr. du Pont noted, however, that he had "definitely decided not to make any change in the chimes at Longwood."
In 1955, a year after Mr. du Pont's death, the Deagan Company again contacted Longwood, noting with electronic-age enthusiasm: "Your Tower Chimes are outmoded and obsolete. So many important changes have taken place since 1930 that what you have at Longwood positively cannot be compared with what we have to offer today." In 1956, the original chimes were replaced with a 32-note electronic carillon.
From 1956 to 1981, the electronic carillon sounded the quarter hours and played 16,000 daytime concerts and 600 evening concerts. In 1989, the electronic bells, which were in unacceptable playing condition, were disconnected.
The idea of restoring real bells to the tower was first proposed in 1977 by Schulmerich Carillons of Sellersville, PA. After 23 years of sporadic discussions and several trips to inspect instruments in this country and abroad, the Gardens signed a contract with Schulmerich's cast bell supplier, the Dutch firm Royal Eijsbouts, in June 2000 to build a 62-bell carillon.
Longwood closed the Chimes Tower in February 2001 to renovate the structure for the new carillon in the top chamber. The roof was removed, the bells and frame were assembled then lifted in by crane, and a new concrete roof was installed. The upper portion of the tower remains closed now that the bells are in (except after scheduled live concerts by a carillonneur), but the lower stairway is open for public use. Two video screens have been installed outside the Chimes Tower. These screens provide an 8-minute video telling the history of the Tower and bells, and show how Longwood's carillon is played.  During live performances, the screens allow visitors to watch each carillonneur play the instrument from the keyboard at the top of the tower.  The official inaugural concert was on Memorial Day, May 28, 2001 at 3:00 pm and featured Robin Austin, Princeton University carillonneur.
In addition to live concerts, the carillon rings mechanically and/or plays tunes to mark the time throughout the day.
Click here for information about The Guild of Carillonneurs of North America.