Bryan Anderson, 30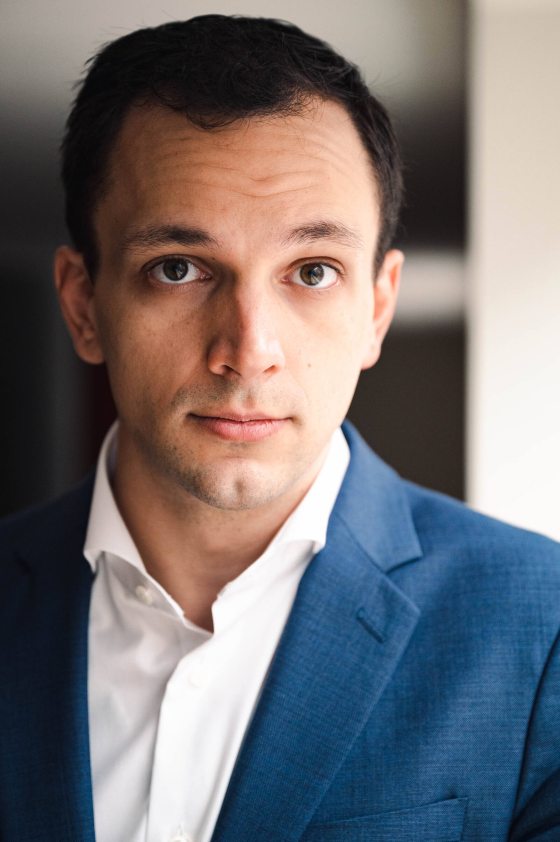 Bryan Anderson enjoys a versatile career as an organist, church musician, teacher, and musical collaborator. He is the Firmin Swinnen Second Prize winner for the 2019 Longwood Gardens Organ Competition and a recent prizewinner of the Canadian International Organ Competition, and named as part of the "20 under 30" class of 2017 by The Diapason. Anderson is the Director of Music at Saint Thomas' Episcopal Church and School in Houston, where he oversees daily services and trains choirs of children and adults. Recent performances have included solo recitals in Canada and the US, and appearances with Mercury Chamber Orchestra, Harmonia Stellarum, Kentucky Baroque Trumpets, and the Oklahoma Bach Choir. Anderson previously held positions at St. Paul's UMC in Houston; Wells Cathedral in England; and St. Mark's Episcopal Church in Philadelphia. He received his master's in organ performance from Rice University, and holds a bachelor's and Artist Diploma from the Curtis Institute of Music.
Amelie Held, 26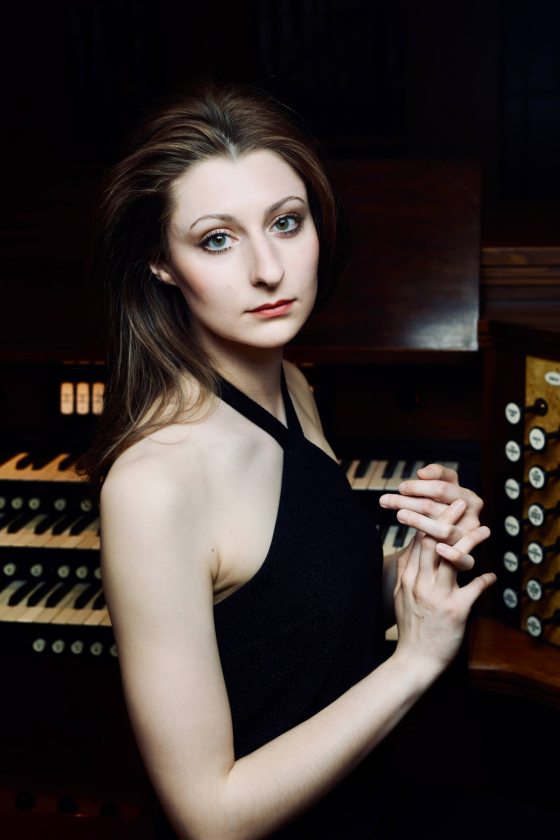 Known for her red organ shoes, organist Amelie Held quickly became an internationally acclaimed artist. She recently debuted at some of Germany's major cathedrals and concert halls, such as the Konzerthaus Dortmund, the Philharmonie Essen, and the international Speyer cathedral recital series. Her solo concert activities include performances in Milan, Paris, Zurich, London, Boston, New York, and St. Petersburg (Mariinsky Concert Hall). Raised in Munich, Germany, in a non-musician family, Held released her debut album in 2019 at the young age of 22. She has won several prizes at international organ competitions and was one of the youngest finalists of the prestigious French Concours International de Chartres (2018). She has a broad repertoire, both as a soloist and with orchestra and chamber ensemble, ranging from early music to contemporary compositions as well as her own transcriptions. Currently living in New York City, Held is pursuing her Artist Diploma studies at The Juilliard School with Paul Jacobs.
Aidan Hill, 22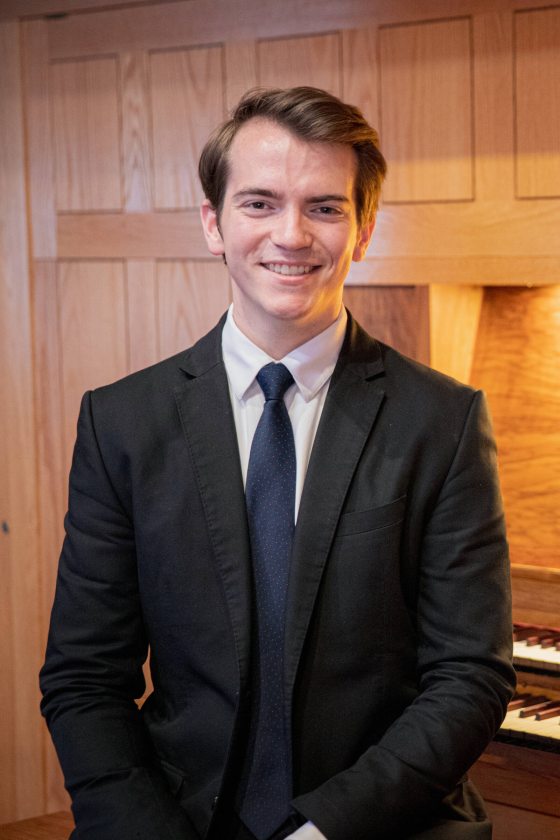 A senior undergraduate at the University of Kansas, studying organ with Dr. James Higdon, Hill is from Kingman, Kansas. He studied piano from an early age with his hometown piano teacher, Joan Robinson, and began organ lessons at the age of 11 with Carole Pracht, organist at St. Mary's Cathedral in Wichita. He was awarded the Diploma Prize as a finalist in the XII Mikael Tariverdiev International Organ Competition in Kaliningrad, Russia. Hill is the Principal Organist at the St. Lawrence Catholic Campus Center at the University of Kansas, where improvisation is an integral component to his duties.
Samuel Lee, 26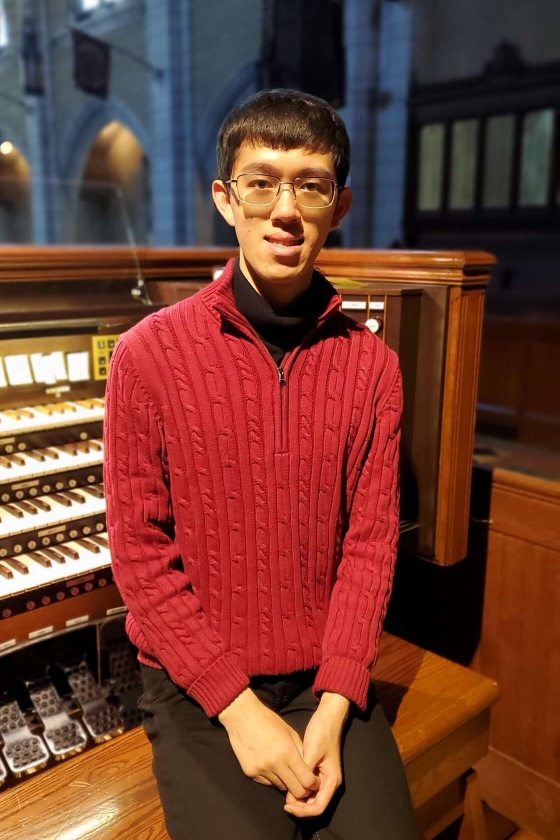 Currently a doctoral candidate at McGill University studying organ performance with Isabelle Demers, Samuel Lee has twice received the Graduate Excellence Fellowship and the John Grew Award. In 2021, he placed third in the Royal Canadian College of Organists' National Organ Playing Competition, awarded the Muriel Gidley Stafford Prize. He also received the Healey Willan Prize and the Heather Spry Prize on completing the Fellow of the Royal Canadian College of Organists in 2018. Lee believes that music expresses feelings and tells stories. It is this belief that drives him into exploring the potential and possibilities that an organ can offer and the different methods of transcriptions, so that every piece of music—whatever their original instruments may be—can be enhanced to become a vivid presentation of the original.
Colin MacKnight, 29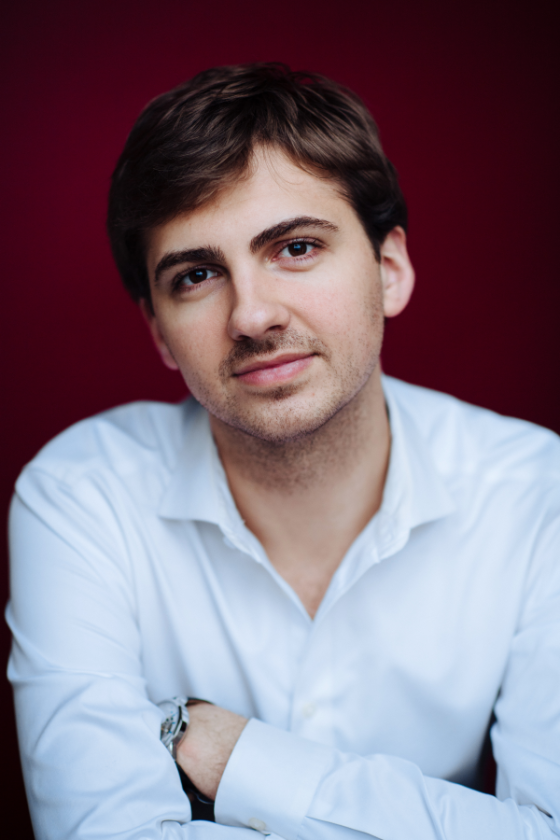 Director of Music at Trinity Episcopal Cathedral in Little Rock, Arkansas, Colin MacKnight oversees Trinity's music program, which includes four choirs, weekly choral evensongs, a concert series, and choral scholar and chorister programs. Prior to Trinity, MacKnight was Associate Organist at Cathedral of the Incarnation in Garden City, Long Island; Assistant Organist and Music Theory Teacher at St. Thomas Fifth Avenue; and Assistant Organist at Church of the Resurrection, NYC. MacKnight received his bachelor's, master's, and doctoral degrees from The Juilliard School, studying organ with Paul Jacobs. For his dissertation, "Ex Uno Plures: A Proposed Completion of Bach's Art of Fugue," he received Juilliard's dissertation prize. MacKnight holds the American Guild of Organists' Fellow and Choirmaster Certifications, receiving the prize for top Choirmaster score. He is represented in North America by Karen McFarlane Artists, Inc.
Arthur Nicolas-Nauche, 28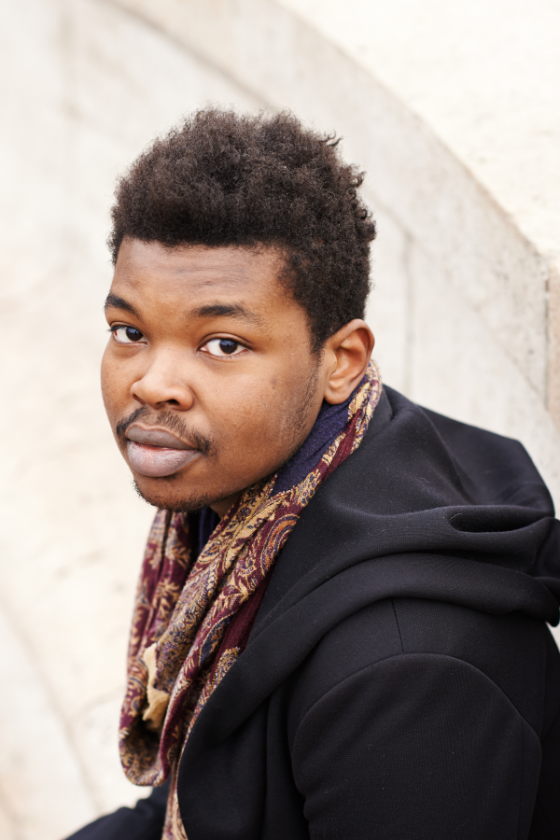 Arthur Nicolas-Nauche started learning organ in Britanny (France) with Loïc Georgeault and later at the Conservatory of Rennes in the class of Damien Simon. After having obtained the Prize at the Conservatory of Rennes, he pursued studying organ, conducting and improvisation at several Parisian conservatories. Nicolas-Nauche takes particular interest in the music of the 19th and 20th centuries as well as in improvisation. Convinced by the idea that the organ should be closer to the public, he has realized projects of chamber music with organ, as well as many projects with contemporary dance. He published a memoir about the future of the organ called L'Orgue ; promesse d'avenir ou disparition probable?! (The Organ; promise of the future or probable disappearance?!), as well as various articles for music journals. Currently, he is the titular organist of Saint Gabriel Church in Paris and professor of musical theory at the Conservatoire à Rayonnement Départemental de Montreuil.
Alexander Straus-Fausto, 23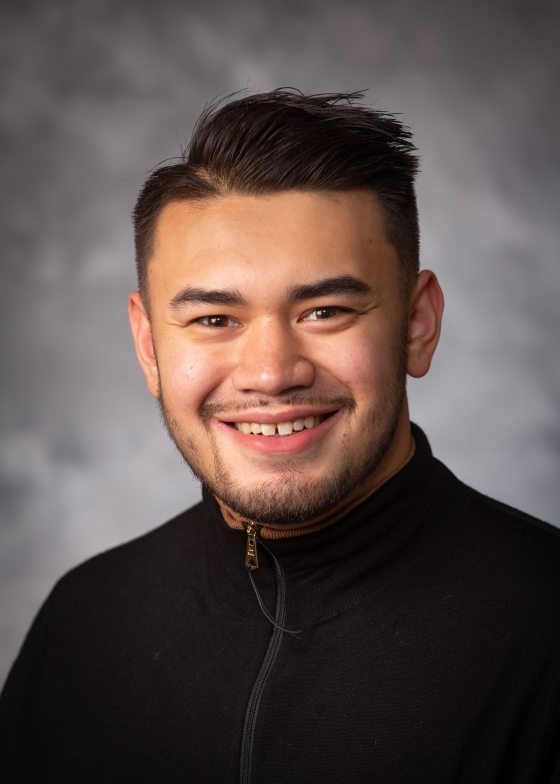 Working on his master's degree in organ performance at the Yale Institute of Sacred Music, Alexander Straus-Fausto from Kitchener, Ontario is thrilled to be studying under the direction of Dr. Martin Jean and playing on Yale's Newberry Memorial Organ. At Yale, he is Co-Organist and Choir Director at the Berkeley Divinity School. He completed his Bachelor of Music at McGill University Schulich School of Music and his secondary school studies at Michigan's Interlochen Arts Academy. While still a teenager, Straus-Fausto undertook a Canada Council-funded summer 2019 concert tour of the UK, playing in historic churches and cathedrals. From 2019-2022, he was Titular Organist at Église du Très-Saint-Nom-de-Jésus in Montréal, whose Casavant organ is acclaimed as one of Canada's finest. He has further expanded the organ's reach by creating more than 50 original transcriptions of major orchestral works, reflecting his passion for the symphonic organ as a virtually unlimited medium for artistic expression. He is a member of The Diapason's "20 under 30 Class of 2023" which recognizes young artists under the age of 30 who have made significant contributions to the fields of organ performance, harpsichord, and church music.
Ádám Tabajdi, 29
A member of the young generation of Hungarian organists, Ádám Tabajdi has gained extensive international experience as the intern of the Cathedral Notre Dame de Paris and as the resident organist of the Sapporo Concert Hall, Kitara, Japan. Beyond the largest cathedrals in Hungary and the Müpa Budapest, he has played as a participant at the concert series at the Royal Chapel of Versailles, in the Cathedral of Chartres, in the St. Johannis-Kirche of Hambourg, and in major concert halls of Japan. He studied at the Liszt Academy of Music, Budapest, and the Paris Conservatory; he is currently a doctoral student at the Liszt Academy, Budapest. His first recording of arrangements of symphonic works, among them his own arrangement of Bartók's Dance Suite, was published in 2020. In 2021 he won the First Prize and the Audience Prize of the 13th Toulouse International Organ Competition.
Ashley Wagner, 27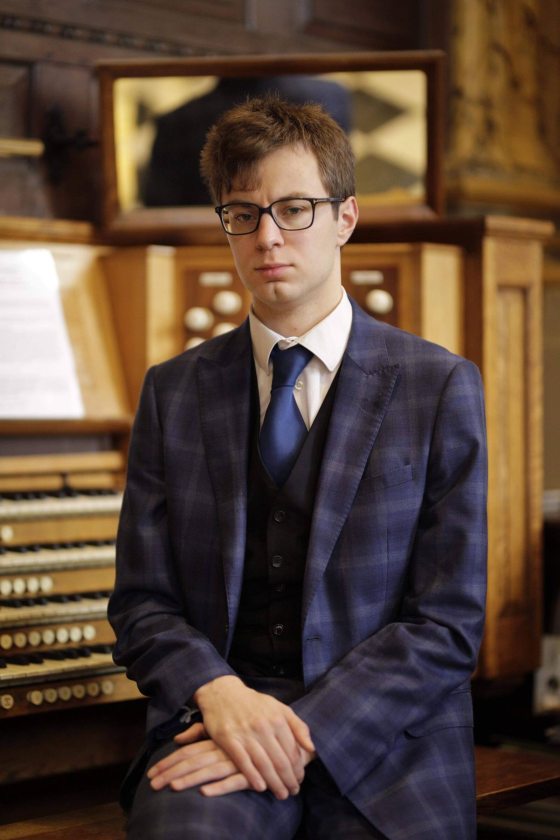 Ashley Wagner BMus (Hons) FRCO is the Assistant Head of Music of Birmingham Cathedral, where he is the principal accompanist to the cathedral choirs and assists with running the music department. Wagner graduated with a first-class honors degree from the Royal Birmingham Conservatoire, specializing in organ performance, and assumed his current position at Birmingham Cathedral during his final year of study. He has studied the organ with Terence Atkins, Robin Walker, Henry Fairs, and Daniel Moult and continues his studies with Thomas Trotter. He has held positions at Worcester Cathedral and St. Sepulchre-without-Newgate. As a soloist, Wagner has performed at venues such as the Royal Albert Hall, Amsterdam Orgelpark, and St Paul's Cathedral. He has broadcast on radio and television and has won awards through the Northern Ireland International Organ Competition, Royal Birmingham Conservatoire, Essex Organ Competition, and the Royal College of Organists.
Aleksanteri Wallius, 23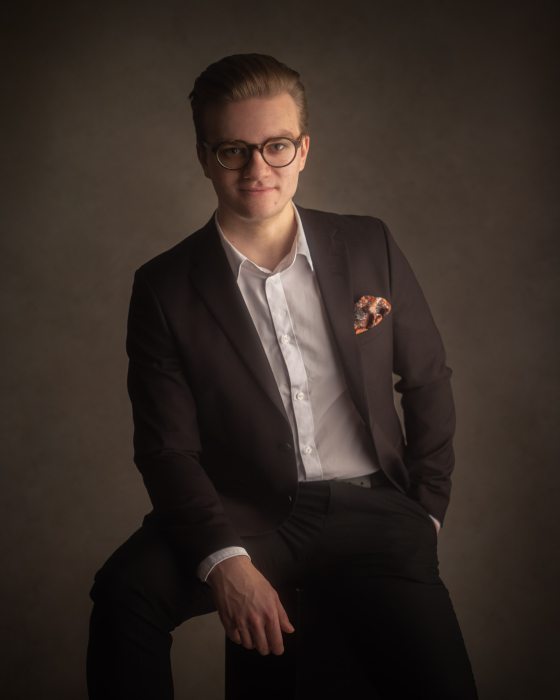 A Finnish organist currently living in Helsinki, Aleksanteri Wallius is a first-year master's student of organ performance at the Sibelius Academy. His teachers include Markku Hietaharju and Markku Mäkinen. Wallius was nominated as the "Young Artist" of the 2018 international Pori Organ Festival and in 2020 performed all of Louis Vierne's six organ symphonies in one day in the Turku Cathedral. Along with his studies, Wallius frequently performs as a recitalist, orchestra member, or with choirs, and has played recitals at renowned venues and festivals in Finland, Sweden, and Estonia. Wallius has attended several masterclasses with distinguished teachers around the world, such as Jean Guillou, Ton Koopman, Thierry Escaich, Balint Karosi, and Jean-Baptiste Monnot. His special interest lies in contemporary music and French romantic music, and in the last two years has premiered three major contemporary works. Wallius is also a board member of the Turku Organ Festival and the winner of the 23rd International Wiesbaden Organ Competition (Bach Prize).