Cool or warm, formal or chaotic, coarse or reflective, energetic or calming, linear or blurred, brilliant or muted. Both horticulturists and painters—using plants or paint—are artists working to share a vision of beauty, portray a perspective, or send a message. Using color, composition, texture, mood, form, light, and media, they tell a story. Design creates an interaction between elements evoking emotions, curiosity, and thought. It becomes an interaction with the viewer or a shared conversation with others. We explored this approach and interaction when we visited Chanticleer and the Barnes Foundation, delving into the mission of both organizations being founded on enjoyment and education, but with an unconventional approach.
At both Chanticleer and Barnes, there are no labels; there are no rules of how to experience or understand the subject, whether they are plant combinations in an artful landscape, paintings, or sculpture. There are no right or wrong interpretations.
At Chanticleer, I found their informal method of education to be visually and emotionally liberating, thereby giving me permission to fully absorb myself in the story unfolding before me and observe garden design without having to know the name of plants. I admit it was frustrating at first because I am guilty of being the first to poke around plants in search of labels to know what they are (even though I rarely ever remember them). I can let go of the need to know what everything is or the "right" answer and just observe. We in public gardens continually debate the value of labels and interpretive signage. They can be expensive, in constant need of replacement, and can detract from the aesthetic, but we mostly agree they are necessary in the name of educating the public.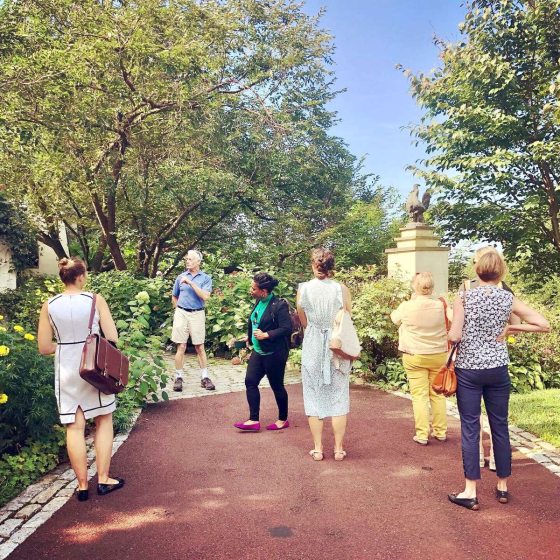 Chanticleer Executive Director and Head Gardener Bill Thomas encourages visitors to engage with their horticulturists to answer questions and converse about their work. A conversation and exchange of information expands the role of horticulturists into interactive educators. Eric Hsu, one of the many talented horticulturists at Chanticleer, shared his perspective of their garden as an extension of a dining or travel experience—a place that facilitates enjoyment and makes people feel welcome. It begs the question … would knowing the name of every ingredient in a delectable dish or the name of every building in a historic city make us enjoy it more or inhibit our curiosity? With the advent of plant identifying technology on smart phones, we must ask ourselves our goals for education and if labels ultimately facilitate the process or distract from it.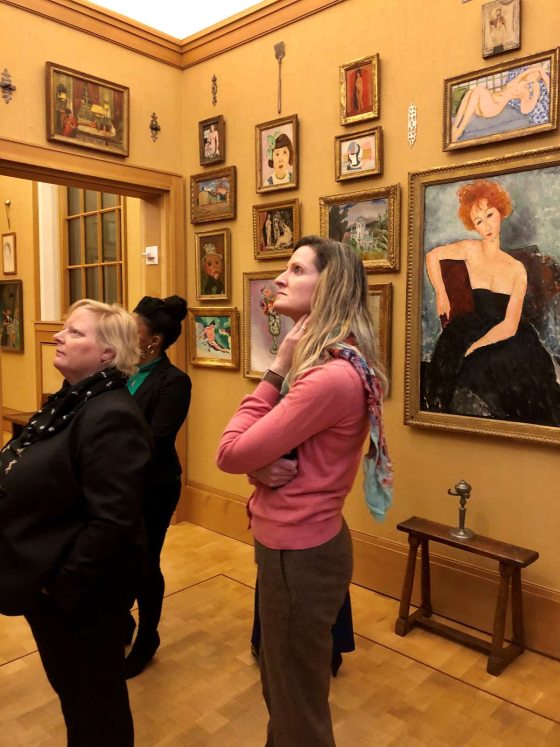 Alfred Barnes, the founder of the Barnes Foundation, was passionate about teaching people from all walks of life on how to look at art. Barnes organized his collection into "traditions" as explained by Executive Director and President of Barnes Foundation Thomas Collins, grouping and juxtaposing collections for observational comparison using relationships of color, lines, or light. Every artwork, metal work, furniture piece, or sculpture was meticulously placed by Barnes, using this democratic approach that was not based on any value or groups of artists or time period. As a scientist and pragmatist, his approach was based on the scientific method, rigorous in using observation and analysis to draw conclusions.
In using this method, the observer engages in critical thinking and then applies these skills to everything in life. At Barnes, visitors use a series of printed guides that correspond to the numbered galleries and identify the objects in each room.
Our salon experiences at Chanticleer and Barnes beautifully illustrated a singular concept: one doesn't need to be an expert in art (or landscape design for that matter) to appreciate, analyze, and engage in critical thinking … nor to thoroughly enjoy the subject matter.
Categorized Under: