One of the many forms of horticultural artistry on display during every A Longwood Christmas is our selection of intricately crafted living wreaths.  This year, we created a living wreath of yellow × Oncidesa Sweet Sugar 'Lemon Drop' orchids in our Orchid House, a circular creation of rich red kalanchoe and bird's nest ferns adorning our North Passage near the Bonsai Display, and a round living wreath focused on Echeveria in our Silver Garden. They are all stunning, and each using its own distinct plant palette, all spectacular … but I may be just a bit partial to the Silver Garden wreath, as I'm the one who crafted it! As a Longwood Senior Horticulturist, I've had the pleasure of creating dozens of living wreaths and many succulent creations throughout my time here, but this year's Silver Garden wreath is especially poignant and beautiful to me.
When crafting this year's Silver Garden wreath, I took inspiration from the forms and hues of the garden itself. Designed by well-known garden architect Isabelle Greene, the Silver Garden features gray and silver-foliaged plants, beautifully representing arid Mediterranean and desert regions. This multi-textured space calls for a highly textural living wreath, and one created with plant material that's not only appropriate for the space … but plant material that will be able to last, and look beautiful, for the entire A Longwood Christmas season.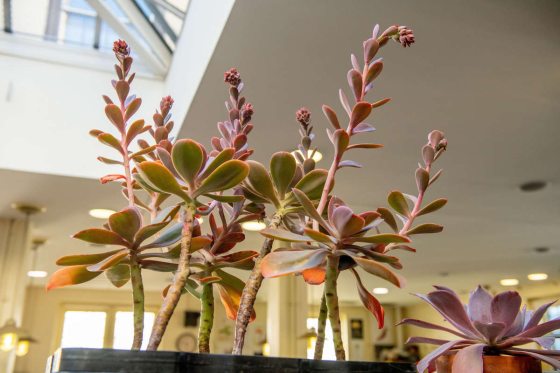 Echeveria is my top plant choice for living wreaths for so many reasons. They're available in a range of colors, forms, and sizes and look great when placed en masse. They're also relatively inexpensive, can usually be found in large quantities, and are tolerant of being placed into a wreath form and left alone for the entirety of the season. What's more, Echeveria is easy to propagate and reuse from year to year … and many of the non-plant material used to craft a living wreath can be used from year to year as well.
In general, I choose my plants according to their place in the display … the "body", the "fringe", and the "accent" or "bow" of the wreath. This year, I chose a colorful mix of Echeveria varieties for the body of the wreath; Kalanchoe and Senecio for the fringe; and larger purple Echeveria and Sedum to make the accent. Lastly, a little fresh Spanish-moss goes a long way when filling in the gaps.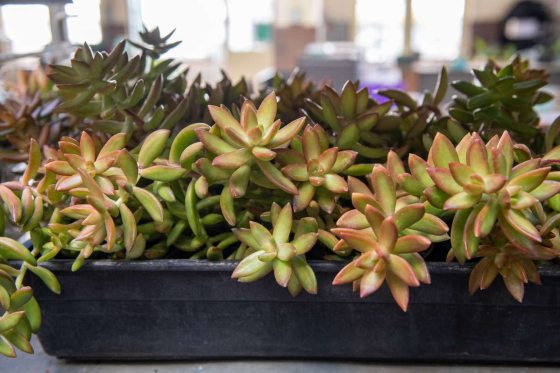 To create a living wreath, I start with the form. Created in-house by our sheet metal shop, the form is made out of stainless steel rods with a wood backing and measures 4 feet round with a 4-inch deep framework. I then gather my non-plant supplies: bales of sphagnum moss and nitrile gloves for handling the wet moss, a spool of nylon string, enough bags of packing peanuts to fill the frame, metal industrial hairpins (at least one per plant), a few strings of lights, and the frame. It's important to wear disposable gloves throughout the entire process, as the gloves protect your hands from a bacterium that could be present in wet sphagnum moss.
You may notice I did not include potting soil in that list … and that's because we don't use any in a succulent living wreath. First, wet soil is heavy. Once completed, the wreath does not get watered throughout the entirety of the display, as the plants are always surrounded by moist moss that dries slowly, so there's no need to add additional water. Second, as a collective the succulents—which by definition contain stored water—can add a significant amount of weight and last just fine not planted in soil for the length of the display. For plant material, we used about 400 assorted succulent plants for the Silver Garden wreath and a couple bunches of Spanish-moss to fill in the gaps.
To create the wreath, we start with the bags of packing peanuts, placing them in the middle of the frame to effectively take up space without adding extra weight. Next, we soak the sphagnum moss and pack the frame evenly with the bags of packing peanuts, using black nylon string to crisscross the spaces in between the metal bars. This creates a flexible network of smaller spaces to help hold in the sphagnum moss and plants. Next, we tightly stuff the form with wet sphagnum moss to give the form a more rounded shape. We then lay out our strings of light in our desired pattern, loosely securing them with florist pins and paying attention to where the end plug will need to be.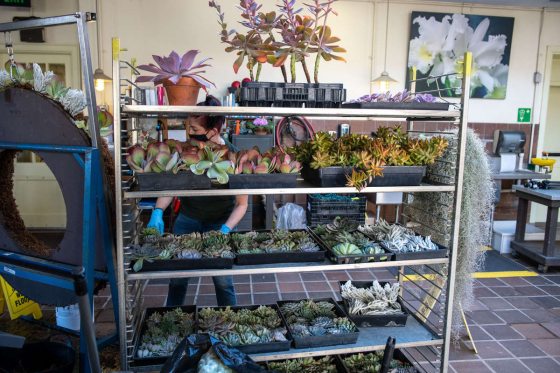 That brings us to the fun part … planting! I start either from the top and work towards the bottom, or from the middle outwards, sometimes installing the strings of lights as I go (this year, we installed the lights last), securing them with florist pins. My technique for planting is to make a crevice in the moss for a plant, remove most or all soil from the potted succulent, insert the plant into the sphagnum moss, tuck the sphagnum moss back around the plant as much as possible, and secure it usually on the downward side with a "hairpin", being careful not to piece the plant. These pins help keep plants from jumping out later on; some may need two pins if the plant does not feel firmly held in place.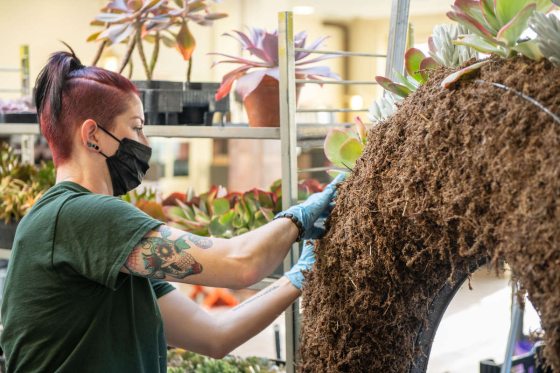 We continue to add plants until the whole frame is covered, using larger and more varied plants to create a "bow" accent at the bottom. Finally, we tuck small amounts of Spanish-moss into any gaps to hide the sphagnum moss and create a finished look. It typically takes me about a day and a half to complete a living wreath of the size used in the Silver Garden.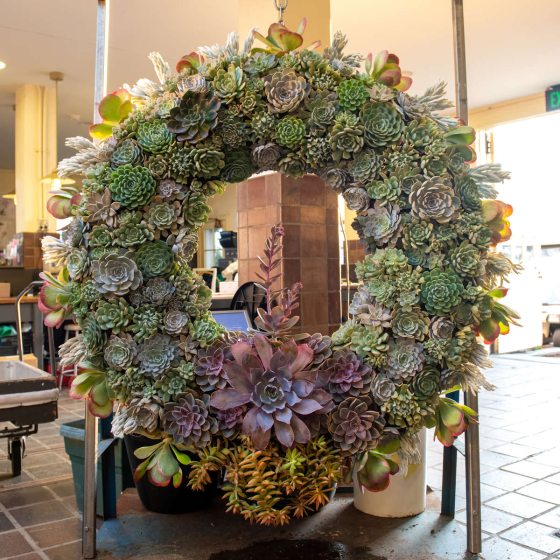 Once complete, the Silver Garden wreath weighs upwards of 200 pounds, so we use a pulley or two to hoist it into position. Once in place, maintenance is minimal. No additional watering is required and only occasionally some of the plants may need to be replaced. We typically have to replace a few plants toward the end of our seven-week display.
When it's time for us to take the wreath down, the process moves in reverse: we remove and repot all plants, save our "hairpins" for next year, remove the nylon string and throw it away, send sphagnum moss to the compost, and save our bags of peanuts for next year. I save my plants from year to year in order to increase the diversity of material to choose from, and to keep our displays varied and interesting.
No matter the year, I always find the process of crafting a living wreath interesting, fun, and a perfect way to celebrate the holidays … with beautiful results.
For more expert display insights from Kat, check out the below video about this year's ombré tree in the Mediterranean Garden.  Join us for an up-close look at this beautifully adorned tree as Kat takes us inside this vibrant space.
A Longwood Christmas: Mediterranean House Ombré Tree with Kat McCullough
Categorized Under: