Our new nursery production greenhouse is much more than a new building. With its groundbreaking design, it allows us unprecedented flexibility to accommodate a variety of plant materials, growing methods, and environments, all in one remarkable facility with two distinct roofs. Thanks to this new facility, not only will we be able to grow more and different plants (in addition to the 1,300 types we already grow each year for display in both the Conservatory and outdoor gardens!) but we'll be able to grow them more precisely and with less resource input. In short, this innovative new facility opens new worlds for us in elevating our display quality to an even higher level.
Set within our existing nursery property on Route 1, the new nursery production greenhouse consists of a 15,600-square-foot headhouse and 65,348-square-foot greenhouse, and increases our level of environmental control, automation, and overall sustainability beyond bounds. It also enables us to grow crops that we have not been able to grow before. Construction of the new facility began in February 2019 and it opened fully in December 2020. Bancroft Construction Company of Wilmington, Delaware served as construction manager, while Heckendorn Shiles Architects of Wayne, Pennsylvania served as the headhouse architect and Deforche Construct of Belgium the greenhouse design/build firm.
What's inside the new facility? Lots of possibilities. The headhouse portion of the new facility includes staff offices, as well as potting and transplanting areas complete with a mechanical gantry-crane system and conveyors for moving potting media. The headhouse also features receiving and delivery spaces with a drive-through lane to allow for protected, indoor plant loading and unloading during the winter months.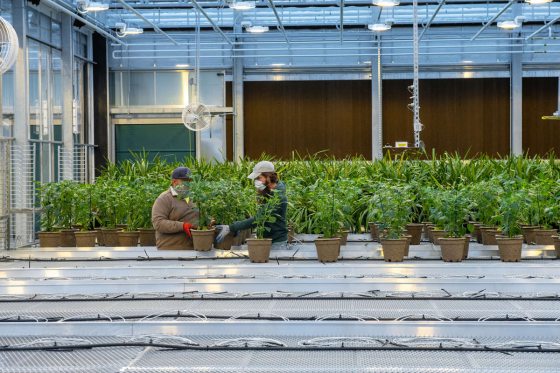 Built of steel and tempered glass—which allows for the highest level of light transmission—the greenhouse portion houses a majority of our crop production … 60 percent to be exact, in comparison to our prior nursery, which grew 40 percent of our crops. The greenhouse is unique in that it is neither a commercial greenhouse nor a research greenhouse, but a bit of both. The vast majority of this portion is dedicated to custom-growing plants for our seasonal displays, with no less than 17 distinct growing zones to best accommodate our diverse palette of plants.
The greenhouse's very unique structural design is what allows us so many types of growing zones and opportunities. One-half of the greenhouse utilizes an open-roof "cabrio" design, a recent concept developed by Deforche Construct in which the roof can slide completely open to allow for optimal indoor climate. Opening the roof provides passive cooling in summer, lowers energy costs, and allows the highest light levels possible … which is extremely helpful when acclimating plants to outdoor conditions before their transfer to garden spaces.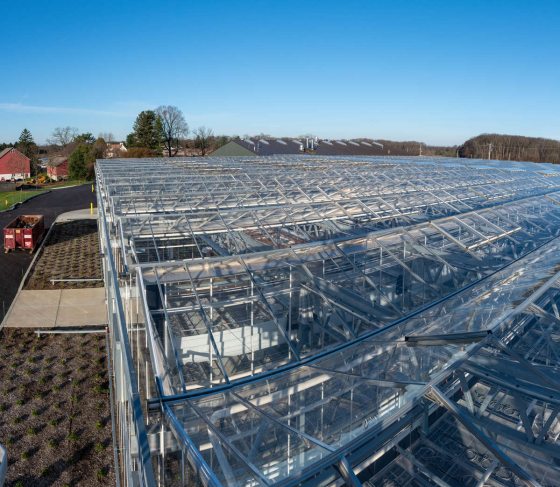 The other half of the greenhouse is based on the proven "venlo" roof design. Developed in the Netherlands—known as the world-leader in greenhouse technology— this design utilizes a roof with individual vents to allow for ventilation and temperature control from fall through spring; the vents are kept mostly closed in summer, when we can lower the temperatures via fans and evaporative cooling technology.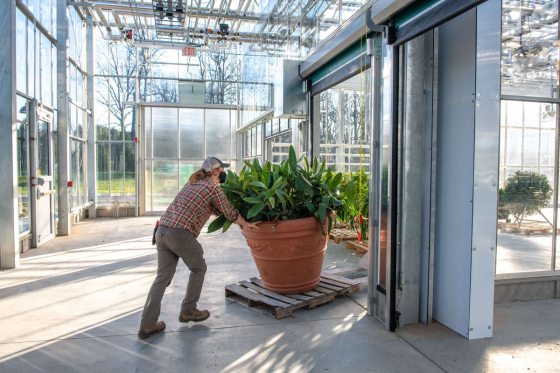 Separate growing zones are distributed within the venlo and cabrio roof types. Each growing zone features a curtain system to help with heat savings in winter, as well as a shade curtain to assist with cooling in summer. Many of the zones feature grow lights for times of the year when light is limited, and blackout curtains to reduce daylength and thereby trigger flower formation. The new facility also features a 580-foot-long custom conveyor system with a built-in watering system customized for growing our hanging baskets. The system, which can handle up to 120 large baskets, replaces the labor-intensive job of raising, lowering, and watering baskets … a mainstay of our Conservatory displays.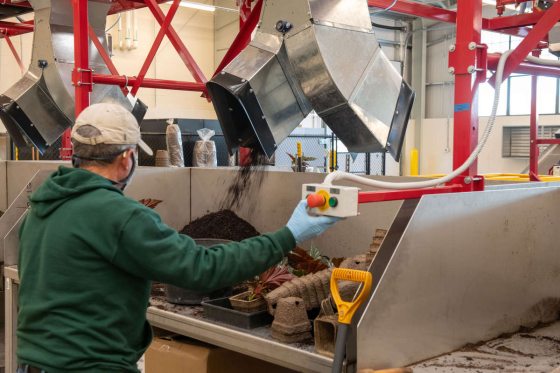 Why did we decide to build the new facility? Prior to the construction of our new facility, our newest production greenhouse facility on the property was 20 years old, while the nursery greenhouse facilities located near the new site were nearly 50 years old. After careful assessment of our existing production greenhouses, we designed and built this new facility to improve the quality and volume of our crop production, introduce more sustainable technologies, and elevate the work environment for our staff.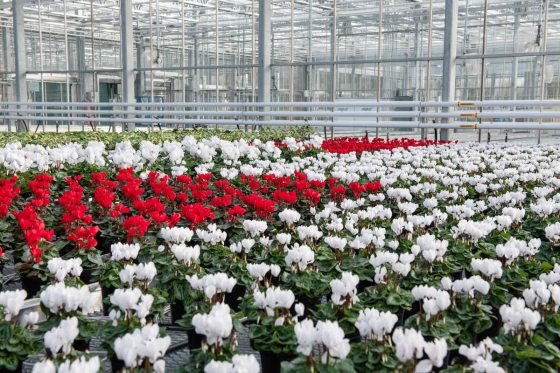 One of the most exciting advantages of our new facility is that it will enable us to grow cascade chrysanthemums indoors for the first time, allowing us to protect them from wet outdoor weather that often leads to fungal disease. By growing them indoors, we'll be able to control light levels, temperature, and moisture levels, in turn allowing us more opportunity to further elevate our cascade chrysanthemum artistry for our annual Chrysanthemum Festival. 
We're thrilled to begin exploring the new growing opportunities brought forth by the opening of our new facility … the beautiful results of which you'll enjoy in future displays in the seasons ahead.
Categorized Under: