In just over two weeks, we'll be welcoming exceptional jazz artists—and exceptional wines—for our sold-out Wine & Jazz Festival. If you happen to be joining us for this exuberant event, you'll experience firsthand the many fantastic wines that we'll be pouring that day ... and if you won't be attending, we wanted to bring some of the fun right to you! We thought we'd challenge ourselves to pick just a few of our featured Wine & Jazz wines, share their stories, and pair them with some great recipes from our 1906 team that you can make from home to lead us all into fall on a delicious note.
The Wine: Ruffino Organic Prosecco
The Ruffino story begins in 1877 when cousins Ilario and Leopoldo Ruffino established a small winery in the already wine-rich town of Pontassieve near Florence, Italy. Since its founding, Ruffino has stood out for its philosophy that the best wines come from the best vineyards, and its non-interventionist practices in their vineyards and their winemaking. Staying true to the traditional winemaking method, Ruffino wines start with the best quality of fruit and reveal themselves without manipulation.
Produced from organic grapes grown in the hilly area of Valdobbiadene, Ruffino Organic Prosecco is crisp, clean, and bursting with fruit notes. Prosecco is made only in specific provinces of northeastern Italy, and made primarily from the Glera grape, a native variety with origins in the village of Prosecco, near Trieste. This deliciously bubbly selection shows clean aromas of apples, pears, and citrus, accompanied by hints of wisteria, hawthorn, and elder … and its easy-to-drink, approachable style makes it a fantastic wine to pair with a variety of dishes from pizza to shellfish. It's also the perfect pairing for my slow roasted pear and spinach salad with pomegranate, goat cheese, and elderflower honey vinaigrette.
The Dine: Slow Roasted Pear and Spinach Salad with Pomegranate, Goat Cheese, and Elderflower Honey Vinaigrette
Good things take time, just like these slow roasted pears deliciously dressed with spinach, pomegranate, goat cheese, and a scrumptious vinaigrette. Plus, any leftover pears would go great with some toasted walnuts over oatmeal for breakfast!
For the Roasted Pears:
4 Bartlett pears
1 strip of lemon zest
1 tablespoon butter
¼ cup granulated sugar
¼ cup honey
¼ cup maple syrup
1 ¼ cup water
1 cinnamon stick
4 whole cloves
Yield: Serves 4
Preheat conventional oven to 400°F or convection to 375°F. Peel the pears, leaving the stem intact and cut just enough off the bottom so it sits nicely upright. Peel the lemon zest strip in one long piece with a vegetable peeler. In a 2-quart baking dish, add the sugar, honey, maple syrup, and water and stir to combine. Nestle the pears upright in the pan, and then tuck in the lemon zest, cinnamon stick, and cloves. Then dot the butter around the pan.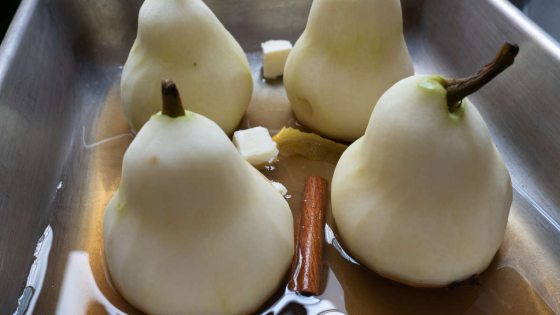 Roast upright for 30 minutes. Turn the pears on one side and roast another 20 minutes. Turn the pears on the other side and roast another 20 minutes until tender. Stand the pears upright, baste well with the syrup, and roast another 15 minutes. Baste and roast another 15 minutes. Baste and roast for the third and final 15-minute round. The pears should be tender throughout and nice and bronzed, and the sauce thick and syrupy. If not, roast another 10 to 15 minutes.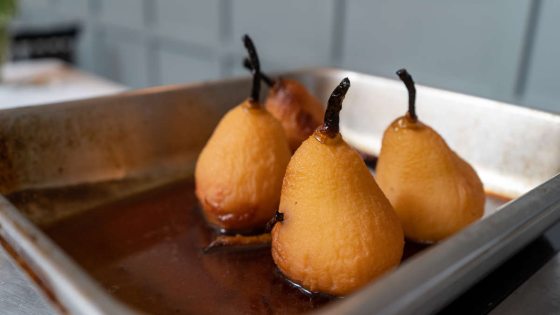 Serve warm or at room temperature. The sauce tends to harden as it sits; if needed, add a splash of water and gently rewarm to loosen the pears for easy removal. The pears can be held at room temperature and then reheated briefly to serve.
For the Elderflower Honey Vinaigrette:
1 ½ tablespoon shallots, minced finely
½ tablespoon thyme, minced finely
3 tablespoons champagne vinegar                  
2 tablespoons lemon juice
3 tablespoons honey
2 tablespoons elderflower syrup
6 tablespoons olive oil       
In a small microwave- safe mixing bowl combine shallots, thyme, and vinegar, heat on high for 30 seconds. Add lemon juice and honey to the bowl and mix well. Mix in elderflower syrup and then gently stream in the olive oil while continuing to mix. Season with salt and a crack of black pepper, reserve.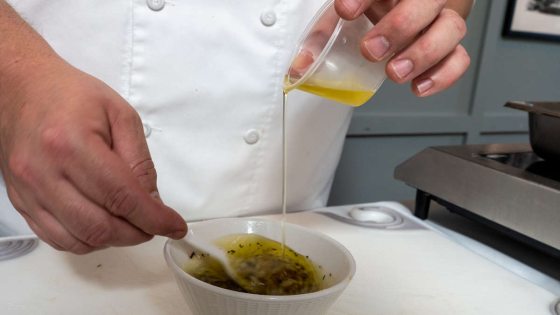 To serve:
1 pound baby spinach
1 small head of frisee, cleaned and cut into 1-inch pieces (optional)
1 container of pomegranate seeds
6 ounces of fresh goat cheese
Elderflower honey vinaigrette
Slow roasted pears
To plate:
Place the greens in a bowl and dress with the vinaigrette. Taste and season with salt and pepper to taste. Place the warm pear on the plate and drizzle with some of the roasting glaze if you like. Place some salad behind it. Top the salad with some crumbled goat cheese and the pomegranate seeds. Serve immediately.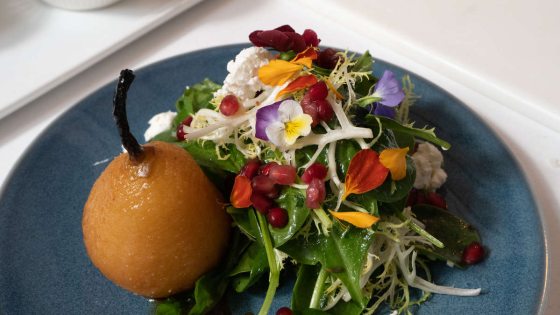 The Wine: Bouchard Aines Bourgogne Pinot Noir 2018
Founded in 1731 by Michel Bouchard, Bouchard Père & Fils is one of the oldest wine estates in Burgundy, spanning nearly three centuries and nine generations. Today, the Bouchard Père & Fils estate practices a balance of nature and craftmanship that yields a variety of fine wines that express the distinct character of Burgundy.
Dark and ruby red, Bouchard Aines Bourgogne Pinot Noir 2018 features pleasant aromas of small black fruits, with Pinot Noir grapes mainly from the south of Burgundy. The wine's soft tannins and freshness make it an excellent pairing for cured meats to pasta to rich beef stew ... as well as my own creation of braised beef short rib with pommes aligot, camembert, and fontina.
The Dine: Braised Beef Short Rib with Pommes Aligot, Camembert, Fontina
This hearty braised dish is not only perfectly paired with a bold red wine, but utilizes the classic, complementary flavors of red and port wine for its full-bodied taste.
4 pounds beef short ribs or boneless chuck flap
3 tablespoons olive oil or vegetable oil
1 cup carrots, medium dice
½ cup celery, medium dice
1 ½ cups Spanish onion, medium dice
3 tablespoons tomato paste
12 ounces red wine
8 ounces port wine
1 quart brown chicken stock
1 cup veal demi-glace
4 sprigs rosemary, whole
8 sprigs thyme, whole
2 bay leaves
3 cloves garlic, smashed
All purpose flour as needed (optional)
Yield: Serves 4
Preheat oven to 375°F. Trim the short ribs of any loose or large pieces of fat. Lightly season them with kosher salt and black pepper, and then dust with flour. In a Dutch oven on medium heat, sear the short ribs on each side until brown.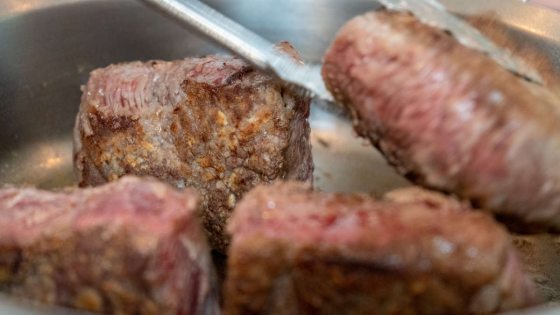 Transfer short ribs to a plate from Dutch oven and pour off any excess oil. Add in carrots, celery, and onions to the Dutch oven, cooking until translucent and slightly caramelized. Add tomato paste and scrap up any stuck bits off the bottom of the pan. After cooking for about 2 minutes, add wine and port to deglaze the pan. Make sure to scrape up all the fond off the bottom of the pan again and cook until the wine is reduced by half. Add the stock and demi-glace to the pot and then return the ribs, including any juices they may have released from resting. Add herbs and garlic, cover and braise in the oven for 3 to 3.5 hours until beef is tender, and sauce has thickened.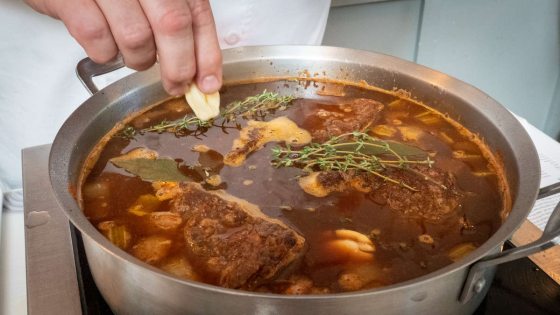 Remove short ribs and transfer to a sauté pan. Strain out the vegetables and herbs from the sauce, removing any excess grease with a spoon. Pour sauce over the short ribs and cook on medium-high heat until sauce is reduced and coats the ribs nicely. Check the sauce for seasoning and adjust with salt and pepper if needed.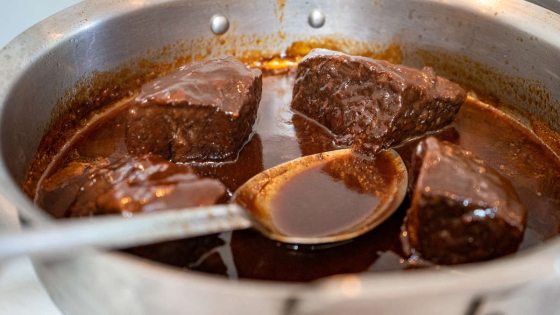 Pommes Aligot
4 peeled Idaho potatoes (about 2 ½ pounds)
2 quarts water
1 tablespoon kosher salt
½ pound butter
2 ounces heavy cream
1 clove garlic, chopped
3 ounces fontina, grated
3 ounces camembert, rind removed
Kosher salt and black pepper to taste
In a large sauce pot add potatoes, salt, and cold water and bring to a boil. Reduce to a simmer and cook the potatoes until you can crush them with the back of a spoon. Strain the water off and allow some of the steam to escape from the potatoes. Heat the butter, cream, and garlic in a small saucepot until hot. Pass the potatoes through a ricer or food mill into a pot.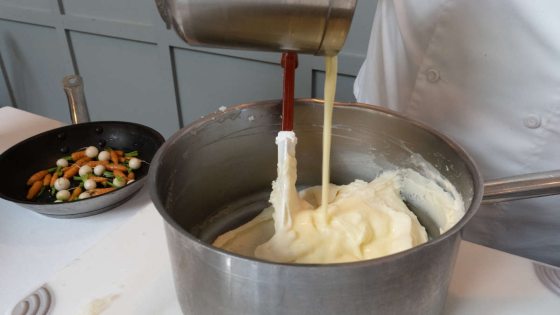 In small amounts, add the cheeses, mixing with a wooden spoon until the potatoes have a smooth, cheesy consistency. Adjust with the butter and cream, by adding small amounts at a time. Check the final seasoning, add salt and pepper to taste, and hold hot until you're ready to serve.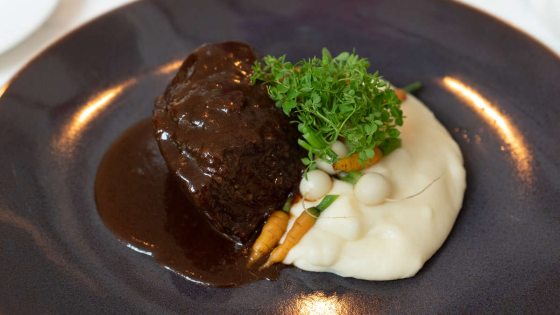 The Wine: Kenwood Chardonnay 2018
Established in the 1970s in the heart of Sonoma, Kenwood Vineyards is dedicated to creating wines that tell the story of the land. They beautifully capture the region's unique character, characterize their deep respect for the rugged land, and deliver on their philosophy that their wines are characterized by the vineyards they come from rather than the latest trends.
Sourced from two of California's best regions for Chardonnay, Monterey County and Sonoma County, Kenwood's 2018 Chardonnay is a fruity, rich wine with aromas of Asian apple-pear, white chocolate, and lemon cream, with hints of honeysuckle and toasty oak. The warm temperatures and cooling ocean breezes of Monterey County bring tropical fruit flavors to the wine, complementing the natural acidity and crisp character of the Sonoma County grapes. The result is a rich, refreshing wine that pairs perfectly with herb-roasted chicken to wild mushroom risotto ... as well as mushroom farroto with lemon and thyme.
The Dine: Mushroom Farroto with Lemon and Thyme
This creamy dish proves a dreamy pairing for a refreshing white wine.
¼  cup vegetable oil
1 onion, minced fine
1 large garlic clove, minced fine
1 cup dry white wine
2 cups farro
1 cup mushrooms, diced small (shiitake, cremini, or maitake)
5 cups mushroom stock, heated (or chicken stock)
4 tablespoons unsalted butter, chilled and cut into small pieces
½ cup grated parmesan cheese
½ tablespoon chopped thyme
½ tablespoon lemon zest 
Kosher salt and black pepper as needed
Yield: Four entrée-sized portions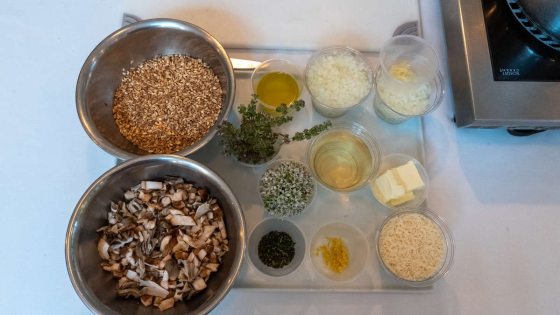 In a medium-sized heavy saucepan, heat the vegetable oil. Over a medium-high heat, sauté the onion and garlic just to soften, stirring all the while for 3 to 4 minutes. Add the farro and continue to stir, using a wooden spoon, coating the farro with the oil and onion. Allow for the farro to toast for a few minutes without browning too much. Add the mushrooms and cook briefly until they begin to soften. Deglaze with the white wine and cook, stirring often, until the liquid is absorbed.
Pour 3 cups of stock into the farro, turn the flame to high, and stir and add a pinch of salt. Cook until almost reduced and add one more cup of stock. Cook for 5 to 8 more minutes until reduced and add the remaining cup of stock. Remember, the risotto should be creamy, not runny; continue to cook until thickened. Remove from flame and vigorously beat in the chilled butter and Parmesan cheese until completely dissolved. Stir in the thyme and lemon zest and season with the salt and pepper to taste. Serve immediately.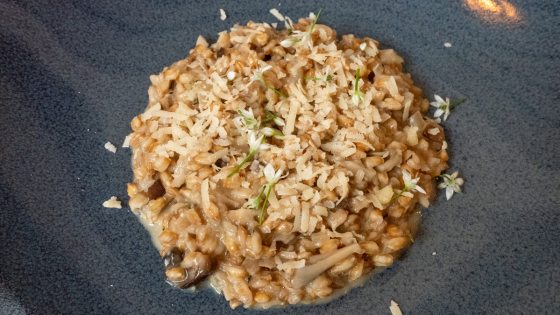 Many happy (and delicious!) returns to you all we head into fall!
Categorized Under: