As with everyone here at Longwood, I'm beyond excited for this year's fire and ice theme for A Longwood Christmas. Showcasing the beautiful juxtaposition of fire and ice not only opens new worlds of wonder for our display itself—from our towering East Tree of flickering flame lanterns to our Exhibition Hall transformed into an alpine wonderland to our half-million outdoor lights in hues of warm amber to icy blue—but has inspired us when creating some of our prix fixe holiday selections we're serving in our 1906 Restaurant. We're excited to welcome you for the holiday season … and we're thrilled to share with you some delicious fire and ice-inspired recipes perfect for your own home entertaining (one of which is even featured on our 1906 holiday menu).
"Fire and Ice" Pickled Cucumbers, Sweet Onion, and Jalapeño
While we don't want to bottle up our excitement about fire and ice … we do want to put it in a jar (literally)! One of our spins on this year's A Longwood Christmas theme is our delicious "fire and ice" pickled cucumbers, sweet onions, and jalapeno that are best served really cold. I really enjoy the contrast of an ice cold pickle that then delivers some heat. Our combination of pickling spices balanced with sugar and acid leads to a really fun dish that can be served as an appetizer with some cheese or olives, atop a burger or brisket, or even chopped into a remoulade for a seafood dish. The possibilities are endless!
Ingredients
2 cups Champagne vinegar (or cider vinegar)
1 ¼ cups granulated sugar
2 bay leaves
2 fresh jalapeño peppers, sliced thin
1 teaspoon mustard seed
½ teaspoon coriander seed
½ teaspoon black pepper
½ teaspoon red chili flake
2 pounds cucumbers
1 medium-sized sweet onion, sliced thin
Kosher salt
Yield: 3 pints of pickles
First, combine vinegar, sugar, bay leaves, jalapeños (seeds and all, but no stems), and spices in a sauce pot to create the pickling liquid. Heat on medium heat for a couple of minutes until sugar is dissolved; no need to bring it to boil. Remove from heat and allow to cool while you cut your cucumbers.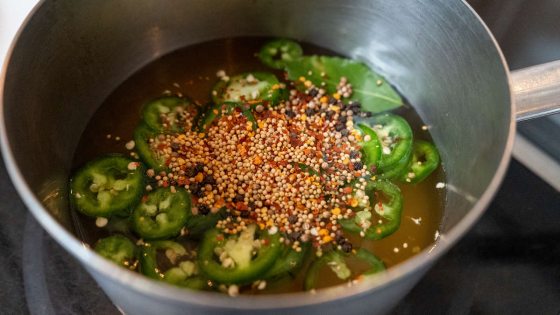 Cut your cucumbers in your desired shape: slices, half-moons, spears, or sticks. We chose sticks for our creation. In a bowl, combine cucumbers and onions, and toss with 1 tablespoon of kosher salt. Cover with two cups of ice and allow to rest for 15 minutes. This step helps keep the cucumbers crunchy and crisper in the final pickle.
After the pickles have rested, remove the ice and pour off any liquid that may have collected. Transfer cucumbers and onions to your storage container; a covered jar may be best. Cover the cucumbers with the pickling liquid, cover and store in the refrigerator until chilled about four hours or overnight.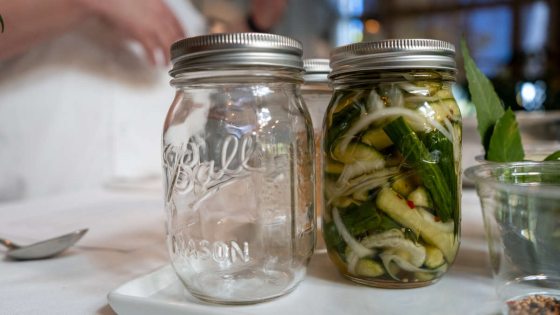 Wild Mushroom Risotto with Smoked Salt, Nerone Black Rice, Carrot & Roasted Pepper, and Black Truffle
We're going very literal with this recipe, as the end product with the garnishes listed below resembles fire itself, using royal trumpet mushrooms as our "logs" and baby carrot ribbons as our "flames", all nestled on a bed of scrumptious Italian black rice. You can find this fantastic vegetarian selection at 1906 as one of our holiday prix fixe main course choices … and we welcome you to create your own at home, with or without our fire-resembling garnishes!
Ingredients
¼ cup olive oil
1 medium onion, diced small
1 large garlic clove, minced fine
1 cup dry white wine
2 cups Italian black rice (arborio can be used, but will need to cook for a shorter amount of time, around 30 to 35 minutes)
2 cups mushrooms, cut small (shiitake, cremini, maitake)
8 cups mushroom stock, heated
4 tablespoons unsalted butter, chilled and cut into small pieces
½ cup grated parmesan cheese
½ tablespoon chopped thyme
Kosher salt and black pepper to taste
Yield: 4 entrée-sized servings
Optional Garnish
Royal trumpet mushrooms
Red pepper puree
Baby carrot ribbons
Shaved black truffles
Smoked sea salt

In a medium-sized heavy saucepan, heat the vegetable oil. Over medium-high heat, sauté the onion and garlic just to soften, stirring all the while for 3 to 4 minutes. Add the rice and continue to stir, using a wooden spoon, coating the rice with the oil. Allow for the rice to toast for a few minutes without browning too much. Add the mushrooms and cook briefly until they begin to soften. Deglaze with the white wine and cook, stirring often, until the liquid is absorbed.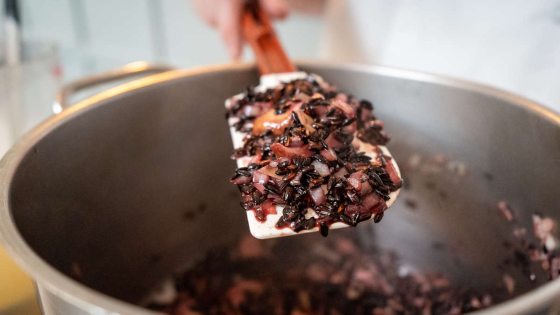 Pour 4 cups of stock into the rice, turn the flame to high, and stir and add a pinch of salt. Cook until almost reduced and add 2 more cups of stock. Cook for 5 to 8 more minutes until reduced and add the remaining 2 cups of stock. Remember, the risotto should be creamy, not runny; continue to cook until thickened about 40 minutes total. (Remember, if you're using arborio rice instead of Italian black rice, you'll need to cook a bit shorter … around 30 to 35 minutes.) Remove from flame and vigorously beat in the chilled butter and parmesan cheese until completely dissolved. Stir in the thyme and season with salt and pepper to taste. Serve immediately.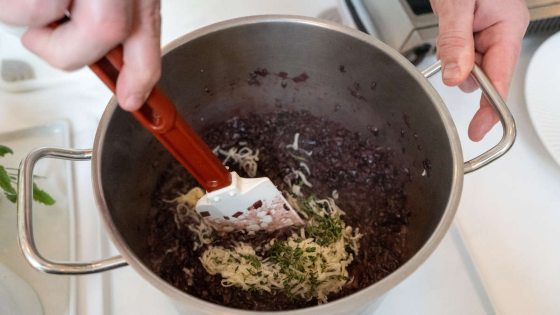 If you'd like to add the optional garnish, use the black rice risotto as the base of the dish. Sear the royal trumpet mushrooms in a sauté pan, drizzling them with olive oil, until they're golden brown; these huge mushrooms eat like steak and have a fantastic texture.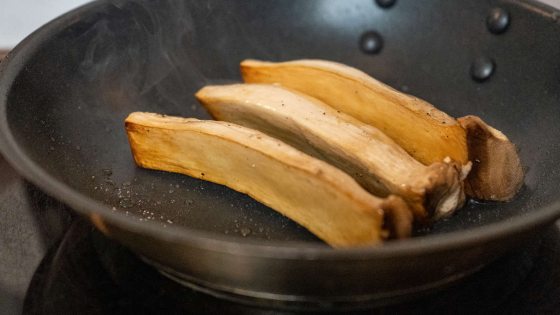 Next, sauté the carrot ribbons; we used a glaze of vegan butter, vegetable stock, and honey for ours. Then, place the carrot ribbons in a little nest atop the royal trumpet mushrooms to resemble flames. Add black truffle to garnish and consider using a ring of red pepper puree for color and depth. Lastly, sprinkle smoked sea salt to add a pop of salinity.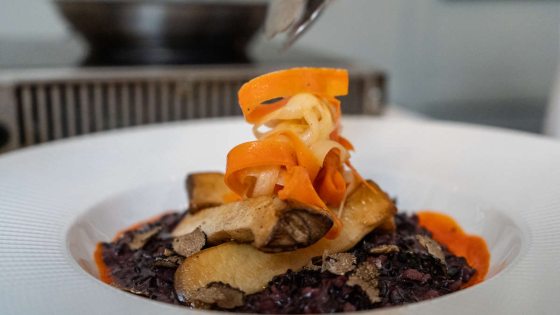 "Fire and Ice" Cocktail with Bourbon, Fernet-Branca, and Orange
We're setting a classic old fashioned on fire (literally) with our own rendition, using honey as a sweetener rather than sugar, as honey is more natural and has amazing wildflower notes. This bitter drink uses Fernet-Branca, an amazingly complex, 175-year-old Amaro with a secret recipe of 27 herbs, flowers, spices, and roots including rhubarb, chamomile, iris, saffron, cinnamon, linden, galangal, and myrrh. It has an amazing history and was even marketed as a medicinal product. For today, though, it helps us achieve our "fire and ice" cocktail, complete with an ignited orange twist that helps season the drink.
Ingredients
2 ½ ounces bourbon
½ ounce honey simple syrup (2 parts honey and 1 part water)
½ ounce Fernet-Branca
3 dashes Angostura bitters
1 orange peel
Wooden match
Yield: 1 cocktail
First, combine liquid ingredients in a mixing glass. Add ice and stir.
Strain over fresh ice into a chilled rocks glass. Using a peeler, cut a thick peel of an orange about two inches long for flaming the drink.  Light a match and position the match 1 inch above the rim of glass.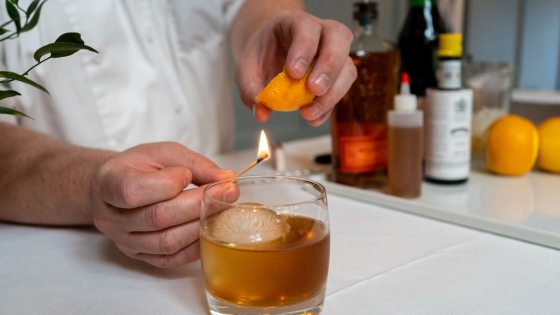 Slightly warm the orange peel with the flame for just a second. Express the oils of the orange twist over flame and into cocktail, igniting them and seasoning the drink (and leading to literal fire and ice).
Happy holidays to you and yours!
Categorized Under: