Mixed among the seasonal displays and permanent tropical plants in the East Conservatory are two areas planted with camellias: a pair of beds adjacent to the East Conservatory entrance doors and a larger, more prominent group growing in the Camellia House, adjacent to the Indoor Children's Garden. While both sets of beds have a variety of camellias, these two areas tell much different stories. Most of the camellias have wrapped up their flowering for the year, but those that are still in bloom give a hint of the camellias planted in the outdoor gardens, and also hint at our behind-the-scenes breeding work with this group of plants.
Camellias are a large group of plants native to Asia, prized for their large diversity of flower types, forms, and sizes. Traditionally, the "Camellia Belt", an area stretching from central Virginia through the Gulf Coast and along the West Coast, was an area where camellias could be grown reliably, tantalizing for those of us from colder climates who would see these while snowbirding in warmer climates.  Longwood's Camellia House contains 25 varieties of cultivated camellias, including Japanese (Camellia japonica) and sasanqua camellias (Camellia sasanqua). These represent varieties that are not cold-hardy in the Delaware Valley and in the conservatories they flower over the course of the winter.  These camellias reflect a legacy of a much larger collection that existed in the East Conservatory during the du Pont's time.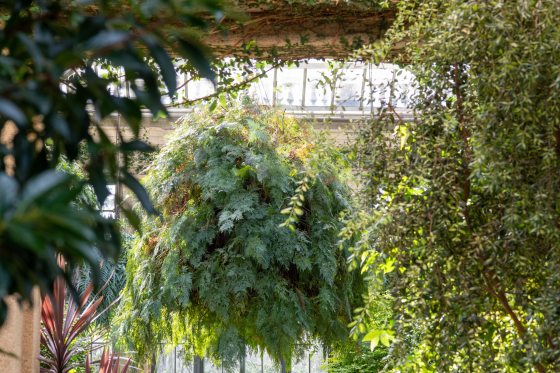 Writing in 1960, Longwood's taxonomist Donald G. Huttleston described the diversity and size of the collection that was begun in 1919, when there was only the Peirce –du Pont House conservatory. During the first half of the 20th century this collection grew so that by 1960 it contained 211 named cultivars of Camellia japonica and 30 other taxa. This collection was much reduced by subsequent renovations to the East Conservatory, and what we see today were planted during the East Conservatory renovations of the early 2000s.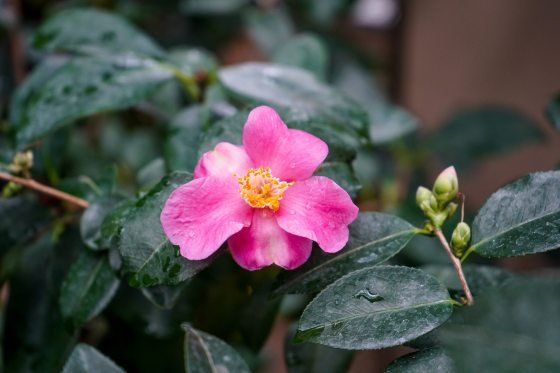 In contrast to the plants in the Camellia House, those by the East Conservatory doors represent plants that are part of a long-term research breeding program looking for extended bloom period and cold hardiness. Among this group of plants are a few cultivars, also not hardy outside, such as 'Red Hots' and 'Tama Peacock' but more importantly, include a group of hybrids from our research program. These hybrids represent a selection of the many camellias that we are growing behind the scenes.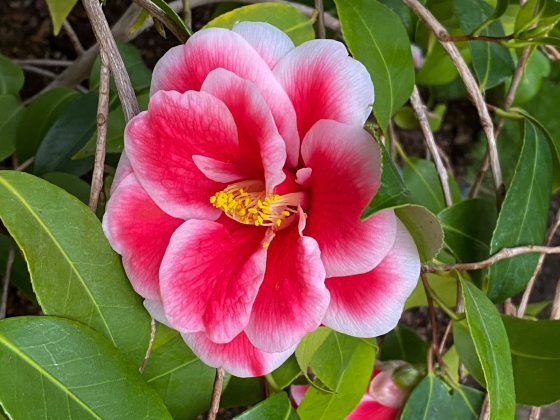 For many years, researchers in the mid-Atlantic searched for and bred camellias that would withstand our winters and stretch the Camellia Belt. Starting in the early 1960s, researchers at Longwood Gardens partnered with camellia breeders to begin a long-term trial to find cold-hardy forms. In the 1960s, hundreds (if not thousands) of small plants were grown in the research areas north of the research and production greenhouses (which are north of and below the East Conservatory). These plants were devastated by exceedingly cold winters in the late 1970s and early 1980s, which killed camellia collections from Washington, DC northwards.
Despite this setback, Longwood's camellia breeding program continued, including collections of extremely cold-hardy Japanese camellias from South Korea in the mid-1980s. Starting in the 1990s, previous research staff established field trials at our Abbondi property, which currently have approximately 250 plants that are being evaluated for growth habit, flowering time and quality, and duration of bloom. Among all of these camellias there are both fall- and spring-blooming types.
By the early 2000s, this program was advanced with an infusion of species from China, including Camellia azalea, notable for its extended bloom period. Camellia azalea was crossed with the cold-hardy Korean Japanese camellias, and these in turn were crossed with various plant from the Camellia House. Ultimately the goal was to combine cold-hardiness, extended flowering season, and a variety of flower types. As a result, the majority of the plants by the East Conservatory doors are from these breeding efforts, a mixture of their parents' best traits.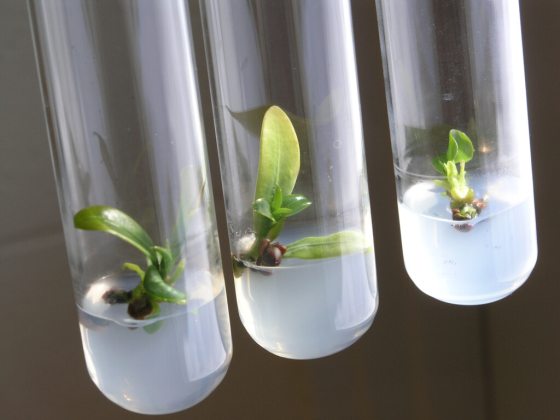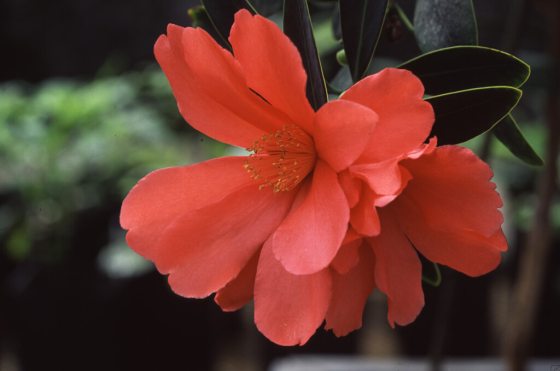 Additionally behind the scenes, our breeding pipeline includes approximately 200 selections being grown in our new nursery production greenhouse. This facility provides space to allow us to propagate and grow plants to sizes large enough to evaluate their flowers, and eventually move them to field trials to select not only for novel flowers but also extended bloom windows and cold hardiness. Breeding and selecting camellias is a long-term process, taking several years from germinating seeds to seeing flowers for the first time and then several more years to fully evaluate plants before naming and introducing them. Between the greenhouses and our field plots there are about a dozen plants that excite us with their exceptional flowers and growth habits. Keep an eye out in the coming years for the best of these selections to become new Longwood introductions. 
Although the camellias in the Conservatory are finishing their flowering for the year, there are flowering camellias to see in our Gardens, by way of the cold-hardy camellias in the outdoor gardens that will start to flower in late March into early April.  These are planted on the Hillside Garden and on the north side of the Peirce–du Pont House and are primarily three Longwood introductions: Camellia × williamsii 'Aida' and C. japonica 'Longwood Centennial', a sibling to 'Longwood Valentine'.
As mentioned above, the two successive cold winters in the late 1970s killed nearly all the camellias under evaluation. The only surviving plant, Camellia × williamsii 'Aida' (C. japonica 'Ville de Nantes' × C. saluenensis 'Dogrose'), was still killed to the snow line, though it exhibited considerably more hardiness than its counterparts and was subsequently released by Longwood as 'Aida'.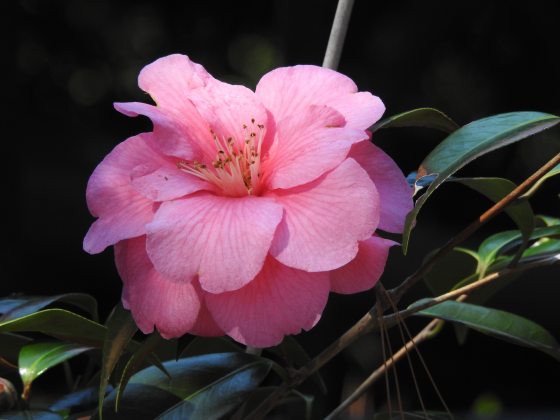 Camellia japonica 'Longwood Valentine' is one of the most floriferous of the camellias from Longwood's 1984 plant exploration trip to Korea. Its flowers are red, slightly larger, and more widely open than is typical for the species. C. japonica 'Longwood Centennial' is a sibling to 'Longwood Valentine' and was selected because of its exceptionally handsome, glossy foliage and dense, red flowers, and full growth habit.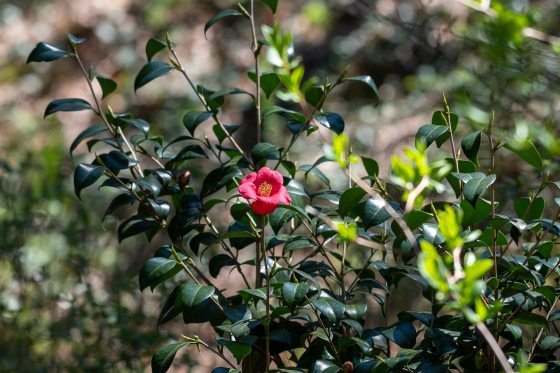 Looking to bring camellias to your home garden? Along with milder winters, successful breeding and selections have greatly increased the diversity of camellias available for the home garden in the greater Philadelphia/Wilmington area. These include both fall- and spring-blooming types, but when shopping for these, look for those that are listed to USDA hardiness zone 6. Camellias are best planted in the spring, given some protection from afternoon sun and strong winds. With this in mind we are now able to stretch the Camellia Belt into southeastern Pennsylvania and enjoy this wonderful group of plants, here in our outdoor gardens and perhaps in your own backyard.
Categorized Under: