As part of the initial phase of Longwood Reimagined: A New Garden Experience, we're delighted to preserve and expand the display capabilities of our beloved century-old Orchid House, while returning its layout to its original configuration. Upon its fall 2021 reopening, hundreds of orchids at any one time will be lovingly displayed in a more immersive, bountiful experience that will showcase up to 50 percent more orchids from our collection throughout the year. Preservation is at the heart of the transformation of our Orchid House, as is attention to detail and a recognition of the yesterdays that are informing the tomorrows of this storied space. In short, we're going to great lengths to preserve this treasured space, creating an even better display for our renowned orchid collection, and sharing with our guests even more of the diversity and beauty of our orchids.
An original feature of our Conservatory and first equipped for growing orchids in 1928, the Orchid House serves as a physical reminder of the legacy of orchids at Longwood. As a passion of our founder Pierre S. du Pont and his wife Alice, orchids have long held a prominent place at Longwood. Mr. and Mrs. du Pont started our orchid collection in 1922 with plants they purchased from American growers and imported from growers in India, Thailand, and the Caribbean to England, France, and Belgium. Mr. and Mrs. du Pont's fondness for orchids fueled the collection's fast growth and helped build its reputation as one of the country's finest. Today, our orchid collection spans 5,500 plants of diverse origin, size, floral display, and color, representing 2,500 different taxa … making the collection just as storied as the Orchid House itself.
Lush plantings in our Acacia Passage look towards just a few of our orchids on view in the Orchid House, shortly before we embarked upon the Orchid House preservation project. Starting in May and through the reopening of our Orchid House, you'll still be able to see spectacular plants from our orchid collection in pop-up orchid displays, as well as learn more about the Orchid House project, both near our Green Wall. Photo by Candie Ward.
Topped with a pyramidal glass roof, our Orchid House will continue to be the warm, inviting space it's always been known to be, from its tall bronze windows framed by decorative concrete piers to its historic bronze display case. Over the next several months, the Orchid House's windows and doors will be restored, the new bronze surfaces patinated, and any deteriorated metal repaired and reassembled during the preservation project. We'll also be installing a new glass roof on its existing structural frame, a new glass wall overtop the display case to help create a new vestibule to allow for temperature control for the orchids inside, new lighting, and new custom frame trellises on which to display our orchids. The bronze display case, first added in 1929 and then restored in 1966, serves as a cornerstone of the preservation project, as it will be restored and moved to a new location within the Orchid House to serve much like storefront windows, showcasing a rotating, curated selection of our orchids and welcoming our guests to venture further into the Orchid House.
Our historic bronze case is shown here before being dismantled and taken offsite for restoration, all in preparation for its relocation within the Orchid House. Throughout the decades, the bronze case has proudly showcased a variety of orchids—namely Cattleya, a favorite of Alice du Pont and a genus that represents many of the oldest plants in our orchid collection. Photo by Hank Davis.
We're also going to great lengths to restore the Orchid House's interior and exterior concrete, which requires a level of detail that may prove surprising to some. Just like the adjacent Main Conservatory and Camellia House, the Orchid House's historic concrete is a particularly notable feature of this space. These buildings are one of the first major projects of the John J. Earley studio in Washington DC, led by John Joseph Early (1881–1945), who was considered a pioneer in the field of decorative, exposed-aggregate concrete. Working with precast and cast-in-place concrete and stucco applied over a rough structural base, Earley used carefully selected, graded, and blended aggregates to achieve a densely textured surface and subtle gradations in color … calling his proprietary product mosaic concrete.
It's of utmost importance to us that we match the new Orchid House concrete to the existing concrete and stucco surfaces of the Conservatory. To ensure this match, we have engaged with local preservation experts John Milner Architects (whom we worked with on the restoration of the Webb Farmhouse), concrete expert Robert Armbruster, Bancroft Construction Company, and many others to perform a petrographic concrete analysis to identify the original makeup of the concrete and stucco, and then identify new mixes for the new concrete.
Upon completion of the House, guests will even be able to experience the beauty of our orchids from within as well as from outside of its walls. The botanical lines of its new custom trellis frames, as well as the colorful blooms of the orchids placed within those fames, will be able to be seen through the glass—allowing for a unique perspective and viewpoint of the space within.
Picture this: Upon reopening, within the gallery of the Orchid House, visitors will be surrounded by orchids, thanks to custom column-mounted frame trellises from floor to doorframe height and apertures for hanging orchids along the columns. Upon the Orchid House's reopening, several times a week our orchid grower will continue to hand-pick and replace the orchids on display with others from our orchid growing house … meaning there will always be something different to see in this spectacular space. Photo by Hank Davis.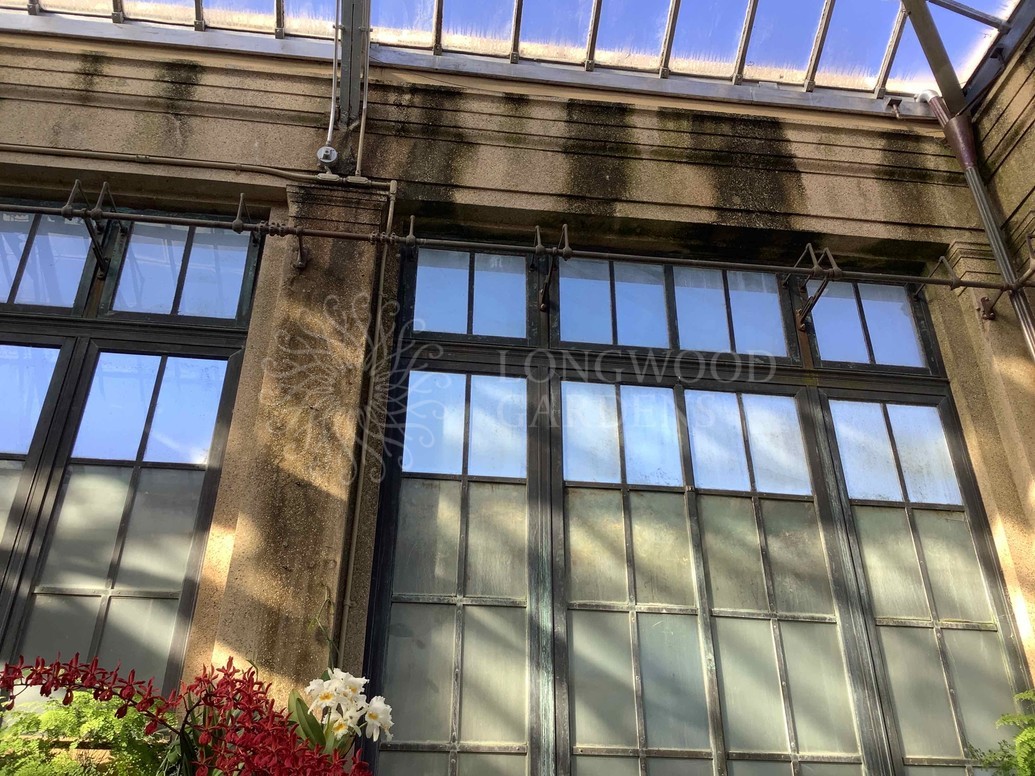 As part of our multi-faceted, highly detailed preservation project, we are working to ensure that the new interior and exterior concrete matches our existing Conservatory surfaces. Photo by Hank Davis.
From the relocation of the historic bronze case to the precise matching of its concrete, our expanded and preserved Orchid House serves as a fantastic opportunity to better display our orchid collection, honor the du Ponts' dedication to orchids, and continue our excellent care of this collection, its legacy, and all it means to us … and you. We look forward to our preserved and expanded Orchid House's fall 2021 reopening with much anticipation and gratitude for the chance to transform this space into something even better. Given the Orchid House's importance to our legacy—and to our hearts—we can't imagine a more fitting space to serve as the first expression of Longwood Reimagined: A New Garden Experience. We can't wait to stand alongside you (and alongside hundreds of vibrant, thriving orchids!) in this preserved, expanded, and even more beautiful space.
Categorized Under: