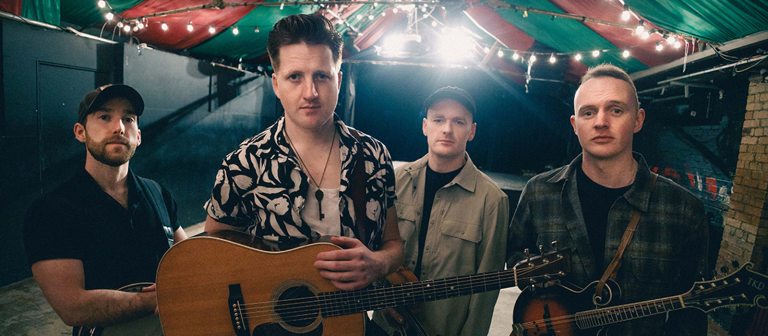 Longwood Debut
"Sparkling" and "infectious" Irish bluegrass quartet JigJam brings a high-energy combination of bluegrass and American folk to their foot-stomping live performances. With founding members from Offaly and Tipperary, joined by a Glasgow native, JigJam has been described as "Ireland's answer to New Grass Revival." 
Founding members from Offaly Jamie McKeogh (lead singer and guitar) and Daithi Melia (five-string banjo and dobro) were joined by Tipperary-born Gavin Strappe (mandolin and tenor banjo) in 2016. This year they are joined by Glasgow native Danny Hunter (fiddle) to make up this iGrass (Irish bluegrass) quartet.
Jamie McKeogh - Lead Singer, Guitar
Jamie McKeogh was born and raised in Durrow near Tullamore County in Offaly. From a very young age he had a keen interest in music, having been strongly influenced by his mother, a music teacher. He began taking tuition on guitar and fiddle at 5 years of age, and progressed to playing the banjo and mandolin. The winner of four All Ireland Titles at Fleadh Cheoil na hEireann, McKeogh has also been a member of the Comhaltas tour of Ireland and the UK. Along with being a member of JigJam, he has toured worldwide with various groups such as Celtic Legends. McKeogh is well-known for his rhythmic guitar playing, vocal versatility, and accomplished banjo solos.
Daithi Melia - Five-String Banjo and Dobro
Hailing from Offaly, Daithi Melia is a multi-instrumentalist who studied contemporary music performance at the Ballyfermot College of Further Education. During this time, he explored various styles and genres of music and honed his skill on the guitar and the five-string banjo. He performed with many bands of various genres in popular venues throughout Ireland and has since toured around the world with several acts. Melia is also a seasoned session musician featured on various artists' records and has been highly involved in the arrangement and writing process of other singer-songwriter projects. He has created his own unique style of five-string banjo playing, forging the different stylistic approaches of traditional Irish and bluegrass music together, while also adding his own contemporary influences along with jazz and blues.
Gavin Strappe - Mandolin, Tenor Banjo
Gavin Strappe was born in South Tipperary and began playing the tenor banjo at the age of 10. It was at this stage that Strappe developed a huge passion for Irish music and began to play mandolin and tenor guitar, leading to much success at Fleadh Cheoil competitions, winning numerous competitions at county, provincial, and All-Ireland levels. At the age of 18, he became Senior All-Ireland champion on both mandolin and tenor guitar. Strappe has toured extensively around the world with numerous bands and ensembles including Brú Ború and Celtic Legends, as well as headlined numerous North American festivals with JigJam.
Danny Hunter - Fiddle
Danny Hunter from Glasgow began playing fiddle at a young age, learning from his sister, Louise Hunter, and attending classes at Irish Minstrels Comhaltas branch. He has developed an eclectic style with influences from Irish, Scottish, and American fiddle styles. Since pursuing music as a career, he has toured internationally with Celtic Legends and played at some of the most prestigious venues such as the Olympia in Paris and the National Centre for the Performing Arts in Beijing.