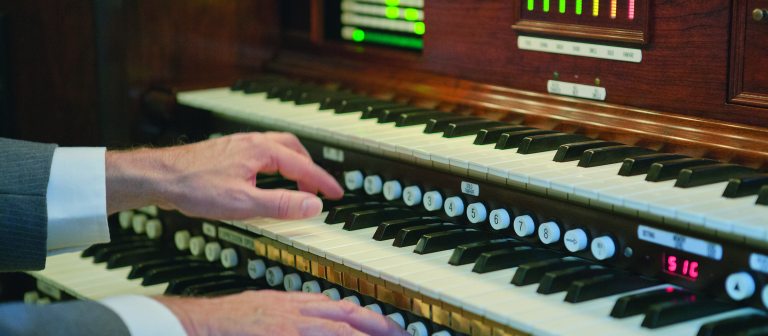 Spend the day in Philadelphia touring some of the city's finest organs and its most historic churches.
Depart from Longwood and travel to each stop in Philadelphia on a tour bus. Our first stop will be the Philadelphia Episcopal Cathedral, which was designated the cathedral church of the Episcopal Diocese of Pennsylvania in 1992 because of its large size, beauty, and location. Enjoy a private tour of the cathedral's Möller Opus 6425 Organ that was restored and augmented by the Emery Brothers. After the tour, stay for a concert on the organ performed by Cathedral Organist Wesley Parrott. Lunch is on your own in the famous Independence Hall area.
After lunch, enjoy a visit at the historic Christ Church, known as "The Nation's Church" and the birthplace of the American Episcopal Church. Founded in 1695 as a condition of William Penn's Charter, Christ Church was regularly attended by Betsy Ross and Benjamin Franklin, among other signers of the Constitution and Declaration of Independence. The Christ Church Burial Ground also serves as Benjamin Franklin's final resting place. Experience a tour of the church's impressive Esther Wideman Memorial Organ, C.B. Fisk Opus 150, and a demonstration performed by the church's organist, Parker Kitterman.
Schedule
9:00 am: Meet at Longwood Gardens Visitor Center (enter at the Group Visits area of the Visitor Center)
9:15 am: Bus departs for Philadelphia Episcopal Cathedral
10:30 am: Arrive at Philadelphia Episcopal Cathedral; tour of the Cathedral Organ pipes and organ demonstration
11:45 am: Bus departs for Christ Church
12:15 pm: Lunch on your own
2:00 pm: Meet at Christ Church; tour of the Christ Church Organ pipes and organ demonstration
3:30 pm: Bus departs for Longwood Gardens
5:00 pm: Arrive at Longwood Gardens
Please note: The tour bus is accessible, but there will be walking required throughout the day. Participants must meet at Longwood and ride the bus throughout the duration of the organ crawl.