It looks like this event has already occurred.
Noa with Gil Dor
A World of Music Series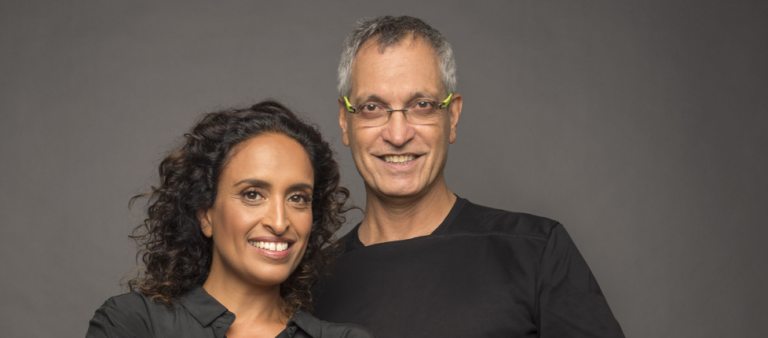 Date & Price
Saturday, March 5, 2022 at 8:00 pm
Exhibition Hall
---
Reserved Seating: $38
Gardens Preferred, Gardens Premium Members and Innovators: $32*
---
Tickets limited. Sell out likely.
---
Tickets include all-day Gardens Admission
Ticketholders are required to show proof of vaccination or a negative COVID-19 test result (within 48 hours of show date), and wear a mask in the venue and through the duration of the performance. Please bring documentation with you.
Masks are not required throughout the Gardens, only in the performance venue.
Longwood Debut
An internationally renowned artist of Yemenite origins, Noa is an Israeli-born, New York-raised singer-songwriter renowned for her artistry and her commitment to peace between Israelis and Palestinians. In this performance, Noa will be singing selections from her most recent album Afterallogy, as well as pieces from her program Letters to Bach—a 12-piece selection of Bach's instrumental music with Noa's contemporary lyrics and messages, produced by Quincy Jones. Noa and her long-standing musical collaborator and guitarist Gil Dor bring to the stage a selection of their diverse and inspiring repertoire in English, Hebrew, and Yemenite, accented by Noa's exciting percussion playing.
Listen to Noa with Gil Dor
More about Noa
Noa has performed on the world's most prestigious stages, including numerous performances at the Vatican for three Popes, the White House, Carnegie Hall, the Lincoln Center, and theaters throughout Europe. She has been produced and endorsed by Pat Metheny and Quincy Jones, and has shared the stage with Stevie Wonder, Sting, Andrea Bocelli, and many others. Noa has received many awards for her artistry and commitment to peace between Israelis and Palestinians, serving as Commander of the Order of Merit of the Italian Republic, Goodwill Ambassador to the UN, and a Global Leader of Tomorrow.
On Letters to Bach, Noa has written English and Hebrew lyrics inspired by subjects as diverse as technology and religion, global warming and feminism, euthanasia, the Palestinian-Israeli conflict, and relationships in the age of social media.
More about Gil Dor
Gil Dor is Noa's musical and artistic director, as well as her co-writer, arranger, producer, and guitarist. Born in Israel in 1952, Dor studied classical guitar, served in the Israeli Army as a musician in the entertainment unit, and continued his studies in the US concentrating on jazz at Berklee College in Boston and then classical theory and composition at Queens College in New York.
Upon returning to Israel in 1981, Dor established himself as a guitarist, arranger, and composer by performing live jazz and rock, and recording with leading artists in Israel. In 1983 and 1984, he taught jazz improvisation and guitar at the Jerusalem Academy of Music and in 1985, co-founded the Rimon School of Jazz and Contemporary Music in Ramat Hasharon, Israel. In his capacity as Rimon's academic director for five years, Dor developed and wrote many core curricula as well as advanced courses. He has performed in jazz festivals in Israel and Europe with his own ensembles, and together with Al Di Meola. Since 1990, he has been working exclusively with Noa. 
*Gardens Preferred, Gardens Premium Members, and Innovators receive access to the Pre-sale. If you are eligible, you have received a discount code and Pre-sale access code via direct mail or email from Longwood Gardens.
COVID-19
Beginning January 23, masks and proof of vaccination (government issued card, a photocopy or photograph of the government issued card, or a vaccine verification app) or a negative COVID-19 test result (within 48 hours of the show date) are required for all indoor performance ticketholders. Ensure you bring the required documentation with you as we will not make any exceptions. After we scan your concert ticket, we will check your vaccination card or negative test result and issue your event wristband allowing you admittance to the venue. Masks are not required throughout the Gardens, only in the concert venue and for the duration of the performance. Please be sure to share this information with all members of your party.
We thank you for your understanding, cooperation, and patience as we all continue to navigate the fluctuations of COVID-19. We look forward to seeing you in the Gardens soon.
Please note, per Pennsylvania's lifting of pandemic restrictions, indoor concerts will be at full capacity and social distancing will not be in place.
Become a Part of the Gardens
Experience exquisite Gardens that elevate the art of horticulture, performances that inspire, and programs that enlighten, all amid the relaxing beauty of Longwood.
Buy a Bundle, Save 20%
Purchase a bundle of 3, 4, or 5 concerts and save 20%. This discount can be applied when tickets are purchased directly through our Pick 3, Pick 4, or Pick 5 bundles.
Please note: This discount cannot be combined with any other promo code or Member / Innovator discount.