It looks like this event has already occurred.
Design Tuesdays Terrarium Workshops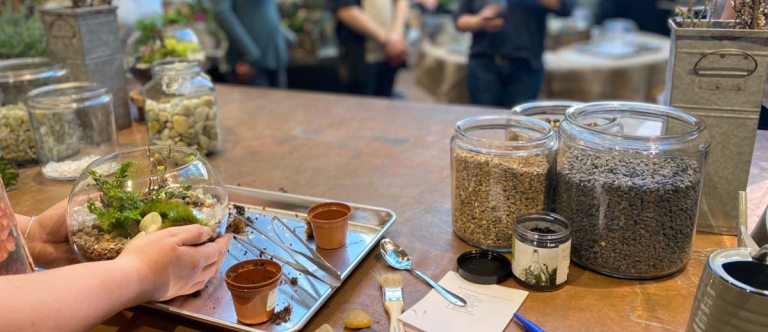 Dates & Price
The Garden Shop
May 24, June 7, or June 21, 2022
6:00 pm-8:00 pm
---
Fee: $129
Fee for Innovators, Gardens Preferred, and Gardens Premium Members: $116
Sold Out
Expand your mind and have some fun during these hands-on workshops in our fresh, horticulturally inspired Garden Shop. Unwind with your friends as you learn plant design techniques demonstrated by our specialists and then apply them to your very own Longwood creation. With an ever-changing, hand-picked selection of plants, each workshop will leave you more informed, inspired, and even more interested in plants. The first Design Tuesdays will focus on Terrariums!
Workshop includes design demonstration, plants, glass vessel, all the materials needed to create your arrangement, light refreshments, and exclusive access to the Garden Shop during workshop hours. There will be no access to the Gardens before, during or after this event as the Gardens are closed to the public on Tuesdays.
Where
The Garden Shop
Innovators, Gardens Preferred, and Gardens Premium Members save on Continuing Education Courses
A 10% discount on classes will be applied automatically at the time of checkout.