It looks like this event has already occurred.
Dublin Guitar Quartet
Classical Series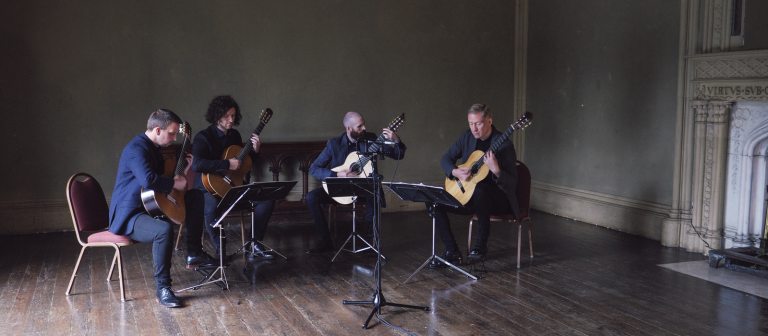 Date & Time
Thursday, January 26, 2023 at 8:00 pm
Ballroom
---
Tickets
Reserved Seating: $32
Gardens Preferred, Gardens Premium Members, and Innovators: $27
Ticket includes all-day Gardens Admission. Tickets limited. Sell out likely.
Sold Out
Described by The Irish Times as "a quartet with a difference," the Dublin Guitar Quartet is the first classical guitar quartet entirely devoted to new music.
Since its formation at the Dublin Conservatory of Music and Drama, the quartet has worked to expand the limited repertoire by commissioning new works and adapting modern masterpieces, including developing the electric side of the guitar quartet repertoire. With this performance, the quartet presents an evening of works by Bryce Dessner, Philip Glass, and more, played on eight- and 11-string guitars. 
The Dublin Guitar Quartet's work has brought the attention of some of the world's leading composers. Recent activity includes a release on Philip Glass's Orange Mountain Music label and a new 55-minute commission by Michael Gordon. The quartet performed alongside the Grammy Award-winning Los Angeles Guitar Quartet, Conspirare and the Texas Guitar Quartet in a premiere of How Little You Are by Nico Muhly in Austin, Texas in 2015. The quartet was also included on a recent recording performing Arvo Part's Summa, by the composer's own publisher Universal Edition.
In 2010 the quartet was involved in a very special performance of Repentance for cello, guitars, and double bass by celebrated Russian composer Sofia Gubaidulina. The composer was present as they joined the Russian cellist Ivan Monighetti in a concert in St. Peter's Church, Drogheda. The quartet's recording of this work was released on the LCMS label in 2012. In 2008, the quartet was honored to share the stage with legendary American composer Philip Glass in St. Patrick's Cathedral, Dundalk. In 2010, the quartet performed their transcriptions of the entire set of Philip Glass quartets to great acclaim.
Other performance highlights include a four-city tour of Colombia and two tours of North America in 2013 and 2014. The quartet has performed at the prestigious chamber music venue Wigmore Hall in London, as well as many of the leading venues in the US, including The Phillips Collection; Celebrity Series of Boston;  Subculture, Symphony Space; and the Lincoln Center in New York.
The quartet is developing the electric side of the guitar quartet repertoire with works like Nagoya Guitars and Electric Counterpoint by Steve Reich, and a recent commission for electric guitar quartet, Amplified by Michael Gordon, which was premiered at the David Lang/Bang on a Can-curated festival of new music at the National Concert Hall, Dublin in February 2015.
Dublin Guitar Quartet's international touring is supported by Culture Ireland.
Explore the Entire Series
From familiar faces to new artists to discover, our Indoor Performance Series showcases the beauty of the performing arts in the beauty of our Gardens.
Buy a Bundle, Save 20%
Purchase a bundle of 3, 4, or 5 Indoor Performance Series concerts and save 20%. This discount can be applied when tickets are purchased directly through our Pick 3, Pick 4, or Pick 5 bundles.
Please note: This discount cannot be combined with any other promo code or Member / Innovator discount.