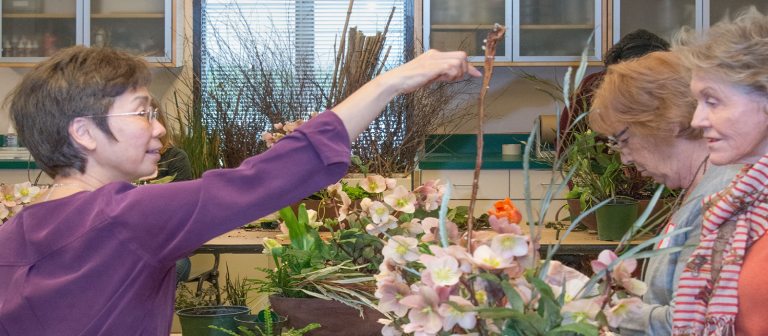 Take a trip through time with internationally trained and published designer and instructor Cres Motzi, AIFD, trace the roots of floral design, and see how it has evolved over the centuries. Starting in the Far East and traveling west, see how modern techniques have emerged from historic principles and philosophy. Along the way, Motzi presents her personal vision of floral design, sharing her expertise, humor, candor, and passion for floral design—all while creating more than 10 arrangements throughout the session to help demonstrate her own journey as a designer.
The evening includes a complimentary wine and cheese reception in our Conservatory and a silent auction for Motzi's designs.
Guests may join us in the Ballroom for this live event or watch the session online via livestream; those who participate via livestream will not be able to participate in the question-and-answer portion of the event. For those who join via livestream, a recording of the event will remain available to you for three months.
This class counts as the Floral Design Lecture credit toward the Floral Design Certificate.
Where
Onsite, Ballroom and Live-streamed
Instructor
Cres Motzi, AIFD