It looks like this event has already occurred.
Katelyn Emerson
Organ Series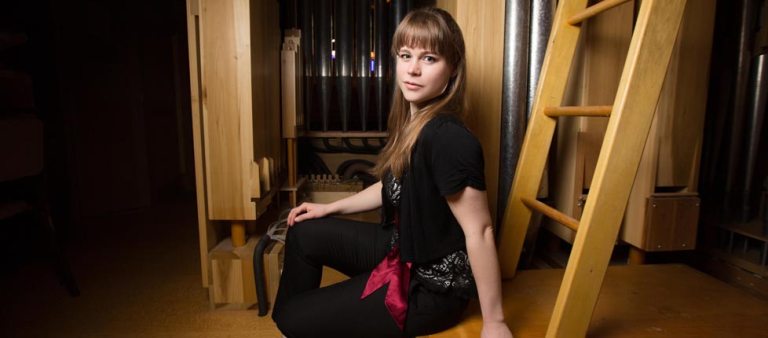 Date & Price
Friday, February 25, 2022 at 8:00 pm
Ballroom
---
Reserved Seating: $25
Gardens Preferred, Gardens Premium Members, and Innovators: $21*
---
Tickets limited. Sell out likely.
---
Ticket includes all-day Gardens Admission
Ticketholders are required to show proof of vaccination or a negative COVID-19 test result (within 48 hours of show date), and wear a mask in the venue and through the duration of the performance. Please bring documentation with you.
Masks are not required throughout the Gardens, only in the performance venue.
Longwood Debut
Renowned for her thrilling performances and numerous accolades—including the distinction of being named a leading young organist in the inaugural "20 under 30" class by The Diapason—Katelyn Emerson showcases repertoire spanning the 14th through 20th centuries. During this performance, enjoy a featured work by Liszt, among other selections.
Listen to Katelyn Emerson
More about Katelyn Emerson
Hailed as "one of the world's most promising organists" (Listvinafélag Hallgrímskirkju [Iceland]), Katelyn Emerson is internationally renowned for performances "thrilling from beginning to end" throughout North America, Europe, and Asia, showcasing repertoire with "impressive technical facility and musicianship" (Cleveland Classical), in addition to masterclasses and lectures on topics from organ interpretation and healthy practice techniques to sacred music. Upcoming and past recital venues include Walt Disney Hall (Los Angeles, California), Hallgrímskirkja (Reykjavík, Iceland), Kurhaus Wiesbaden (Germany), Riverside Church (New York, New York), Basilica of Santa Maria de Montserrat (Spain), Musashino Civic Cultural Hall (Japan), Krasnoyarsk Philharmonic Hall (Russia), and Västerås Cathedral (Sweden), among others.
Prizewinner of competitions on three continents, Emerson received top awards in the American Guild of Organists' (AGO) National Young Artists Organ Competition, Musashino International Organ Competition (Japan), International Organ Competition "Pierre de Manchicourt" (France), and Mikael Tariverdiev International Organ Competition (Russia). She was featured in The Diapason magazine's inaugural "20 under 30 class" of 2015 alongside many of her exceptional colleagues for "superior accomplishments … and innovative thinking." Emerson has served on the faculties of the St. Andrews Organ Week (Scotland), the McGill Student Organ Academy (Canada), the Summer Organ Academy of the Royal Canadian College of Organists, numerous AGO-sponsored Pipe Organ Encounters, and the Oberlin Summer Organ Academy (Ohio), and regularly leads workshops at AGO conventions. Her two CD recordings, Evocations (2017) and Inspirations (2018), appear on the Pro Organo label.
Through a German Academic Exchange Scholarship (DAAD), Emerson received her Master Orgel from the Musikhochschule Stuttgart (Germany), studying with Ludger Lohmann. Recipient of the prestigious J. William Fulbright Study/Research Grant, Emerson studied with Michel Bouvard, Jan Willem Jansen, and Yasuko Uyama-Bouvard at the Conservatoire de Toulouse (France).
*Gardens Preferred, Gardens Premium Members, and Innovators receive access to the Pre-sale. If you are eligible, you have received a discount code and Pre-sale access code via direct mail or email from Longwood Gardens.
COVID-19
Beginning January 23, masks and proof of vaccination (government issued card, a photocopy or photograph of the government issued card, or a vaccine verification app) or a negative COVID-19 test result (within 48 hours of the show date) are required for all indoor performance ticketholders. Ensure you bring the required documentation with you as we will not make any exceptions. After we scan your concert ticket, we will check your vaccination card or negative test result and issue your event wristband allowing you admittance to the venue. Masks are not required throughout the Gardens, only in the concert venue and for the duration of the performance. Please be sure to share this information with all members of your party.
We thank you for your understanding, cooperation, and patience as we all continue to navigate the fluctuations of COVID-19. We look forward to seeing you in the Gardens soon.
Please note, per Pennsylvania's lifting of pandemic restrictions, indoor concerts will be at full capacity and social distancing will not be in place.
Become a Part of the Gardens
Experience exquisite Gardens that elevate the art of horticulture, performances that inspire, and programs that enlighten, all amid the relaxing beauty of Longwood.
Buy a Bundle, Save 20%
Purchase a bundle of 3, 4, or 5 concerts and save 20%. This discount can be applied when tickets are purchased directly through our Pick 3, Pick 4, or Pick 5 bundles.
Please note: This discount cannot be combined with any other promo code or Member / Innovator discount.