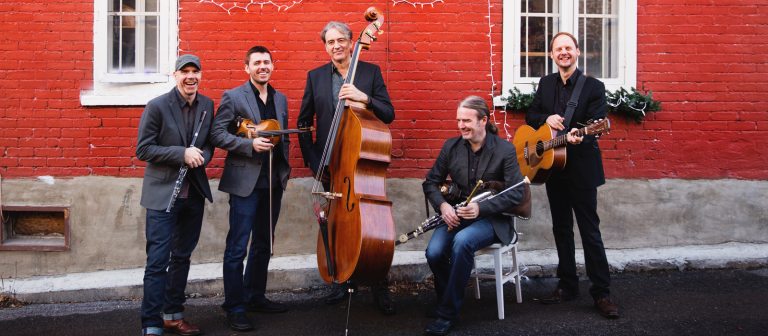 One of the leading voices of contemporary Irish music, Lúnasa is a gathering of some of the top talents in Ireland, named an "Irish music dream team" by Folk Roots magazine. Lúnasa has performed more than 2,000 shows across 36 countries, energizing audiences with complex arrangements and a unique sound that reshapes the boundaries of traditional music.
Named for an ancient Celtic harvest festival in honor of the Irish god Lugh, patron of the arts, Lúnasa is indeed a gathering of some of the top musical talents in Ireland. Its members have helped form the backbone of some of the greatest Irish groups of the decade.
Bassist Trevor Hutchinson was a key member of The Waterboys, and later he, with guitarist Donogh Hennessy, would form the dynamic rhythm section of The Sharon Shannon Band; Ed Boyd (Flook, Michael McGoldrick Band) has recently replaced Hennessy; Fiddler Sean Smyth is an All-Ireland champion who has played with Donal Lunny's Coolfin; Kevin Crawford, considered to be among the finest flutists in Ireland, played with the acclaimed traditional group Moving Cloud; and piper Cillian Vallely of the famous Vallely artistic clan has performed with Riverdance and recently recorded with Bruce Springsteen. 
Formed in 1997, Lúnasa has proven its mettle time and again, having sold over a quarter of a million records and collaborated with notable artists outside the tradition such as Natalie Merchant and Mary Chapin Carpenter. They have performed at such high-profile concert venues as Carnegie Hall, The Hollywood Bowl, National Concert Hall (Dublin), and Paris Bercy, and many of the leading festivals such as Glastonbury, Womadelaide, and Edmonton.