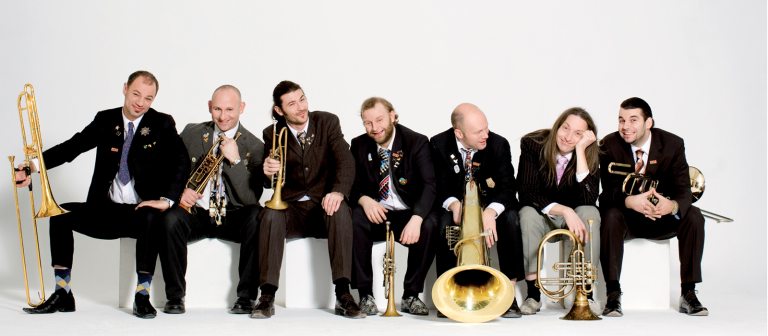 One of the world's premier brass ensembles, Mnozil Brass draws in fans from all over the world with their "seriously funny" and "whimsically brazen" blend of immense virtuosity and theatrical wit. Performing diverse repertoire from folk to classical to jazz to pop, but all with their signature charm, Mnozil Brass has been nominated for the Amadeus Austrian Music Award and won the prestigious Salzburger Stier Cabaret Prize in 2006.
Thomas Gansch, trumpet
Robert Rother, trumpet
Roman Rindberger, trumpet
Leonhard Paul, trombone & bass trumpet
Gerhard Füßl, trombone
Zoltan Kiss, trombone
Wilfried Brandstötter, tuba
Mnozil Brass takes its name from the "Gasthaus Mnozil," a restaurant across the street from the Vienna Conservatory, where, in 1992, seven young brass musicians met and began playing at a monthly open-mic. Since then, the group has embraced repertoire for all ages and stages of life from folk to classical to jazz to pop, all executed with the same fearlessness, immense technical skill, and typical Viennese "schmäh" (almost impossible to find an English translation, but best rendered as a kind of sarcastic charm).
With more than 130 performances a year, the group has sold out houses from the farthest reaches of the European continent to Israel, China, Taiwan, Japan, Australia, Canada, and the United States. No wonder their videos have garnered millions of YouTube views and their fans have travelled countless miles to hear them play.
In their time away from touring, Mnozil Brass has recorded eight albums and six DVDs. They have collaborated on three operetta and opera productions, and composed and recorded the music for the 2006 film Freundschaft.