It looks like this event has already occurred.
Shades of Django with the Stephane Wrembel Quartet
Jazz Series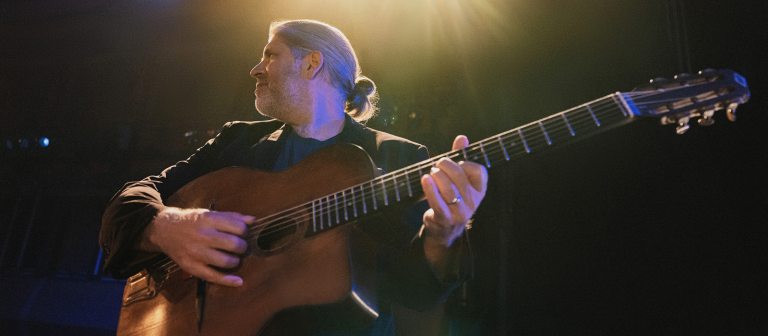 Date & Time
Sunday, November 6, 2022 at 8:00 pm
Ballroom
---
Tickets
Reserved Seating: $35
Gardens Preferred, Gardens Premium Members, and Innovators: $30
Sold out
Longwood Debut
From swing to bebop, impressionism to New Orleans jazz, Shades of Django is a musical celebration of guitarist and gypsy jazz creator Django Reinhardt (1910-53), created and led by acclaimed French-born guitarist and composer Stephane Wrembel.
Stephane Wrembel, musical director/guitar
Josh Kaye, guitar
Ari Folman-Cohen, bass
Nick Anderson, drums
David Langlois, washboard
Nick Driscoll, clarinet/tenor sax
Adrien Chevalier, violin
Sarah King, vocals
Stephane Wrembel
Stephane Wrembel is quite simply one of the finest guitar players in the world. This prolific musician from France has been releasing a steady stream of music since 2002 and has truly made his mark as one of the most original guitar voices in contemporary music. David Fricke at Rolling Stone called him "a revelation."
Wrembel has headlined Lincoln Center, Carnegie Hall, The Town Hall in NYC, and The Lyon Opera House in France; toured with master violinist Mark O'Connor; and shared stages with everyone from Sam Bush, Stochelo Rosenberg, esperanza spalding, and Al Di Meola. Wrembel has dazzled audiences at such major gatherings as the Montreal Jazz Festival, Rochester International Jazz Festival, Django Reinhardt Festival in France, Ellnora, The Guitar Festival, Caramoor Jazz Festival presented by Jazz at Lincoln Center and many others. He has toured Canada, France, Israel, UK, India and Nigeria. In 2003, Wrembel created his own annual event, Django A Gogo Festival, where he and others influenced by Reinhardt celebrate the Sinti guitar style. The Gitane guitar company has even named a model after him. 
Born in Paris and raised in Fontainebleau, the home of Impressionism and Django Reinhardt, Wrembel first studied classical piano, beginning at the age of four. But in his mid-teens, he discovered that he had an affinity for guitar. 
Reinhardt was a Sinti (a Roma group from Western Europe) and his style was rooted in Sinti music. Not a Gypsy himself, Wrembel immersed himself in Sinti culture, spending "six, seven years going to the camps, playing for Gypsy weddings, parties, playing with Gypsy friends," he said. "By going there I started learning the atmosphere of what it really means to play Sinti-style guitar. I learned from the masters, from Angelo Debarre and Serge Krief, and I played in the campsites a lot. That's how you learn this music, because it's specific to a culture.  Music is not only the notes. Without the culture, something is missing."
And while Wrembel is now considered one of the preeminent master guitarists in the world specialized in the Django Reinhardt style, he avoids the label "gypsy jazz" commonly used for Reinhardt's music. While heavily influenced by Reinhardt, Wrembel's music incorporates jazz, blues, classical, swing, flamenco and rock. All of these influences come together as a genre identifiable only as Stephane Wrembel.
Explore the Entire Series
From familiar faces to new artists to discover, our Indoor Performance Series showcases the beauty of the performing arts in the beauty of our Gardens.
Buy a Bundle, Save 20%
Purchase a bundle of 3, 4, or 5 Indoor Performance Series concerts and save 20%. This discount can be applied when tickets are purchased directly through our Pick 3, Pick 4, or Pick 5 bundles.
Please note: This discount cannot be combined with any other promo code or Member / Innovator discount.