It looks like this event has already occurred.
Simone Dinnerstein
Classical Series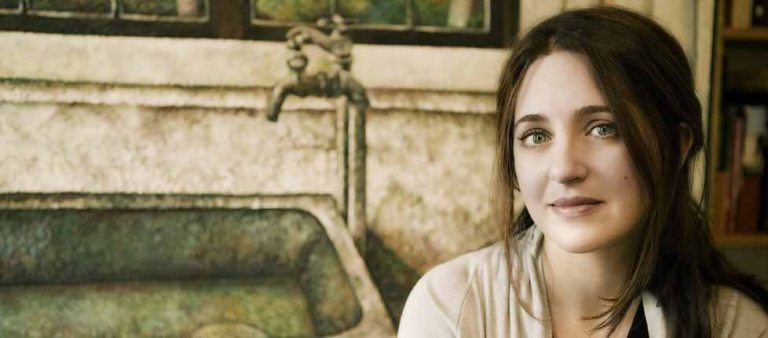 Dates & Price
Thursday, March 3, 2022 at 8:00 pm
Ballroom
---
Reserved Seating: $35
Gardens Preferred, Gardens Premium Members, and Innovators: $30*
---
Tickets limited. Sell out likely.
---
Ticket includes all-day Gardens Admission
Ticketholders are required to show proof of vaccination or a negative COVID-19 test result (within 48 hours of show date), and wear a mask in the venue and through the duration of the performance. Please bring documentation with you.
Masks are not required throughout the Gardens, only in the performance venue.
2022 Grammy Award Nominee for Best Classical Instrumental Solo
With 10 albums that have all topped the Billboard classical charts, showcasing repertoire ranging from Bach and Beethoven to Phillip Glass, American pianist Simone Dinnerstein is heralded for her distinctive musical voice and her commitment to sharing classical music with everyone. 
Listen to Simone Dinnerstein
More about Simone Dinnerstein
The Washington Post has called Dinnerstein "an artist of strikingly original ideas and irrefutable integrity." She first came to wider public attention in 2007 through her recording of Bach's Goldberg Variations, reflecting an aesthetic that was both deeply rooted in the score and profoundly idiosyncratic. She is, wrote The New York Times, "a unique voice in the forest of Bach interpretation." 
Since that recording, she has had a busy performing career. She has played with orchestras ranging from the New York Philharmonic and the Montreal Symphony Orchestra to the London Symphony Orchestra and the Orchestra Sinfonica Nazionale Rai. She has performed in venues from Carnegie Hall and the Kennedy Center to the Berlin Philharmonie, the Vienna Konzerthaus, the Seoul Arts Center, and the Sydney Opera House.
In recent years, Simone has created projects that express her broad musical interests. Following her recording Mozart in Havana, she brought the Havana Lyceum Orchestra from Cuba to the United States for the very first time, raising the funding, booking the concerts, and organizing their housing and transport. Together, Dinnerstein and the orchestra played 11 concerts from Miami to Boston. Philip Glass composed his Piano Concerto No. 3 for Dinnerstein, co-commissioned by 12 American and Canadian orchestras. She collaborated with choreographer Pam Tanowitz to create New Work for Goldberg Variations, which was met with widespread critical acclaim. Working with Renée Fleming and the Emerson String Quartet, she premiered André Previn and Tom Stoppard's Penelope at the Tanglewood, Ravinia and Aspen music festivals. Most recently, she created her own string ensemble, Baroklyn, which she directs from the keyboard. Their performance of Bach's cantata Ich Habe Genug in March 2020 was the last concert she gave before New York City shut down. 
Dinnerstein is committed to giving concerts in non-traditional venues and to audiences who don't often hear classical music. For the last three decades, she has played concerts throughout the United States for the Piatigorsky Foundation, an organization dedicated to the widespread dissemination of classical music. It was for the Piatigorsky Foundation that she gave the first piano recital in the Louisiana state prison system at the Avoyelles Correctional Center. She has also performed at the Maryland Correctional Institution for Women in a concert organized by the Baltimore Symphony Orchestra. Dinnerstein founded Neighborhood Classics in 2009, a concert series open to the public and hosted by New York City Public Schools to raise funds for their music education programs. She also created a program called Bachpacking during which she takes a digital keyboard to elementary school classrooms, helping young children get close to the music she loves. She is a committed supporter and proud alumna of Philadelphia's Astral Artists, which supports young performers. 
Dinnerstein counts herself fortunate to have studied with three unique artists: Solomon Mikowsky, Maria Curcio, and Peter Serkin, very different musicians who shared the belief that playing the piano is a means to something greater. The Washington Post comments that "Ultimately, it is Dinnerstein's unreserved identification with every note she plays that makes her performance so spellbinding." In a world where music is everywhere, she hopes that it can still be transformative.
Program
Johann Sebastian Bach–Goldberg Variations, BWV 988
*Gardens Preferred, Gardens Premium Members, and Innovators receive access to the Pre-sale. If you are eligible, you have received a discount code and Pre-sale access code via direct mail or email from Longwood Gardens.
COVID-19
Beginning January 23, masks and proof of vaccination (government issued card, a photocopy or photograph of the government issued card, or a vaccine verification app) or a negative COVID-19 test result (within 48 hours of the show date) are required for all indoor performance ticketholders. Ensure you bring the required documentation with you as we will not make any exceptions. After we scan your concert ticket, we will check your vaccination card or negative test result and issue your event wristband allowing you admittance to the venue. Masks are not required throughout the Gardens, only in the concert venue and for the duration of the performance. Please be sure to share this information with all members of your party.
We thank you for your understanding, cooperation, and patience as we all continue to navigate the fluctuations of COVID-19. We look forward to seeing you in the Gardens soon.
Please note, per Pennsylvania's lifting of pandemic restrictions, indoor concerts will be at full capacity and social distancing will not be in place.
Become a Part of the Gardens
Experience exquisite Gardens that elevate the art of horticulture, performances that inspire, and programs that enlighten, all amid the relaxing beauty of Longwood.
Buy a Bundle, Save 20%
Purchase a bundle of 3, 4, or 5 concerts and save 20%. This discount can be applied when tickets are purchased directly through our Pick 3, Pick 4, or Pick 5 bundles.
Please note: This discount cannot be combined with any other promo code or Member / Innovator discount.