Smartphone Photography
CREATIVE ARTS CLASS WITH ONLINE AND ONSITE COMPONENTS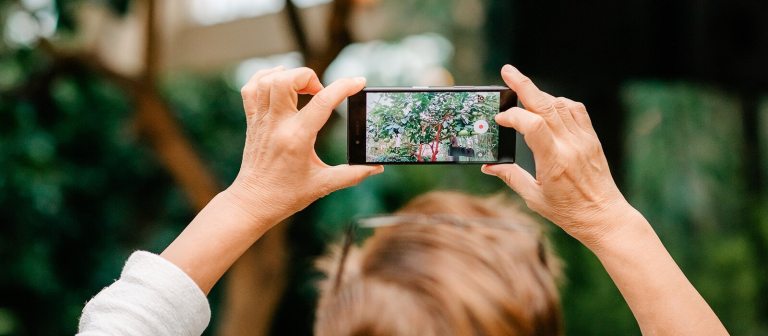 Dates & Price
July 27–August 3, 2023
---
Fee: $99
Fee for Innovators, Gardens Preferred, and Gardens Premium Members: $89
---
Fee includes all-day admission to the Gardens on the day the class is onsite.
Registration ends on July 23, 2023.
Registrations may be cancelled up to two weeks before the event, and your registration fee, less a $30 processing fee, will be refunded.
To notify us of your cancellation, email us or call 610-388-5454.
Most of us carry cameras nearly every minute of every day without even realizing it.
Smartphones are powerful picture-taking tools thanks to their fantastic cameras, and it only takes a little bit of time and attention to produce amazing images. Join professional photographer Drew Tolbert for a crash course in getting the most out of your phone's camera. You'll learn top tips and tricks during an online orientation, spend a morning in the Gardens practicing what you've learned, and then reconvene online to review and discuss your work.
Course Schedule
Online Orientation
Thursday, July 27, 6:30–7:15 pm
Onsite Session
Saturday, July 29, 7:00–10:00 am
Online Critique Session
Thursday, August 3, 6:30–8:30 pm
Inclement Weather Date 
Sunday, July 30, 7:00–10:00 am
Full course content includes both the online and the onsite components.
Location
Onsite at Longwood Gardens with additional online sessions.
This program will take place partially or entirely outdoors. Please dress for the weather and wear footwear suited for walking on uneven paths and through wet areas.
Instructor
Drew Tolbert
Materials 
For the onsite session at Longwood, please bring your own phone/camera.
Additional Info
Photos taken during photography classes at Longwood may not be sold for commercial uses.
Innovators, Gardens Preferred, and Gardens Premium Members save on Continuing Education Courses
A 10% discount on classes will be applied automatically at the time of checkout.