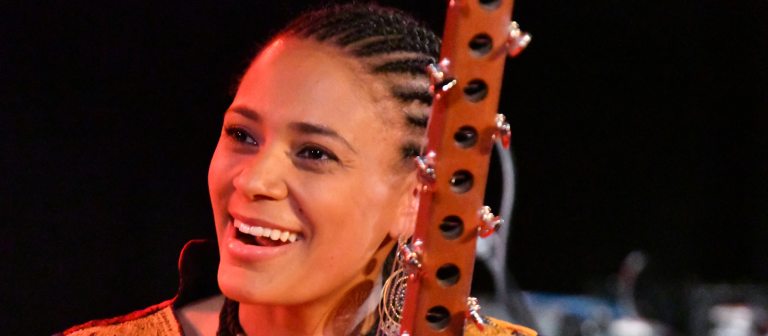 Gambian musician Sona Jobarteh is a talented composer, singer, and kora player, with her musical work standing on the mighty shoulders of the West African griot tradition. Her dedication to spreading powerful humanitarian messages through her songs and her stage performances makes her much more than a musician; she is active in social change and leads by her own example through her pioneering institution dedicated to achieving educational reform across the continent of Africa, and through her high-profile speaking engagements with UNICEF, the United Nations, and more. Jobarteh scored some of the Hollywood blockbuster Beast starring Idris Elba, co-wrote a track on LL Cool J's latest with Q Tip, and has appeared on CBS's 60 Minutes, among other highlights.
Through preserving her musical past, Jobarteh innovates to support a more humanitarian future as a living archive of the Gambian people. With one ear on the family's historic reputation and one on the all-important future legacy, and her heart in both places, she is preparing a place today for the next generation. Her singing and kora playing while fronting her band spring directly from this tradition. The extent of her recognition today is evidenced by more than 23 million watchers on YouTube and considerable numbers on other digital platforms while singing in her native language and keeping to her own path in the music industry. 
Jobarteh's live performances and speaking engagements zoomed to 52 performances with 12 sell-outs during 2019, and post-pandemic to 67 in 2022.  After completing 15 dates in the US from the Hollywood Bowl in LA to Symphony Space in NYC, she added WOMAD Australia and New Zealand. 
Jobarteh single-handedly set up The Gambia Academy, a pioneering institution dedicated to achieving educational reform across the continent of Africa. The academy is the first of its kind to deliver a mainstream academic curriculum at a high level, while also bringing the culture, traditions, and history that belong to its students to the front and center of their everyday education. These efforts have gained her invitations to deliver speeches at high-profile events around the world, including summits for the United Nations, the World Trade Organization, and UNICEF.
Sona made 63 worldwide concert appearances in 2022, including a US Tour of 10 shows that followed on the heels of her Senegalese tour, and coinciding with the October 2022 release of her long-awaited second album, Badinyaa Cuomo, featuring Youssou N'Dour, Ballake Sissoko, and Kirk Whalum.