Spotlight Walks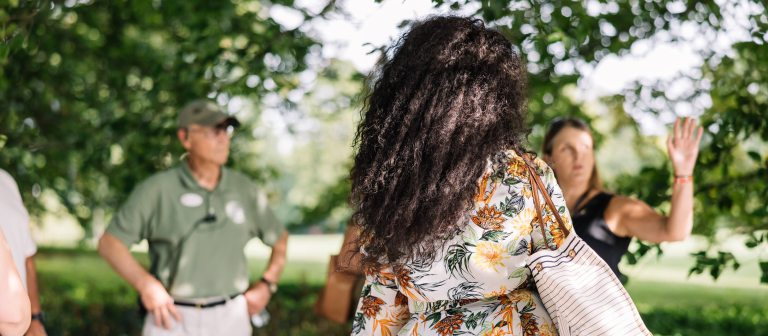 Dates
Sunday, June 4

11:30 am, 12:30 pm, 2:00 pm

Monday, June 5

11:30 am, 12:30 pm, 2:00 pm

Wednesday, June 7

11:30 am, 12:30 pm, 2:00 pm

Thursday, June 8

11:30 am, 12:30 pm, 2:00 pm

Friday, June 9

11:30 am, 12:30 pm, 2:00 pm

Saturday, June 10

11:30 am, 12:30 pm, 2:00 pm

Sunday, June 11

11:30 am, 12:30 pm, 2:00 pm

Monday, June 12

11:30 am, 12:30 pm, 2:00 pm

Wednesday, June 14

11:30 am, 12:30 pm, 2:00 pm

Thursday, June 15

11:30 am, 12:30 pm, 2:00 pm

Friday, June 16

11:30 am, 12:30 pm, 2:00 pm

Saturday, June 17

11:30 am, 12:30 pm, 2:00 pm

Sunday, June 18

11:30 am, 12:30 pm, 2:00 pm

Monday, June 19

11:30 am, 12:30 pm, 2:00 pm

Wednesday, June 21

11:30 am, 12:30 pm, 2:00 pm

Thursday, June 22

11:30 am, 12:30 pm, 2:00 pm

Friday, June 23

11:30 am, 12:30 pm, 2:00 pm

Saturday, June 24

11:30 am, 12:30 pm, 2:00 pm

Sunday, June 25

11:30 am, 12:30 pm, 2:00 pm

Monday, June 26

11:30 am, 12:30 pm, 2:00 pm

Wednesday, June 28

11:30 am, 12:30 pm, 2:00 pm

Thursday, June 29

11:30 am, 12:30 pm, 2:00 pm

Friday, June 30

11:30 am, 12:30 pm, 2:00 pm

Saturday, July 1

11:30 am, 12:30 pm, 2:00 pm

Sunday, July 2

11:30 am, 12:30 pm, 2:00 pm

Monday, July 3

11:30 am, 12:30 pm, 2:00 pm

Wednesday, July 5

11:30 am, 12:30 pm, 2:00 pm

Thursday, July 6

11:30 am, 12:30 pm, 2:00 pm

Friday, July 7

11:30 am, 12:30 pm, 2:00 pm

Saturday, July 8

11:30 am, 12:30 pm, 2:00 pm

Sunday, July 9

11:30 am, 12:30 pm, 2:00 pm

Monday, July 10

11:30 am, 12:30 pm, 2:00 pm

Wednesday, July 12

11:30 am, 12:30 pm, 2:00 pm

Thursday, July 13

11:30 am, 12:30 pm, 2:00 pm

Friday, July 14

11:30 am, 12:30 pm, 2:00 pm

Saturday, July 15

11:30 am, 12:30 pm, 2:00 pm

Sunday, July 16

11:30 am, 12:30 pm, 2:00 pm

Monday, July 17

11:30 am, 12:30 pm, 2:00 pm

Wednesday, July 19

11:30 am, 12:30 pm, 2:00 pm

Thursday, July 20

11:30 am, 12:30 pm, 2:00 pm

Friday, July 21

11:30 am, 12:30 pm, 2:00 pm

Saturday, July 22

11:30 am, 12:30 pm, 2:00 pm

Sunday, July 23

11:30 am, 12:30 pm, 2:00 pm

Monday, July 24

11:30 am, 12:30 pm, 2:00 pm

Wednesday, July 26

11:30 am, 12:30 pm, 2:00 pm

Thursday, July 27

11:30 am, 12:30 pm, 2:00 pm

Friday, July 28

11:30 am, 12:30 pm, 2:00 pm

Saturday, July 29

11:30 am, 12:30 pm, 2:00 pm

Sunday, July 30

11:30 am, 12:30 pm, 2:00 pm

Monday, July 31

11:30 am, 12:30 pm, 2:00 pm

Wednesday, August 2

11:30 am, 12:30 pm, 2:00 pm

Thursday, August 3

11:30 am, 12:30 pm, 2:00 pm

Friday, August 4

11:30 am, 12:30 pm, 2:00 pm

Saturday, August 5

11:30 am, 12:30 pm, 2:00 pm

Sunday, August 6

11:30 am, 12:30 pm, 2:00 pm

Monday, August 7

11:30 am, 12:30 pm, 2:00 pm

Wednesday, August 9

11:30 am, 12:30 pm, 2:00 pm

Thursday, August 10

11:30 am, 12:30 pm, 2:00 pm

Friday, August 11

11:30 am, 12:30 pm, 2:00 pm

Saturday, August 12

11:30 am, 12:30 pm, 2:00 pm

Sunday, August 13

11:30 am, 12:30 pm, 2:00 pm

Monday, August 14

11:30 am, 12:30 pm, 2:00 pm

Wednesday, August 16

11:30 am, 12:30 pm, 2:00 pm

Thursday, August 17

11:30 am, 12:30 pm, 2:00 pm

Friday, August 18

11:30 am, 12:30 pm, 2:00 pm

Saturday, August 19

11:30 am, 12:30 pm, 2:00 pm

Sunday, August 20

11:30 am, 12:30 pm, 2:00 pm

Monday, August 21

11:30 am, 12:30 pm, 2:00 pm

Wednesday, August 23

11:30 am, 12:30 pm, 2:00 pm

Thursday, August 24

11:30 am, 12:30 pm, 2:00 pm

Friday, August 25

11:30 am, 12:30 pm, 2:00 pm

Saturday, August 26

11:30 am, 12:30 pm, 2:00 pm

Sunday, August 27

11:30 am, 12:30 pm, 2:00 pm

Monday, August 28

11:30 am, 12:30 pm, 2:00 pm

Wednesday, August 30

11:30 am, 12:30 pm, 2:00 pm

Thursday, August 31

11:30 am, 12:30 pm, 2:00 pm

Friday, September 1

11:30 am, 12:30 pm, 2:00 pm

Saturday, September 2

11:30 am, 12:30 pm, 2:00 pm

Sunday, September 3

11:30 am, 12:30 pm, 2:00 pm

Monday, September 4

11:30 am, 12:30 pm, 2:00 pm

Wednesday, September 6

11:30 am, 12:30 pm, 2:00 pm

Thursday, September 7

11:30 am, 12:30 pm, 2:00 pm

Friday, September 8

11:30 am, 12:30 pm, 2:00 pm

Saturday, September 9

11:30 am, 12:30 pm, 2:00 pm

Sunday, September 10

11:30 am, 12:30 pm, 2:00 pm

Monday, September 11

11:30 am, 12:30 pm, 2:00 pm

Wednesday, September 13

11:30 am, 12:30 pm, 2:00 pm

Thursday, September 14

11:30 am, 12:30 pm, 2:00 pm

Friday, September 15

11:30 am, 12:30 pm, 2:00 pm

Saturday, September 16

11:30 am, 12:30 pm, 2:00 pm

Sunday, September 17

11:30 am, 12:30 pm, 2:00 pm

Monday, September 18

11:30 am, 12:30 pm, 2:00 pm

Wednesday, September 20

11:30 am, 12:30 pm, 2:00 pm

Thursday, September 21

11:30 am, 12:30 pm, 2:00 pm

Friday, September 22

11:30 am, 12:30 pm, 2:00 pm

Sunday, September 24

11:30 am, 12:30 pm, 2:00 pm

Monday, September 25

11:30 am, 12:30 pm, 2:00 pm

Wednesday, September 27

11:30 am, 12:30 pm, 2:00 pm

Thursday, September 28

11:30 am, 12:30 pm, 2:00 pm

Friday, September 29

11:30 am, 12:30 pm, 2:00 pm

Saturday, September 30

11:30 am, 12:30 pm, 2:00 pm
Dates & Price
May 15–September 30, 2023
Most days at 11:30 am, 12:30 pm, and 2:00 pm
Inquire at the Visitor Center for the meeting location on the day of your visit.
---
Free with Gardens Admission
Timed Admission Tickets required
Timed Reservations not required for Members when arriving before 3:00 pm Thursdays–Saturdays
Reservations not required for Gardens Premium Members and Innovators
Discover more about Longwood during engaging 30-minute Spotlight Walks. Explore different facets of our history and gardens with one of our expert staff.
Please note: To provide an enjoyable experience, capacity is limited.
Visit the Gardens Year-Round and Attend this Event for Free