It looks like this event has already occurred.
Arturo O'Farrill Quintet
Jazz Series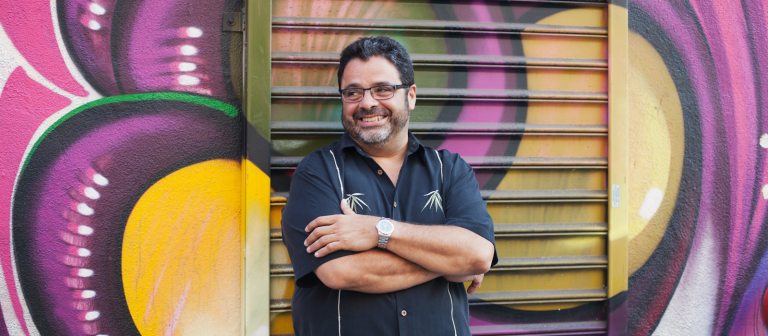 Date & Time
Friday, November 4, 2022 at 8:00 pm
Ballroom
---
Tickets
Reserved Seating: $35
Gardens Preferred, Gardens Premium Members, and Innovators: $30
Ticket includes all-day Gardens Admission. Tickets limited. Sell out likely.
Longwood Debut
Six-time Grammy-Award winning jazz pianist, composer, and educator Arturo O'Farrill showcases his vibrant Afro-Latin sound. The son of Afro-Cuban jazz composer, arranger, and trumpeter Chico O'Farrill, O'Farrill's professional career began with the Carla Bley Band and continued as a solo performer with Dizzy Gillespie, Lester Bowie, Wynton Marsalis, Harry Belafonte and more.
O'Farrill has performed with his own Afro Latin Jazz Orchestra and Arturo O'Farrill Sextet, among other orchestras, bands, and ensembles throughout the world. In 2020 Arturo's weekly concerts with the Afro Latin Jazz Orchestra, dubbed Virtual Birdland, topped the list of 10 Best Quarantine Concerts in The New York Times.
O'Farrill was born in Mexico and grew up in New York City. In 2007, he founded the Afro Latin Jazz Alliance as a not-for-profit organization dedicated to the performance, education, and preservation of Afro Latin music. He serves as Professor of Global Jazz Studies and Assistant Dean for  Equity, Diversity and Inclusion at University of California, Los Angeles (UCLA),
In December 2010 O'Farrill travelled with the original Chico O'Farrill Afro Cuban Jazz Orchestra to Cuba, returning his father's musicians to his homeland. He continues to travel to Cuba regularly as an informal cultural ambassador, working with Cuban musicians, dancers, and students, bringing local musicians from Cuba to the US and American musicians to Cuba.
An avid supporter of all the arts, O'Farrill has performed with Ballet Hispanico and the Malpaso Dance Company, for whom he has written three ballets. In addition, the Alvin Ailey Dance Company has in its repertoire a ballet entitled Open Door, choreographed by Ron Brown to several of Arturo's compositions and recordings. Ron Brown's own Evidence Dance Company commissioned Arturo to compose New Conversations, which premiered in 2018 at Jacob's Pillow in Becket, MA.
O'Farrill's well-reviewed and highly praised Afro-Latin Jazz Suite from the album Cuba: The Conversation Continues (Motéma) took the 2016 Grammy Award for Best Instrumental Composition and the 2016 Latin Grammy Award for Best Latin Jazz Album. His powerful Three Revolutions from the album Familia-Tribute to Chico and Bebo was the 2018 Grammy Award-winner for Best Instrumental Composition. O'Farrill's 2021 Grammy Award-winning album Four Questions (Zoho) is the first to embody all original compositions, including the title track, which features the brilliant orator Dr. Cornel West.
O'Farrill was artist in residence for The Greene Space in New York City, for which he created a four-concert series, Radical Acts and Musical Deviancy, including a newly commissioned composition.
O'Farrill has received commissions from Meet the Composer, Jazz at Lincoln Center, The Philadelphia Music Project, The Apollo Theater, Symphony Space, the Bronx Museum of the Arts, the Young Peoples Chorus of New York, Columbia University and the New York State Council on the Arts. O'Farrill has been honored as a Steinway Artist for many years, and is now a Blue Note Records recording artist.
Explore the Entire Series
From familiar faces to new artists to discover, our Performance Series showcases the beauty of the performing arts in the beauty of our Gardens.
Buy a Bundle, Save 20%
Purchase a bundle of 3, 4, or 5 concerts and save 20%. This discount can be applied when tickets are purchased directly through our Pick 3, Pick 4, or Pick 5 bundles.
Please note: This discount cannot be combined with any other promo code or Member / Innovator discount.