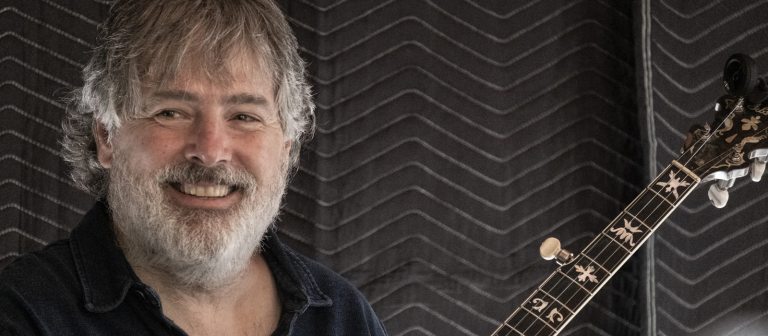 Over the last four decades, Béla Fleck has made a point of boldly going where no banjo player has gone before … along a musical journey that has earned him 15 Grammys in nine different fields, including country, pop, jazz, instrumental, classical and world music. But his roots are in bluegrass, and that's where he returns with his first bluegrass tour in 24 years, My Bluegrass Heart, fresh off his 2022 Grammy Award for Best Bluegrass Album.
My Bluegrass Heart is the third chapter of a trilogy that began with the 1988 album Drive and continued in 1991 with The Bluegrass Sessions. The project features a who's who of some of the greatest instrumentalists in bluegrass music's history alongside some of the best of the new generation of players: mandolinist Sierra Hull, fiddler Michael Cleveland, celebrated multi-instrumentalist Mark Schatz, and the amazing Bryan Sutton on guitar.
Just in case you aren't familiar with Béla Fleck, there are many who say he's the premier banjo player in the world. Others claim that Fleck has virtually reinvented the image and the sound of the banjo through a remarkable performing and recording career that has taken him all over the musical map and on a range of solo projects and collaborations. If you are familiar with Fleck, you know that he just loves to play the banjo, and put it into unique settings.
Born and raised in New York City, Fleck began his musical career playing the guitar. It wasn't until his grandfather bought him a banjo in 1973, that it became his full time passion. That week, Fleck entered New York City's High School of Music and Art. Since the banjo wasn't an offered elective at Music & Art, Fleck sought lessons through outside sources, and joined his first band, Wicker's Creek.
Several months after high school, Fleck moved to Boston to play with Jack Tottle's Tasty Licks. While in Boston, Fleck continued his jazz explorations, made two albums with Tasty Licks, and at 19 years old made his first solo banjo album, Crossing the Tracks, on Rounder Records. In 1981, Fleck was invited to join the progressive bluegrass band New Grass Revival, which took bluegrass music to new limits. Through the course of five albums, they charted new territory, with their blend of bluegrass, rock, and country music. Next came Béla Fleck and the Flecktones, followed by his self-titled CD, which Fleck financed himself. The recording attracted the attention of the folks at Warner Brothers Records. It was released in 1990, dubbed a "blu-bop" mix of jazz and bluegrass.
Still releasing albums and touring, the Tones have garnered a strong and faithful following among jazz and new acoustic fans. They have shared the stage with Dave Matthews Band, Sting, Bonnie Raitt, and the Grateful Dead, among many others, made several appearances on The Tonight Show in the Johnny Carson days and the Jay Leno days, as well as Arsenio Hall, and Conan O'Brian. Fleck has also appeared on Saturday Night Live and David Letterman's show.
Although the first Flecktones albums were created live-in-the-studio, the group went on to experiment with overdubs and guest artists on later albums, with contributions from artists as diverse as Chick Corea, Bruce Hornsby, Branford Marsalis, John Medeski, Andy Statman, the Alash Group, and Dave Matthews. The Flecktones went on tour with Dave Matthews Band in 1996 and 1997, and Fleck is featured on several tracks on DMB's 1998 album Before these Crowded Streets.
In 2006 the band released The Hidden Land, which won the Grammy Award for Best Contemporary Jazz Album in 2007. In 2008, Jingle All The Way, the band's holiday album was released, and in 2009 it was voted best Pop Instrumental Album at the Grammys. Already a powerfully creative force in bluegrass, jazz, pop, rock, and world beat, Fleck at last made the classical connection with Perpetual Motion, his critically acclaimed 2001 Sony Classical recording that went on to win a pair of Grammys, including Best Classical Crossover Album, in the 44th annual Grammy Awards.  The recipient of multiple Grammy Awards, Fleck's total Grammy count is 15 Grammys won and 30 nominations. He has been nominated in more different categories than any instrumentalist in Grammy history.