It looks like this event has already occurred.
Carla Morrison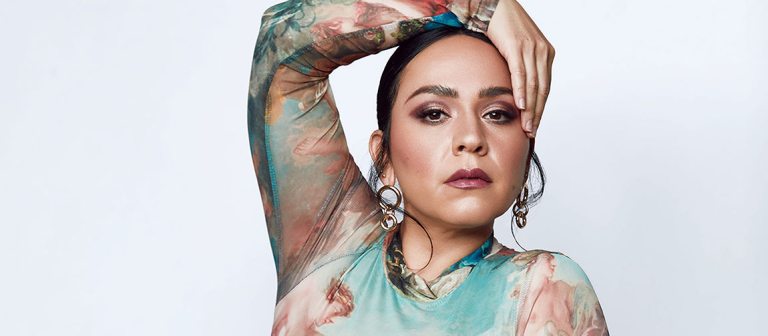 Date & Time
Wednesday, July 6, 2022 at 7:30 pm
Open Air Theatre
---
Reserved Seating: $33-$53
Gardens Preferred, Gardens Premium Members, and Innovators: $28-$48*
---
Ticket includes all-day Gardens Admission
---
Tickets limited. Sell out likely 
Raw retellings of emotional, personal heartbreaks are the bedrock of Tecate, Baja California-born singer-songwriter Carla Morrison's material, and this honest approach has earned her multiple Grammy nominations and Latin Grammy wins over the course of five albums. Morrison has performed at Coachella, Mexico City's famed Auditorio Nacional, and throughout the US, collaborating over the years with Lila Downs, Calexico, Macklemore and Ryan Lewis, Ricky Martin, J Balvin, and more.
Listen to Carla Morrison
More about Carla Morrison
Acclaimed singer-songwriter Carla Morrison is returning to music brand new. These past few years, she's analyzed who she's been and who she wants to be, culling empowerment from both. Centering herself may have saved her life. "For the longest time, I questioned the purpose of my existence, when I was in the middle of my success. I would find myself thinking very often that I wanted to die. Being a highly sensitive person, it was just a lot. It felt overwhelming."
Snowballing from a Grammy nomination for her 2010 EP Mientras Tú Dormías, onto 2012's Déjenme Llorar, and the 2016 release of Amor Supremo, her success grew rapidly. Taking the outdoor stage at Coachella, filling to capacity Mexico City's famed Auditorio Nacional, and sold-out US tours followed.
But there came a point when an inner voice of fear was all Morrison could hear. An amalgam of industry rules, outsider opinions, and criticism from listeners, her own gut feelings—those internal nudges toward one direction or another, the inner validation that you're doing the right thing—had been silenced altogether.
In 2018, Morrison considered how a change of scenery might shift her outlook. A wholly unfamiliar place would demand growth, right? Morrison went big on this hope—she relocated to Paris.
She learned French, took jazz singing classes, and learned to cook in a way that benefits her own body specifically. Exploring the museums of Paris led to a study of Renaissance era paintings; in Botticelli's The Birth of Venus, she saw herself—finally accepting her innate beauty.
Before this journey, Morrison worried she couldn't explore new sounds or styles. The inner fear persisted. Collaborating over the years with other artists, from Lila Downs to Calexico and Macklemore and Ryan Lewis, Morrison has ventured out stylistically before, but she's not strayed too far from those ever-looming expectations. An invite from Colombian reggaetonero J Balvin—gifting his 2018 album Vibras with an ethereal intro—was another important step toward more liberated exploration.
But it's really the perspective earned in the space she cleared for herself—this concerted effort to reflect and heal—that's emboldened her instincts. What Morrison wants today is to be happy, and for her listeners to find happiness for themselves, too. She's welcomed her long-standing love of R&B and pop into the mix—styles she used to shut out for fear of alienating fans. "I wanted to put more rhythm, more sassiness, in the music," she says, adding that universal appeal was a goal.
Unexpected opportunities have since rolled in, like pairing with Ricky Martin on Recuerdo"for his recent Pausa EP. And surprisingly, Disfruto, from her 2012 album, has become a remixed club favorite of DJs across Europe (Paris included), Latin America, and Mexico, too. With her newfound sharpness of self comes an acceptance that perfection isn't possible, but unabashedly being yourself is the closest thing to it. Standing in that knowledge, nobody can shake her self-confidence now.
In 2020, Morrison made her explosive return to the spotlight with her powerful track Ansiedad, which captured the fragile state of being of the world during a global pandemic. The track received large acclaim from The New York Times, Rolling Stone, Billboard, MTV, CNN, and others. She made her first public appearance on one of thew world's biggest stages at the Latin Grammys in November 2020 with a striking performance with Ricky Martin for his song Recuerdo.
Shortly after, Morrison released a series of striking songs—No Me Llames, Obra de Arte, and Contigo—that served as a precursor to her highly anticipated studio album, El Renacimiento, set for April via her longtime independent label, Comsica. The new body of work is set to solidify Morrison's rightful position as a pioneer and an ever-present force in music to this day.
*Gardens Preferred, Gardens Premium Members, and Innovators receive access to the Pre-sale. If you are eligible, you have received a discount code via direct mail or email from Longwood Gardens that can be used for Pre-sale access and to receive your discounted pricing.
Become a Part of the Gardens
Experience exquisite Gardens that elevate the art of horticulture, performances that inspire, and programs that enlighten, all amid the relaxing beauty of Longwood.