It looks like this event has already occurred.
Colorful Complements
IN-PERSON FLORAL DESIGN CLASS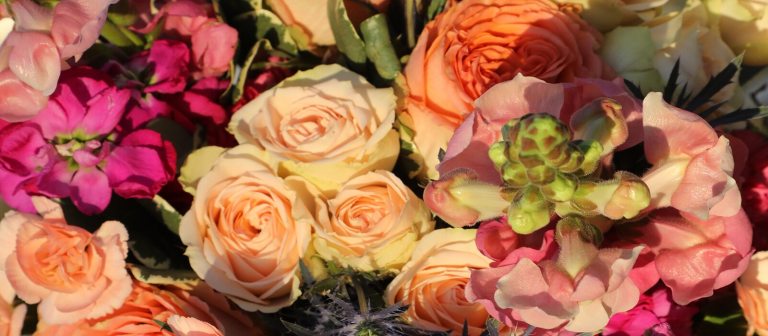 Dates & Price
Saturday, March 25, 2023
9:00 am–12:00 pm
---
Fee: $169
Fee for Innovators, Gardens Preferred, and Gardens Premium Members: $152
---
Fee includes all-day admission to the Gardens on the day of the class.
Registration ends Wednesday, March 15, 2023
This class is sold out.
Registrations may be cancelled up to two weeks before the event, and your registration fee, less a $30 processing fee, will be refunded.
To notify us of your cancellation, email us or call 610-388-5454.
Color is a central part of any floral design—the difference between an average creation and one that "sings" is often the way in which the designer uses color.
Join expert floral designer Nancy Gingrich Shenk on a fun exploration of the importance of this principle of design using complementary colors. Examine the properties and psychological effects of color while creating your own beautiful design in harmonious hues. Afterward, take your design home to admire and display. You'll never look at color the same way again!
Certificate Information
This course counts as an elective in the Certificate of Merit in Floral Design program.
Location
The Terracotta Room in Longwood's Terrace Restaurant
Instructor
Nancy Gingrich Shenk
Recommended Equipment
Please come prepared with a pair of sturdy gloves and your favorite pair of floral scissors or snips, if you have them. Additional floral scissors will be provided.
Innovators, Gardens Preferred, and Gardens Premium Members save on Continuing Education Courses
A 10% discount on classes will be applied automatically at the time of checkout.