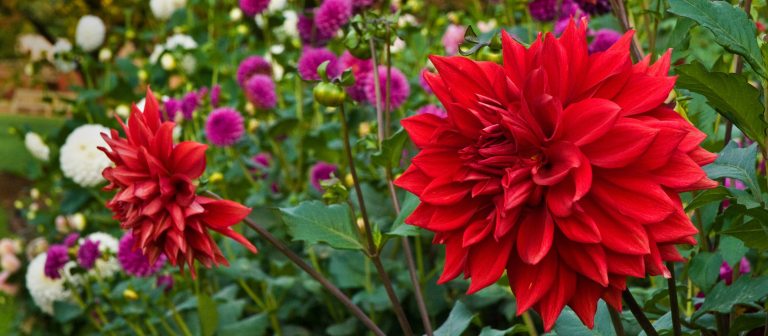 Brilliant dahlia blooms fill our Ballroom during The Greater Philadelphia Dahlia Society Show.
This competitive show features a display of many types, sizes, and colors of dahlias. The show is open to the public through admission to Longwood Gardens.
About the Greater Philadelphia Dahlia Society
The Greater Philadelphia Dahlia Society is a nonprofit organization formed in 1948 for the purpose of stimulating interest in and promoting the culture and development of the dahlia, disseminating information relating to the dahlia, and hosting public exhibitions.
The Greater Philadelphia Dahlia Society meets quarterly and solicits the aid of all flower lovers. Meetings in March, May, and November are held at Longwood Gardens. The May meeting includes a sale of dahlia tubers harvested from members' gardens, while the August meeting is a pot-luck picnic at a member's home. In addition to the quarterly meetings, they stage a dahlia show in the beautiful setting of Longwood Gardens in September, where they show off the fruits of the gardening season.
About the Dahlia
A member of the aster family, the versatile dahlia blooms from early August to frost, offering spectacular late season color. Native to the mountains of Mexico, it is believed that the Aztecs used various parts of the dahlia for food and medicine. After 200 years of culture, selective breeding, and hybridizing, today's dahlia has one of the greatest variations in form, color, and size of any flower grown. More dahlia hybridizers are active now than at any time in history, providing new varieties every year.
The American Dahlia Society recognizes 15 different colors, 21 flower forms (shapes), and six sizes, from 10-inch giant flowers to 2-inch pompons. Ranging in height from 15 inches to over six feet tall, there are dahlias for every garden, border, container, and arrangement. All told, 40,000 varieties are available from around the world.
For many years at Longwood, dahlias have been a late summer attraction on Flower Garden Walk, continuing a tradition that most likely started with our founder, Pierre S. du Pont. He purchased around 500 batches of dahlia tubers between 1909 and 1934, and probably grew them in the full sun of Flower Garden Walk.