It looks like this event has already occurred.
A Very Special Evening with Emmylou Harris and Mary Chapin Carpenter
Summer Series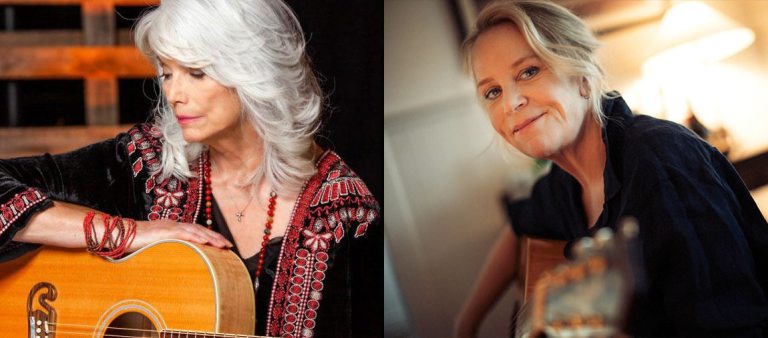 Date & Price
Tuesday, August 30, 2022 at 7:00 pm
Open Air Theatre
---
Reserved Seating: $66-$96
Gardens Preferred and Gardens Premium Members: $61-$91*
Sold Out
---
Gardens and Conservatory open on Tuesday, August 30, at 5 pm to concert ticketholders only. Venue seating opens at 6 pm.
Legendary singer-songwriters Emmylou Harris and Mary Chapin Carpenter play timeless hits in this double-bill performance. With a combined 19 Grammy Awards, five CMA Awards, an induction into the Country Music Hall of Fame (Harris), Grammy Lifetime Achievement Award (Harris), and distinction as only one of 15 female members of the Nashville Songwriters Hall of Fame (Carpenter), among many other awards, Harris and Carpenter give a glimpse into their remarkable careers and artistry.
Listen to Emmylou Harris
More about Emmylou Harris
A 14-time Grammy winner and Billboard Century Award recipient, Emmylou Harris' contribution as a singer and songwriter spans 40 years. She has recorded more than 25 albums and has lent her talents to countless fellow artists' recordings. In recognition of her remarkable career, Harris was inducted into the Country Music Hall of Fame in 2008 and earned a Grammy Lifetime Achievement Award in 2018.
Harris is known as much for her eloquently straightforward songwriting as for her incomparably expressive singing. Admired through her career for her talent as an artist and song connoisseur, Harris shook up country radio in the 1970s, and established herself as the premier songwriter of a generation selling more than 15 million records and garnering, in addition to 14 Grammy Awards, three CMA Awards, and four Americana Awards.
One of the most admired and influential women in music, Harris has recorded with such diverse artists as Linda Ronstadt, Daniel Lanois, Bob Dylan, Mark Knopfler, Neil Young, Gram Parsons, Willie Nelson, Dolly Parton, Roy Orbison, Ryan Adams, Beck, Elvis Costello, Johnny Cash, Lucinda Williams, Lyle Lovett, and Rodney Crowell.
Forty years into her career, Harris continues to share the hard-earned wisdom that—hopefully if not inevitably—comes with getting older, though she's never stopped looking ahead. A longtime social activist, Harris has lent her voice to many causes, most passionately to animal welfare. In 2004 she established Bonaparte's Retreat with the goal of rescuing shelter dogs and adopting them into forever homes. To this day, Bonaparte's Retreat continues to save dogs most in need at Metro Nashville Animal Care and Control and at municipal shelters in surrounding counties.
Listen to Mary Chapin Carpenter
More about Mary Chapin Carpenter
With hits like Passionate Kisses and He Thinks He'll Keep Her, Mary Chapin Carpenter has won five Grammy Awards (with 16 nominations), two CMA Awards, and two Academy of Country Music Awards, and is one of only 15 female members of the Nashville Songwriters Hall of Fame. Over the course of her acclaimed career, Carpenter has sold more than 16 million records. In 2020 alone, Carpenter released two albums, The Dirt And The Stars in August 2020, and One Night Lonely, recorded live without an audience at the legendary Filene Center at Wolf Trap in Virginia during the COVID-19 shutdown. She was also nominated for Best Folk Album at the 64th Grammy Awards in 2022.
Of the new album The Dirt And The Stars, produced by Ethan Johns (Ray LaMontagne, Paul McCartney, Kings of Leon) and recorded entirely live at Peter Gabriel's Real World Studios in Bath in southwest England, Carpenter quotes the writer Margaret Renkl: " 'We are all in the process of becoming.' That doesn't stop at a certain age. To be always a student of art and music and life, as she says, that, to me, is what makes life worth living. The songs are very personal and they're difficult in some ways, and definitely come from places of pain and self-illumination, but also places of joy, discovery and the rewards of self- knowledge. They arrived from looking outward as much as inward, speaking to life changes, growing older, politics, compassion, #metoo, heartbreak, empathy, the power of memory, time, and place. So, I suppose I could say there are many themes, but they all come back to that initial truth that we are all constantly 'becoming' through art and expression."
*Gardens Preferred, Gardens Premium Members, and Innovators receive access to the Pre-sale. If you are eligible, you have received a discount code via direct mail or email from Longwood Gardens that can be used for Pre-sale access and to receive your discounted pricing.
Pre-Concert Dining
Dine with us during special evening hours.
---
The Café
5:00–7:00 pm
No reservations necessary
---
1906
Sold Out
Become a Part of the Gardens
Experience exquisite Gardens that elevate the art of horticulture, performances that inspire, and programs that enlighten, all amid the relaxing beauty of Longwood.