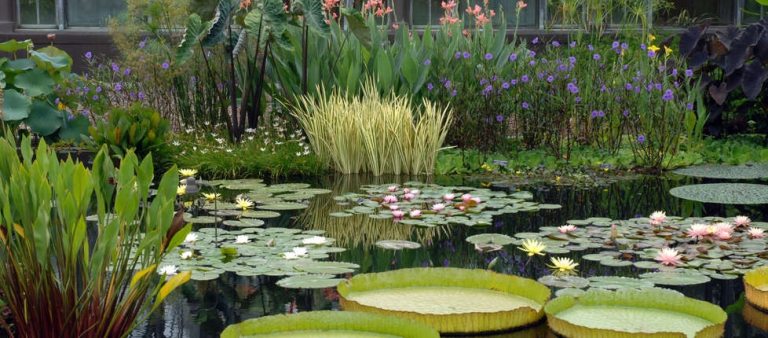 Join Longwood Gardens Senior Horticulturist Tim Jennings as he takes you on a journey through our Waterlily Display in Everything About Aquatics, our free online course.
Perfect for aquatic enthusiasts to experts, this course delves into how we care for our renowned collection of day- and night-flowering waterlilies, iconic Victoria giant water-platters, and other stunning aquatic plants at Longwood. Explore aquatic plant characteristics for identification, cultural needs, and design principles, as well as how to create and care for your own aquatic garden. Tim also shares his tips and techniques on propagation, overwintering, and finding the perfect spot in your landscape for a successful aquatic garden.
Everything About Aquatics is self-paced and open for registration anytime April 6, 2020 through March 26, 2021. The course closes April 5, 2021.
Learn through video lectures, discussion forums, and opportunities for interaction with the instructor and even share your water gardening experiences with fellow enthusiasts. We look forward to learning together.
Instructor
Tim Jennings
Where
Online, self-paced
Note that your account in Open Courses is not the same as for our online classroom.
Register now to begin your journey in lifelong learning at Longwood Gardens.