It looks like this event has already occurred.
Holiday Village Workshop: Hanging Baskets
Continuing Education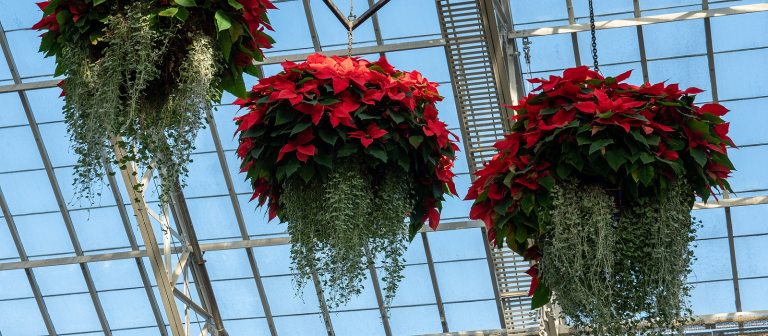 Dates & Price
Longwood at the Creamery
December 4, 2022
1–3 pm
---
Fee: $129
Fee for Innovators, Gardens Preferred, and Gardens Premium Members: $116
This class is sold out.
Hanging basket plantings are a staple of spring and summer gardening, but with a bit of creative thinking you'll find that hanging baskets are also a perfect holiday decoration. Join Longwood Gardens floral instructor Melissa Palmer and create your own holiday hanging basket inspired by the swans-a-swimming from The Twelve Days of Christmas. Using white gourds to evoke the swans, resting in a beautiful assortment of seasonal greens, your basket will be perfect for outdoor display … or perfect to send to your true love.
Holiday Village Workshops are part of Longwood @ The Creamery, engaging horticultural experiences offered throughout the year in a spirited community space. These workshops are offered during the Kennett Square Holiday Village Market, and each one includes a seasonal cocktail and admission to Longwood Gardens on the date of the workshop.
Where
Longwood at the Creamery 
Instructor 
Melissa Palmer