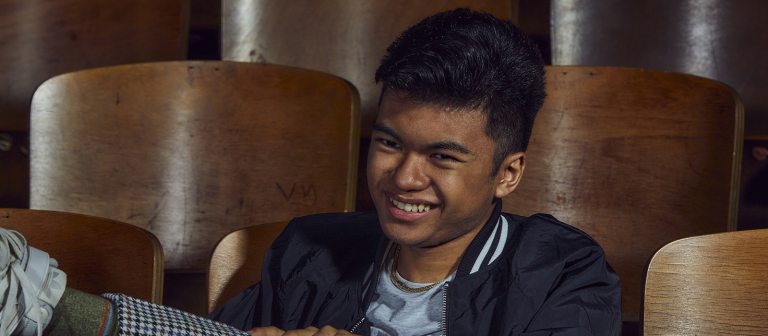 Fresh off Origin, his sixth album as leader and his first featuring all his own material, Joey Alexander has been performing professionally since 2013 when he was invited by Wynton Marsalis to perform at the Jazz at Lincoln Center Gala.
The youngest jazz artist to be nominated for a Grammy Award, Alexander's emotional candor and transparency have captivated crowds and catapulted his albums to the top of the jazz charts.
It's no coincidence two of the titles on pianist, bandleader and composer Joey Alexander's inspirational debut on Mack Avenue Records, Origin, contain the words "rise" and "rising."  "The Latin root of the word 'origin' is orire, which means to rise," explains the restlessly searching musician, who has performed everywhere from the Obama White House to the Grand Ole Opry and has been nominated for three Grammy Awards. 
On his sixth album as a leader, his first featuring all his own material, Alexander has stretched his imagination into new territory, challenging himself to write rich melodic and harmonic interplay. Returning to the studio with the rhythm section from his last album—longtime collaborators Larry Grenadier (bass) and Kendrick Scott (drums)—plus stellar guests Gilad Hekselman on guitar and Chris Potter on saxophone, Alexander also adds new instrumental colors of his own, playing Fender Rhodes for just the second time on record (the first being last year's single, Salt). The pianist favors the Rhodes for its soft side, contrasting its creamy sound with the hard-hitting lines of Potter and Hekselman.
Born in Bali, Indonesia, Joey Alexander released his debut album, My Favorite Things, in 2015 on Motéma Music, followed by three more on the label and a fifth on Verve. Alexander's albums have netted three Grammy Award nominations—one for Best Jazz Instrumental Album (My Favorite Things), and two for Best Improvised Jazz Solo (Giant Steps and Countdown) – with My Favorite Things and Countdown securing the number one spot on the Billboard jazz charts and Eclipse coming at number three.
Over the course of his astonishing career, Alexander has performed with Wayne Shorter and esperanza spalding at the Obama White House, for President Bill Clinton at the Arthur Ashe Learning Center Gala, at the Grand Ole Opry, the Apollo Theater, Carnegie Hall and at major jazz festivals and night clubs around the world. He has also been the subject of profiles on 60 Minutes and The New York Times.