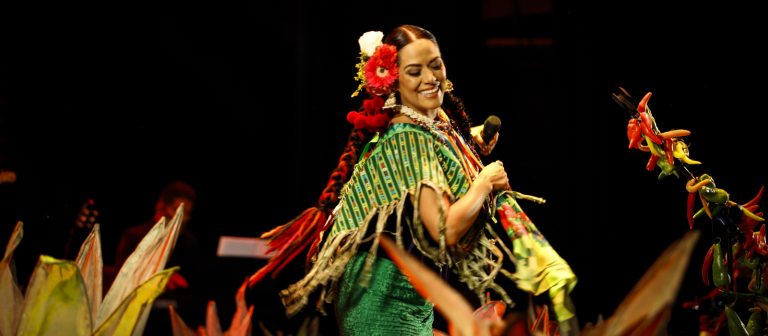 Longwood Debut
One of Latin America's most influential artists, multiple Grammy Award-winning singer-songwriter Lila Downs is known for her charismatic performances and unique compositions that combine genres and rhythms as diverse as Mexican rancheras and corridos, boleros, jazz standards, hip-hop, cumbia, and North American folk music.
With her music often focusing on social justice, immigration, and women's issues, Lila Downs is one of the world's most singular voices. Downs grew up in both Minnesota and Oaxaca, Mexico; her mother is from the Mixtec indigenous group and her father was Scottish-American. She sings in Spanish, English, and various Native American languages such as Zapotec, Mixtec, Nahuatl, Maya, and Purepecha. 
Downs has recorded duets with artists as diverse as Mercedes Sosa, Caetano Veloso, Juanes, Norah Jones,  Yo-Yo Ma,  Juan Gabriel, Carla Morrison, Natalia LaFourcade, Santana, The Chieftains, Nina Pastori, Soledad, Diego La Cigala, Aida Cuevas, Toto La Momposina, and Bunbury. Chavela Vargas "named" Downs her "successor." 
She has sung with symphonies such as the Chicago Symphony Orchestra, the San Francisco Symphony and the UNAM symphony in Mexico, as well as with Wynton Marsalis and the Lincoln Center Jazz Orchestra. She has given concerts at Carnegie Hall, Lincoln Center, Teatro Colon in Buenos Aires, the Hollywood Bowl, Auditorio Nacional and Palacio de Bellas Artes in Mexico City. She was invited by Barack Obama to sing at the White House, and has performed at the Oscars for her participation in the film Frida.
Downs has recorded nine studio albums.  She has been nominated for nine Grammy Awards and has won six.