It looks like this event has already occurred.
Olmsted 200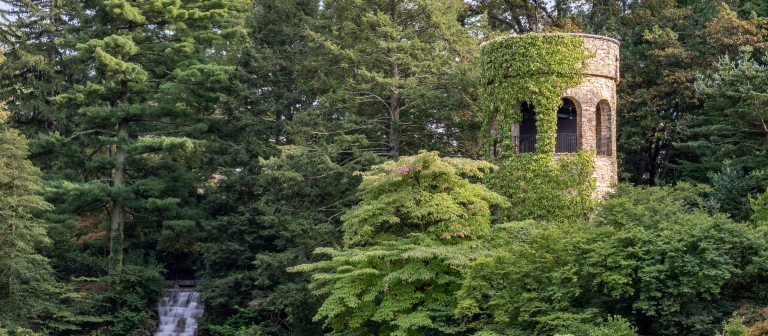 Date & Price
September 24–25, 2022
---
Free with Gardens Admission
Timed Admission Tickets Required
Timed Reservations Required for Members After 3:00 pm Thursdays–Sundays
Reservations not required for Gardens Premium Members and Innovators
Join us in honoring the bicentennial of the birth of visionary landscape architect Frederick Law Olmsted. To mark this anniversary, the National Association for Olmsted Parks is leading the nationwide Olmsted 200 celebration in recognition of Olmsted's enduring influence—including the Inspired by Olmsted carillon competition.
Here at Longwood, enjoy an Olmsted-focused talk, Chimes Tower tours, and a carillon concert each day with award-winning carillonneurs Geert D'hollander and Ellen Dickinson as they present their compositions inspired by the life and legacy of Olmsted.
View the Inspired by Olmsted Carillon Concert program
Saturday, September 24
Talk in the Beer Garden
11:00–11:45 am
Engaging Olmsted: Designing Landscapes for the Next Century
Claire Agre, Principal, Unknown Studio, Landscape Architecture & Urban Design LLC
Chimes Tower Tours
11:00 am–1:00 pm
Inspired by Olmsted Carillon Concert
2:00–2:30 pm
with Ellen Dickinson and Geert D'hollander
Chimes Tower Tours
2:30–5:00 pm
Sunday, September 25
Talk in the Beer Garden
11:00–11:45 am
The Genius of the Place: A Look at Frederick Law Olmsted
Dede Petri, President and CEO, National Association for Olmsted Parks
Chimes Tower Tours
11:00 am–1:00 pm
Inspired by Olmsted Carillon Concert
2:00–2:30 pm
with Ellen Dickinson and Geert D'hollander
Chimes Tower Tours
2:30–5:00 pm
Visit the Gardens Year-Round and Attend this Event for Free