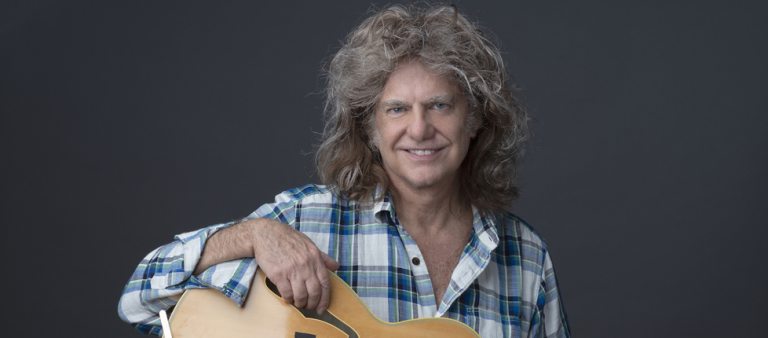 Launching a new playing environment called Side-Eye—a rotating selection of new and upcoming musicians—20-time Grammy Award-winning jazz guitarist icon Pat Metheny is joined by Chris Fishman (piano, keyboards) and Joe Dyson (drums) for a performance that redefines the genre. The evening includes both new Metheny material and old favorites, as expressed through the musical talents of the next generation. 
Listen to Pat Metheny
More about Pat Metheny
Pat Metheny was born in Lee's Summit, MO into a musical family. Starting on trumpet at the age of 8, Metheny switched to guitar at age 12. By the age of 15, he was working regularly with the best jazz musicians in Kansas City, receiving valuable on-the bandstand experience at an unusually young age. Metheny first burst onto the international jazz scene in 1974. Over the course of his three-year stint with vibraphone great Gary Burton, the young Missouri native already displayed his soon-to-become trademarked playing style, which blended the loose and flexible articulation customarily reserved for horn players with an advanced rhythmic and harmonic sensibility—a way of playing and improvising that was modern in conception but grounded deeply in the jazz tradition of melody, swing, and the blues. With the release of his first album, Bright Size Life (1975), he reinvented the traditional "jazz guitar" sound for a new generation of players. Throughout his career, Metheny has continued to redefine the genre by utilizing new technology and constantly working to evolve the improvisational and sonic potential of his instrument.
As well as being an accomplished musician, Metheny has also participated in the academic arena as a music educator. At 18, he was the youngest teacher ever at the University of Miami. At 19, he became the youngest teacher ever at the Berklee College of Music, where he also received an honorary doctorate more than twenty years later (1996). He has also taught music workshops all over the world, from the Dutch Royal Conservatory to the Thelonius Monk Institute of Jazz to clinics in Asia and South America. He has also been a true musical pioneer in the realm of electronic music and was one of the very first jazz musicians to treat the synthesizer as a serious musical instrument.
Over the years, Metheny has won countless polls as "Best Jazz Guitarist" and awards, including three gold records for (Still Life) Talking, Letter from Home, and Secret Story. He has also won 20 Grammy Awards spread out over a variety of different categories including Best Rock Instrumental, Best Contemporary Jazz Recording, Best Jazz Instrumental Solo, and Best Instrumental Composition, and at one point winning seven consecutive Grammy Awards for seven consecutive albums. In 2015 he was inducted into the Downbeat Hall of Fame, becoming only the fourth guitarist to be included and its youngest member. Metheny has spent much of his life on tour, often doing more than 100 shows a year since becoming a bandleader in the 70s.
More about Chris Fishman (Piano, Keyboards) 
Chris Fishman is a multidisciplinary pianist, composer, producer, and sound designer from Los Angeles. He has collaborated and performed with Flying Lotus, Louis Cole, Aaron Parks, Terri Lyne Carrington, Ambrose Akinmusire, Georgia Anne Muldrow, Genevieve Artadi, and Justin Brown. With frequent collaborator Louis Cole, he performs in a multi-instrumentalist trio along with drummer Nate Wood.
Fishman began playing the drums and piano at the age of 4, and by the age of 7 was performing with local bands in Southern California. Encouraged by his instructors at Inglewood's Just Lovin' Music Studios, Fishman pursued interests in drums and piano, soon discovering a love of jazz. His versatile musicianship has earned him credits in various facets of performance and production. Alongside Thundercat, Fishman can be heard on the score to Netflix's original anime series Yasuke (2021), with Flying Lotus as executive producer. Over the past year, Fishman has also been collaborating with composers in residence with the Cincinnati Symphony Orchestra on a series of works based in improvisation. At Royal Conservatory of The Hague, where he served as resident artist, Fishman has coached solo and chamber groups alongside Pedro Martins and other emerging artists from across the globe. Also an avid producer, Fishman has been producing electronic sound libraries for Moog Music based on albums he has found particularly influential, a project that has allowed Chris to both aid future music makers and synthesize new possibilities for his own artistic voice.
Fishman is a graduate of Los Angeles County High School for the Arts and Manhattan School of Music, where he received a full-tuition scholarship in the jazz program directed by Stefon Harris. When at home in LA, Fishman is a sought-after musician within the pop scene, writing with various artists. Next year, he will release a solo record featuring esteemed collaborators from his musical travels.
More about Joe Dyson (Drums)
New Orleans native Joe Dyson has certainly been one to watch. He started playing music in his family's church at just 2 years old. After being noticed for his peculiar talent, Dyson was placed in the Louis "Satchmo" Armstrong Summer Jazz Camp where he was shadowed by the late, great clarinetist Alvin Batiste, and his longtime bandleader and mentor, alto saxophonist Donald Harrison. He went on to graduate from the New Orleans Center for Creative Arts, and earned a Presidential Scholarship to his alma mater Berklee College of Music. Dyson has shared the stage with Dr. Lonnie Smith, Ellis Marsalis, Christian Scott aTunde Adjuah, Jon Batiste, Leo Nocentelli, Sullivan Fortner, Dirty Dozen Brass Band, Paquito D'Rivera, and Grammy Award winners Nicholas Payton & Esperanza Spalding, among others.
As a musician, Dyson has traveled across the globe extensively. Having touched almost every continent, he has performed throughout North America, South America, Europe, Asia, and Africa. He has appeared on more 30 albums, including Dr. Lonnie Smith's All In My Mind, (Blue Note Universal Records), Sullivan Fortner's Aria (Impulse Universal Records) and Christian aTunde Adjuah's Grammy-nominated Emancipation Procrastination (Ropeadope Records). In addition to touring and recording, Dyson has made appearances on the HBO hit series Treme, and can be seen performing in the documentary titled Been In The Storm Too Long, hosted by Tavis Smiley. He can also be heard on the movie soundtrack Rachel Getting Married, by the late Oscar-winning director Jonathan Demme.
In 2015, Dyson became an adjunct professor at Tulane University. For the past four years, Dyson still finds the time to give back to his community through a benefit concert he created entitled Christmas in Treme. The proceeds help fund Holy Faith Temple B.C.'s outreach programs. After releasing music with longtime friends The Bridge Trio, Dyson is currently working on his debut album.
*Gardens Preferred, Gardens Premium Members, and Innovators receive access to the Pre-sale. If you are eligible, you have received a discount code via direct mail or email from Longwood Gardens that can be used for Pre-sale access and to receive your discounted pricing.