It looks like this event has already occurred.
The Philadelphia Orchestra
Summer Series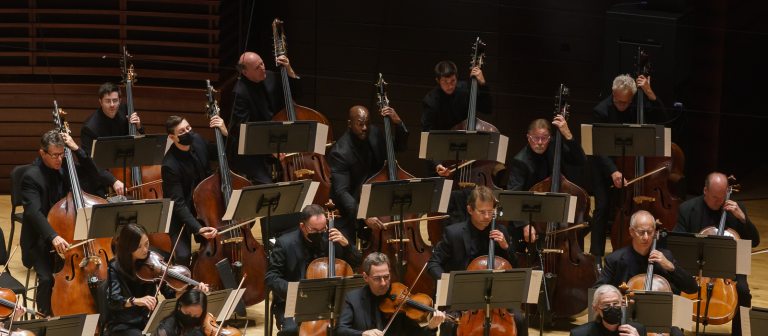 Date & Time
Wednesday, September 27, 2023 at 7:30 pm
Open Air Theatre
---
Tickets
Reserved Seating: $54-$84
Gardens Preferred, Gardens Premium Members, and Innovators: $49-$79
Ticket includes all-day Gardens Admission. Tickets limited. Sell out likely.
Led by Conducting Fellow Austin Chanu and featuring violinists David Kim and Kimberly Fisher, The Philadelphia Orchestra—recently named BBC Music Magazine's Orchestra of the Year—presents an evening of Bach, Mendelssohn, and more in the Open Air Theatre.
Program
I. Magic Crystal
II. Lone Teardrop
III. Rain Pearls
IV. Tranquil Cove
V. Moon-Gold

*First complete Philadelphia Orchestra performance

I. Vivace
II. Largo ma non tanto
III. Allegro

I. Allegro vivace
II. Andante con moto
III. Con moto moderato
IV. Saltarello: Presto
More About The Philadelphia Orchestra
The world-renowned Philadelphia Orchestra strives to share the transformative power of music with the widest possible audience, and to create joy, connection, and excitement through music in the Philadelphia region, across the country, and around the world. Through innovative programming, robust education initiatives, a commitment to its diverse communities, and the embrace of digital outreach, the ensemble is creating an expansive and inclusive future for classical music, and furthering the place of the arts in an open and democratic society. In June 2021 the Orchestra and its home, the Kimmel Center, united to form The Philadelphia Orchestra and Kimmel Center, Inc., an organization that is poised to bring the greatest performances and most impactful education and community programs to audiences in Philadelphia and beyond. Recently, the Orchestra was named BBC Music Magazine's Orchestra of the Year, heralded the return of music to Carnegie Hall, and won a Grammy Award for the music of Florence Price.
More About Austin Chanu, Conducting Fellow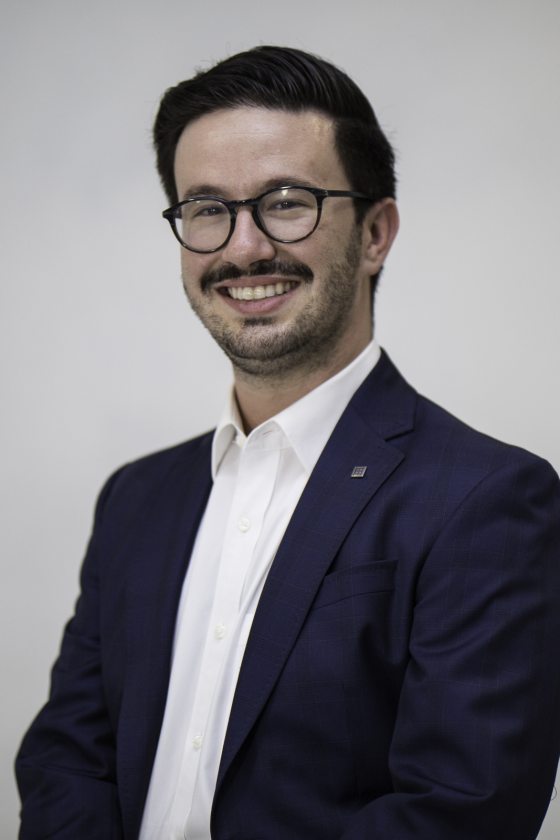 Austin Chanu is a conductor, composer, and woodwind performer originally from the San Francisco Bay area. He is a conducting fellow of The Philadelphia Orchestra for the 2022–23 season, where he will assist Music and Artistic Director Yannick Nézet-Séguin as well as other guest conductors, and lead The Philadelphia Orchestra in select concerts. Chanu also serves as the assistant conductor of the Eastman Philharmonia and the Eastman School Symphony Orchestra as he pursues his DMA in orchestral conducting, studying with Neil Varon. He was the president of Eastman's student-run contemporary ensemble, OSSIA New Music, for the 2021–22 season.
Previously, Chanu has appeared as a guest conductor and guest assistant with the Omaha Symphony as well as a guest assistant for the Rochester Philharmonic Orchestra. He was also the music director for the Los Angeles Music and Art School. During his tenure at LAMusArt, he conducted the youth orchestra, choirs, and jazz band, while overseeing the development of curriculum and artistic direction of the ensembles. During this time, he also conducted for the LA Chamber Orchestra's New Music Salon, served as a teaching artist and conductor for the LA Philharmonic Association's Associate Composer Program, and was a high-call woodwind performer for musical pit orchestras in the greater Los Angeles area.
Chanu received a Bachelor of Music in music composition from the USC Thornton School of Music in 2015, graduating magna cum laude. While at USC, he received the Most Valuable Player Award as a conductor and proponent of new music. He graduated from the Eastman School of Music in 2021 with a master's degree in orchestral conducting, in the studio of Varon.
More About David Kim, Concertmaster, Dr. Benjamin Rush Chair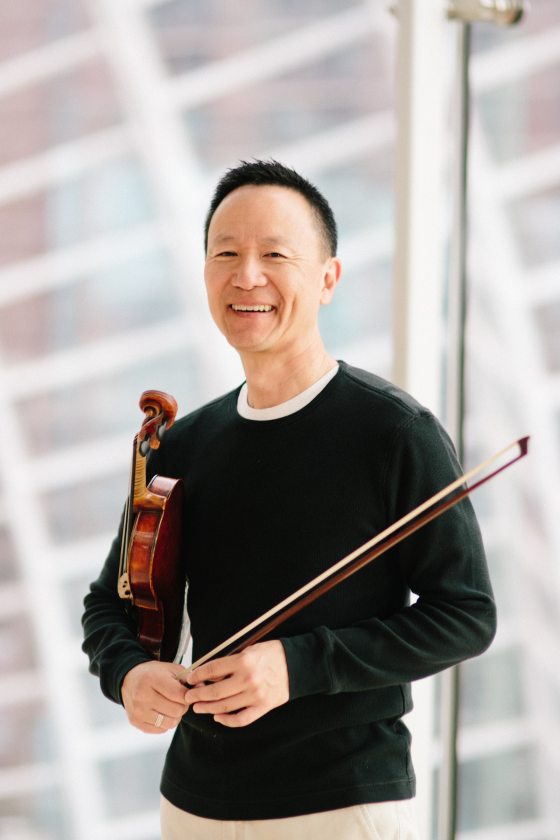 Violinist David Kim was named concertmaster of The Philadelphia Orchestra in 1999. Born in Carbondale, Illinois, in 1963, he started playing the violin at the age of three, began studies with the famed pedagogue Dorothy DeLay at the age of eight, and later received his bachelor's and master's degrees from the Juilliard School.
Highlights of Kim's 2022–23 season include appearing as soloist with The Philadelphia Orchestra; teaching/performance residencies at Georgetown University and the Australian National Academy of Music in Melbourne, as well as solo appearances with orchestras across the United States. He will also continue to appear as concertmaster of the nine-time Emmy Award–winning All-Star Orchestra on PBS stations across the US and online at the Khan Academy, as well as present recitals and speaking engagements nationwide. 
Each season Kim appears as a guest in concert with the famed modern hymn writers Keith and Kristyn Getty at such venues as the Grand Ole Opry House in Nashville, the Kennedy Center for the Performing Arts, and Carnegie Hall. Kim serves as distinguished artist at the Robert McDuffie Center for Strings at Mercer University in Macon, Georgia. He frequently serves as an adjudicator at international violin competitions such as the Menuhin and Sarasate. 
Kim has been awarded honorary doctorates from Eastern University in suburban Philadelphia, the University of Rhode Island, and Dickinson College. His instruments are a J.B. Guadagnini from Milan, ca. 1757, on loan from The Philadelphia Orchestra, and a Francesco Gofriller, ca. 1735. Kim exclusively performs on and endorses Larsen Strings from Denmark. He resides in a Philadelphia suburb with his wife, Jane, and daughters, Natalie and Maggie. He is an avid golfer and outdoorsman.
More About Kimberly Fisher, Principal Second Violin, Peter A. Benoliel Chair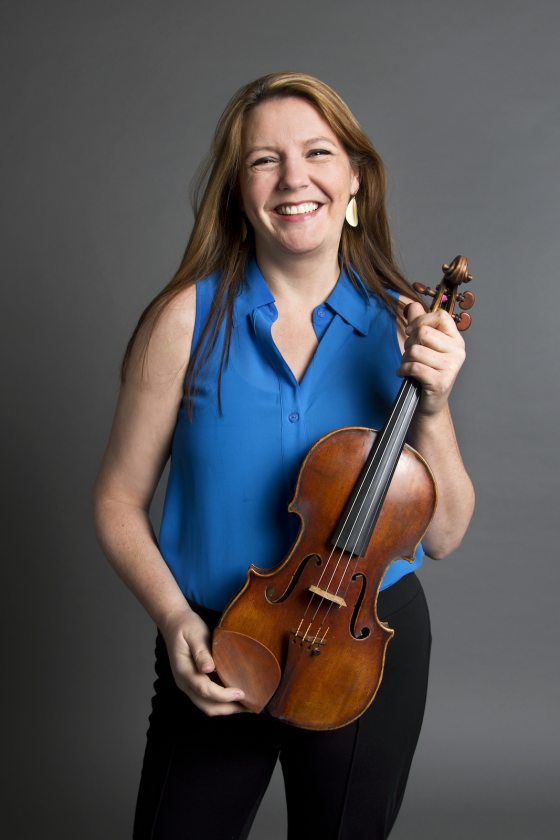 Kimberly Fisher joined The Philadelphia Orchestra in 1992 and became principal second violin in 2002. She has appeared as soloist with numerous orchestras, including repeatedly with The Philadelphia Orchestra (her debut was in February 2002), and the Vancouver and Victoria symphonies in Canada. As a recitalist and chamber musician she has performed across the United States and Canada, and in many countries in Europe, Asia, and South America in prestigious venues such as Carnegie Hall, the Mogador Theater in Paris, the Kimmel Center, and the Great Hall of the People in Beijing, and in collaborations with internationally renowned artists such as Wolfgang Sawallisch, Christoph Eschenbach, and Jean-Yves Thibaudet, among many others.
Fisher has been awarded multiple Canada Council grants and was invited to perform as soloist at the Governor General's concert in Canada. She has been featured on National Canadian Radio and on Canada's CBC television. Her teachers have included her father, Lawrence Fisher; Yumi Ninomiya Scott; Aaron Rosand; David Cerone; and Jascha Brodsky. In 2017 she received The Philadelphia Orchestra's C. Hartman Kuhn Award, given annually to "the member of The Philadelphia Orchestra who has shown ability and enterprise of such character as to enhance the standards and the reputation of The Philadelphia Orchestra."
In 1997 Fisher co-founded the Philadelphia International Music Festival (PIMF), a highly successful summer music program, to encourage and inspire musicians of all levels. Originally just for string players, the Festival now includes all symphonic instruments plus piano, and features innovative specialty programs to help students prepare for auditions, improve practice, and address performance issues. PIMF includes students of all ages and all levels who attend from around the world to study privately with musicians of The Philadelphia Orchestra. At the onset of the COVID-19 pandemic, PIMF was one of the first music programs to successfully adapt to virtual access to master classes, lessons, and full summer camp for students.
Fisher is an active pedagogue whose students have performed as soloists with major orchestras, have attended distinguished music conservatories, are members of professional orchestras, and have won many awards and competitions. Her energetic, communicative teaching style has led to invitations to present master classes, lessons, and seminars around the world.
Artistic Leadership
Yannick Nézet-Séguin is now in his 11th season with The Philadelphia Orchestra, serving as music and artistic director. He joins a remarkable list of music directors spanning the Orchestra's 122 seasons: Fritz Scheel, Carl Pohlig, Leopold Stokowski, Eugene Ormandy, Riccardo Muti, Wolfgang Sawallisch, and Christoph Eschenbach. Under this superb, forward-looking guidance, The Philadelphia Orchestra has represented an unwavering standard of excellence in the world of classical music—and continues to do so today.
Widely recognized for his artistry and commitment, Nézet-Séguin has established himself as a musical leader of the highest caliber and one of the most thrilling talents of his generation. His intensely collaborative style, deeply rooted musical curiosity, and boundless enthusiasm, paired with a fresh approach to orchestral programming, have been heralded by critics and audiences alike.