Rain Gardens and the Plants that Love Them
ONLINE HORTICULTURE AND GARDENING CLASS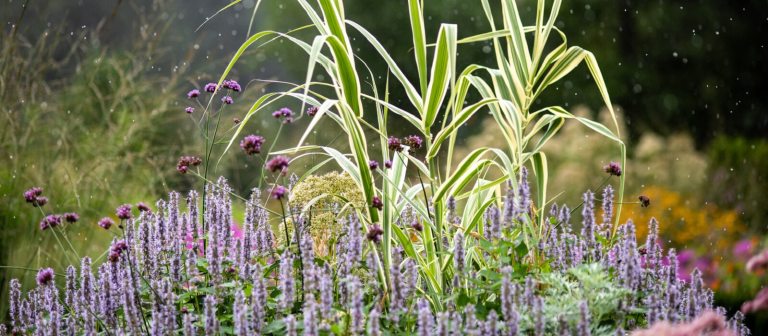 Dates & Price
Saturday, April 29, 2023
10:00 am–12:00 pm
---
Fee: $179
Fee for Innovators, Gardens Preferred, and Gardens Premium Members: $161
---
Register by April 26, 2023
Registrations may be cancelled up to two weeks before the event, and your registration fee, less a $30 processing fee, will be refunded.
To notify us of your cancellation, email us or call 610-388-5454.
The combination of frequent heavy rain followed by long dry spells challenges gardeners to find plants that can thrive in such varied conditions—but this class, and the 50 plants it includes for your own home garden, can help you learn how to create a landscape well-suited to handle excess rain.
Join Carrie Wiles of North Creek Nursery and learn tips and techniques to employ both above and below ground, as well as explore a myriad of plants that will work well in your landscape.
Registration includes 50 plants to create your own excess rain-friendly native garden at home, providing year-round interest with varied bloom times and interesting textures.
Course Schedule
Saturday, April 29, 2023
10:00 am–12:00 pm
The course includes three-month access to the recording of the presentation.
Location
Online, live-streamed
Instructor
Carrie Wiles
Materials
There are two options available to receive your plants:
Option 1: These landscape-ready plugs are shipped to your home in late May, after the threat of frost and just in time to root in for the summer months. Due to shipping limitations, this option is eligible only for those who live in the following states: PA, NJ, DE, CT, MD, VA, and Washington DC.
Option 2: You may pick up the plugs at the North Creek Nursery Oxford location (124 Wedgewood Road, Oxford, PA 19363) anytime between 7:30 am and 2:30 pm on May 16, 17, 18, or 19. Pickup is available at the North Creek Nursery's Oxford location only.
Innovators, Gardens Preferred, and Gardens Premium Members save on Continuing Education Courses
A 10% discount on classes will be applied automatically at the time of checkout.