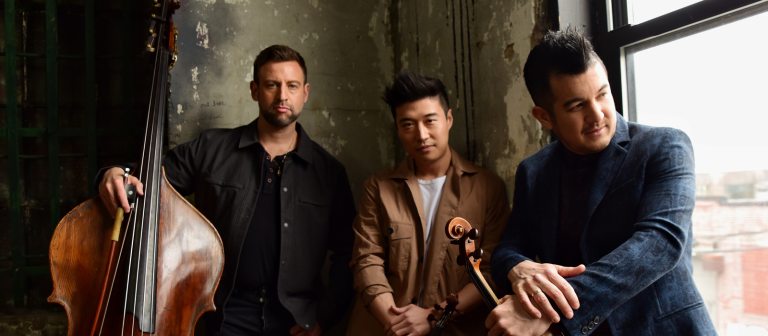 Renowned for their charismatic and energetic sound at the intersection of classical, Americana, and singer-songwriter, Time for Three has earned much praise and many accolades for their unique expression. Their 2022 album, Letters for the Future, won a Grammy Award in the Best Classical Instrumental Solo category and was on the Billboard Top 10 Classical Recordings charts. The trio also won an Emmy Award for the PBS-produced Time For Three In Concert, have performed at Carnegie Hall to The Kennedy Center, and appeared on ABC's Dancing with the Stars.
To experience Time for Three live is to hear the various eras, styles, and traditions of Western music fold in on themselves and emerge anew. Bonded by an uncommon blend of their instruments fused together with their voices, Charles Yang (violin, vocals) Nicolas "Nick" Kendall (violin, vocals), and Ranaan Meyer (double bass, vocals), have found a unique voice of expression to share with the world.
Time for Three has earned praise from NPR, NBC, The Wall Street Journal, and the Chicago Sun-Times, to name a few. Having graced the stages of Carnegie Hall, The Kennedy Center, and The Royal Albert Hall, their inimitable and mutable style fits equally well in an intimate club setting, like Joe's Pub in New York or Yoshi's in San Francisco. In 2016, Time for Three was featured on the famed Night of the Proms tour, sharing the stage with such artists as Chaka Khan and Ronan Keating, and playing arenas throughout several European countries. The trio has collaborated with artists as diverse as Ben Folds, Branford Marsalis, Joshua Bell, Aoife O'Donovan, Natasha Bedingfield, and Arlo Guthrie. 
Yet for all their accolades and diverse experiences, the irrepressible band constantly hungers for new ones. In 2020, the band partnered with cellist and composer Ben Sollee to put together the soundtrack to the new Focus Features' film Land, starring and directed by Robin Wright. The film first premiered at the Sundance Film Festival on January 31, 2021. With a collection of new songs, the band has teamed up with Grammy Award-winning songwriter Liz Rose and Grammy Award-winning producer Femke Weidema for new recordings released through Warner Music. In addition, they have recently produced and performed on Summer Walker's R&B hit last fall, Constant Bullsxxt. 
Time for Three has a long-standing history of working with contemporary classical composers, such as Chris Brubeck and Pulitzer Prize winners William Bolcom and Jennifer Higdon. Time for Three's most recent commission, Contact by Pulitzer Prize winner Kevin Puts, premiered with the San Francisco Symphony and The Philadelphia Orchestra in the summer of 2022. This piece, along with Jennifer Higdon's Concerto 4-3, was released on June 10th, 2022 on Deutsche Grammophon. The album, entitled Letters for the Future, was recorded with The Philadelphia Orchestra, conducted by Xian Zhang, has been on the Billboard top 10 Classical Recordings charts, and won a Grammy Award in the Best Classical Instrumental Solo category.