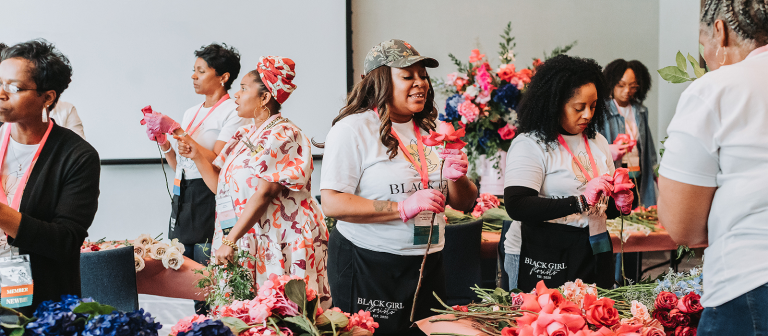 Enjoy a fun evening of floral design and an exploration of how floral design, whether created for one's own home or for a client, is an expression and reflection of the designer's personal preference and passion—their design voice.
During this special event, Longwood welcomes Black Girl Florists President & CEO Valerie Crisostomo as she explores the transformative power of design. Crisostomo is joined by Tasha Flowers Designer and Creative Director Tasha Flowers and O Luxe Design, Inc. Creative Director Erica Jones—two acclaimed designers who bring their singular voices and more than 20 years of combined experience to their spectacular designs—to share their stories, talents, and design voices with us. While speaking to how their work has transformed through time—and how the work itself has transformed them—Crisostomo, Lee, and Jones use their favorite flowers and showcase their artistry and passion as they work together to create a stunning, installation-scale design of striking autumn jewel tones and boundless creativity.
The evening includes a complimentary dessert reception following the lecture and demo. Guests are welcome to enjoy that evening's Illuminated Fountain Performance following the reception.
Certificate Information
This event fulfills the Floral Design Lecture requirement of the Floral Design Certificate.
Location
Guests may join us in the Ballroom for this live event or watch the session online via livestream. For those who join via livestream, a recording of the event will remain available to you for three months.
Instructors
Valerie Crisostomo, Tasha Flowers, Erica Jones
Black Girl Florists supports and celebrates Black women florists, their creativity, and contributions to the floral design industry.
About Valerie Crisostomo
An event planner and florist by trade, President & CEO of Black Girl Florists Valerie Crisostomo studied hospitality at The Dedman School of Hospitality at the Florida State University. Upon graduation, Crisostomo relocated to Atlanta and began a vibrant career in hospitality working at the St. Regis Atlanta. Within a few years, she assumed the event director position at The Hotel Clermont while simultaneously working as the lead floral designer and event planner at her company, One Soul Events. During the pandemic, she sought out community in the floral industry and florists who looked like her. That is when she started Black Girl Florists with the goal to support and celebrate Black women in floristry
About Tasha Flowers
Tasha Flowers of Baltimore, MD, is a formally trained and certified seasoned florist of 26 years, and holds a marketing degree from the University of Baltimore's Merrick School of Business. Flowers has been published in multiple magazines including Florists Review, has been featured on every news channel in her hometown, and has been nationally showcased on The Drew Barrymore Show, among other achievements.
About Erica Jones
Based in Boston, O Luxe Design, Inc. Creative Designer Erica Jones is an award-winning international event designer specializing in South Asian (Indian) wedding design. Over the past 15 years, her work has been featured in numerous publications, including Harper's Bazaar, The New York Times, and HuffPost Weddings and, most recently, on the Lifetime television network. Splitting her time between two countries—the United States and Germany—has opened her eyes to innumerable sources of decorative inspiration. She brings a wealth of knowledge and insight to her worldwide clientele, ensuring that each event's aesthetic is executed in the most beautiful way possible. Learn more at oluxedesign.com.