Floral Design 2 Self-paced
Online Floral Design Class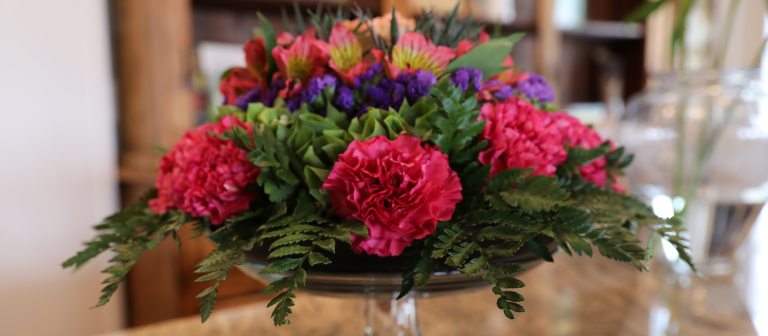 Dates & Price
July 10, 2023–January 12, 2024
---
Fee: $99
Fee for Innovators, Gardens Preferred, and Gardens Premium Members: $89
---
Register by November 30, 2023
Registrations may be cancelled up to two weeks before the event, and your registration fee, less a $30 processing fee, will be refunded.
To notify us of your cancellation, email us or call 610-388-5454.
Want to expand on your skills from Floral Design 1? Create arrangements that focus on dominance, contrast, proportion, scale, balance, texture, and pattern in this next step in building your floral design skillset.
Topics include the Biedermeier style and formal linear arrangements, topiary techniques, hand-tied bouquets, and corsage making. Advance your floral design development with further studies in the care and handling of tropical flowers. Stir your creative spirit and broaden your skills with the use of cutting tools, a variety of containers, sustainable design strategies, and gorgeous floral materials through a series of online material and video tutorials from our expert instructor Cres Motzi.
This virtual experience is a perfect way to continue your floral design journey with Longwood Gardens. Take advantage of this content in the luxury of your own home with six design modules that can be completed at your leisure with materials that you source.
Certificate Information
This course does not fulfill requirements of Longwood Gardens' Certificate of Merit in Floral Design.
Course Schedule
This course is self-paced; access to the online material will be available starting Monday, July 10, 2022. Online materials remain available until Friday, January 12, 2024. 
Location
Online, self-paced
Innovators, Gardens Preferred, and Gardens Premium Members save on Continuing Education Courses
A 10% discount on classes will be applied automatically at the time of checkout.