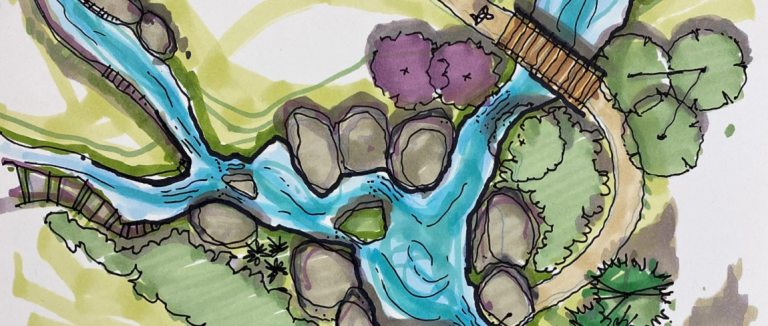 Sketching is an integral element in a designer's tool kit.
Develop a foundation in field sketching techniques, including line, tone, and color through drawing exercises designed for the novice landscape designer. Working in plan view, perspective, and in section details you will be equipped to properly share your vision in two dimensions.  Join Landscape Architect Sarah Huddas as she mentors you along the way to enhance your sketching ability and improve your graphic communication skills. Enjoy sketching botanical elements from trees and shrubs to tropicals and native plants in this comprehensive journey of online demonstrations and weekly assignments.
Course Credit
This course is required for the Landscape Design Certificate of Merit.
Course Schedule
Tuesdays, February 21–March 21, 2023
6:00–8:00 pm
Optional Office Hours/Sketching Sessions
Join Sarah for optional office hours where you can ask questions or use the time to sketch along with your classmates.
Thursdays, March 2 & 16, 2023
6:00–7:00 pm
Location
Online, live-streamed
Students will have access to the course materials for six months after the end of the class.
Instructor
Sarah Huddas
Materials