Garden Photography 101
CREATIVE ARTS CLASS WITH ONLINE AND ONSITE COMPONENTS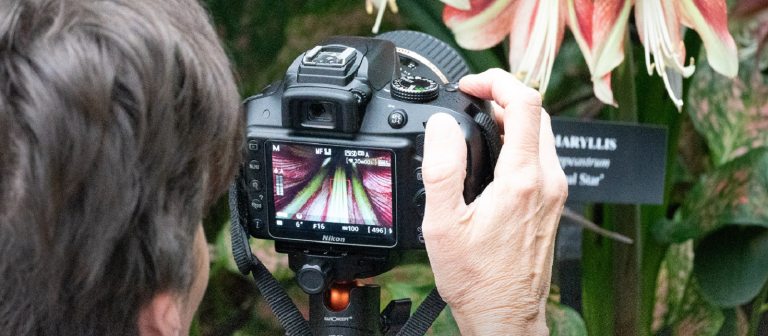 Dates & Price
February 1–22, 2023
---
Online orientation: Wednesday, February 1, 6:00–7:00 pm
Onsite session: Saturdays, February 4, 11 and 18, 8:00–11:00 am
Online critique sessions: Wednesdays, February 8, 15 and 22, 2023: 6:00–8:00 pm
Inclement weather dates: Sundays, February 5, 12, and 19
---
Fee: $199
Fee for Innovators, Gardens Preferred, and Gardens Premium Members: $179
---
Fee includes all-day admission to the Gardens on the day the class is onsite.
Registration ends January 30, 2023
February is when gardeners begin thinking about the coming spring bloom, which makes it the perfect time to plant a creative seed.
Grow your photography practice at Longwood with this course designed for beginner and intermediate photographers. We'll start by reviewing the basics of digital photography online to get acquainted with manual settings and will work with exposure and metering to adapt to different light quality. Then, put your knowledge to work as you team up with instructors Jon Cox and Dick Greenwood here at Longwood as they guide you through three sessions in the Conservatory. Your skills will be blossoming in no time!
Course Schedule

Online Orientation
Wednesday, February 1, 6:00–7:00 pm

Onsite Sessions
Saturdays, February 4, 11, & 18, 8:00–11:00 am

Onsite Critique Sessions
Wednesdays, February 8, 15, & 22, 6:00–8:00 pm

Full course content includes both the online and the onsite components.
Location
Onsite at Longwood Gardens with additional online sessions. 
Instructor
Jon Cox and Dick Greenwood
Materials 
For the onsite sessions at Longwood, please bring your own camera, camera manual, charged batteries, and a tripod.
Additional Info
Please dress for the weather and wear appropriate footwear. 
Photos taken during photography classes at Longwood may not be sold for commercial uses.
Innovators, Gardens Preferred, and Gardens Premium Members save on Continuing Education Courses
A 10% discount on classes will be applied automatically at the time of checkout.